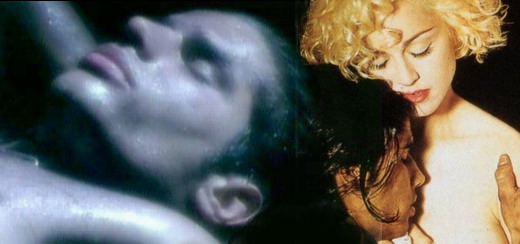 Back in the '80s, Cameron Alborzian — now known as Yogi Cameron — was one of the world's first male supermodels, sought after for the pages of popular fashion magazines and serving as the face of everything from Versace and Chanel, to Dolce & Gabanna and Gucci. But it was his three-season Guess Jeans campaign that caught the eye of Madonna. She apparently hunted him down to star in the music video for her hit, "Express Yourself", directed by Hollywood director David Fincher.
He told Celebuzz…
"She found the picture of it and loved it and told her agent to find me.
They called me up one day and said, 'Do you want to be in this video?' And I was like, 'Maybe. I'll call you back,'
And then I put the phone down and I was like, 'Woah, yes!'
It was amazing.
At the time I was, what, 22, and it was a good time…
It was an amazing project to be a part of and a great experience.
Madonna's a workaholic. She's a perfectionist.
That's why the video lasted this long."
But according to Alborzian, when Madonna wanted to mix work with pleasure, he turned down her advances, despite her persistence…
"She would keep chasing me.
That was the only memory I have.
She's a naughty girl.
I was like 'No! Leave me alone.'
Somebody had to say no.
Sooner or later, [it] had to come.
We're still good friends up to this point.
I don't see her every day… but friendship lasts."
After years in the fast lane, Alborzian gave it all up for the yogi lifestyle, which centers on finding a balance between mind and body.
Have a look at the interview…
Watch the Express Yourself video featuring Cameron…

Madame X is available in Box Set, CD, Vinyl and Cassette!
Get your copy HERE!