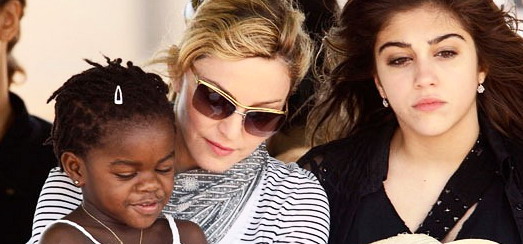 A new controversy surrounding Madonna's latest education project in the country which is the native home of two of her adopted children, raises many questions after Malawi education authorities on Thursday challenged a claim by Madonna's organization, that her charity last year built 10 new schools in the poor southern African nation.
Education Minister Eunice Kazembe said…
"The schools Raising Malawi claims to have constructed were already in existence.
Raising Malawi only built 10 classroom blocks and not schools.
People should know the difference between the two."
In December Madonna's charity in tandem with global non-profit buildOn, announced the completion of 10 schools, claiming they would provide education to 4,871 children.
Madonna said in a statement issued at the time…
"I am overjoyed that my commitment along with buildOn's to help educate the children of Malawi has come to fruition."
Malawi's education minister said the country wanted to "clarify any misconceptions that may arise."
—
Update:
Raising Malawi released a full report on the BuildOn school project.
A small excerpt…
The locations for each school were chosen in partnership with the District Education Manager's Office in the Kasungu District. Each village that was selected had no adequate school structure; priority was given to villages with no school infrastructure at all. Prior to buildOn and Raising Malawi, children in these villages attended classes either in a temporary structure or outside under a tree.

Each two-room school was built with a corrugated metal roof and poured concrete floor, and was constructed in partnership with the communities who will benefit from the structures. buildOn and Raising Malawi provided the construction materials, transportation, skilled labor, project management, and construction plans. Each partnering community provides a gender-balanced leadership team, volunteer labor, land, local building materials, and authorization from the government to have a school. Each community also agrees that boys and girls will attend schools in equal numbers. Once completed each community & school leadership team manages the use of the structure.

Madame X is available in Box Set, CD, Vinyl and Cassette!
Get your copy HERE!