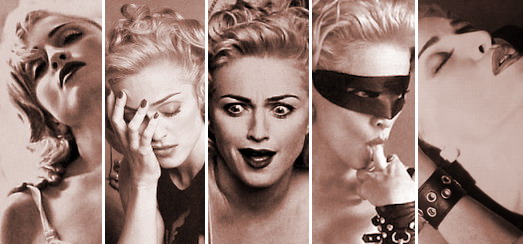 BookFinder just compiled one of the most interesting lists in the book business – the 2012 top 100 most searched for out-of-print books in the United States.
Sadly, books fall out-of-print when publishers decide that there isn't enough demand. That's when the used book market becomes important for ensuring that these hard-to-find titles can still be found and bought.
Madonna's famous Sex book is again on top of the list.
As a reminder, Sex is a coffee table book written by Madonna with photographs by Steven Meisel Studio and film frames taken from film shot by Fabien Baron.
The book was edited by Glenn O'Brien.
It was released on October 21, 1992 by Warner Books.
Madonna wrote it as a character named Mistress Dita, inspired by 1930s film actress Dita Parlo.
Featured in the book are actress Isabella Rossellini, rappers Big Daddy Kane and Vanilla Ice, model Naomi Campbell, gay porn star Joey Stefano, actor Udo Kier, socialite Tatiana von Fürstenberg, and nightclub owner Ingrid Casares.
There are many famous authors on the list, including Stephen King, Nora Roberts, Ray Bradbury, Barbara Cartland, Carl Sagan, C.S. Lewis and Madeleine L'Engle. There are also books from major artists like Salvador Dali and Cecil Beaton, and the autobiography of musician Johnny Cash.
Have a look at the top 10…
1. Sex
by Madonna

2. Rage
by Stephen King/Richard Bachman

3. Promise Me Tomorrow
by Nora Roberts

4. My Pretty Pony
by Stephen King

5. Pure, White & Deadly; The Problem of Sugar
by John Yudkin

6. Mandingo
by Kyle Onstott

7. Man in Black
by Johnny Cash

8. Codex Seraphinianus
by Luigi Serafini

9. 365 Bedtime Stories
by Nan Gilbert

10. Tudor Roses
by Alice Starmore

Madame X is available in Box Set, CD, Vinyl and Cassette!
Get your copy HERE!