"Dick Tracy" (1990) has finally received the home video release it deserves, arriving this week on Blu-ray. You can order it at Amazon.com
Disney and star/director Warren Beatty have been duking it out over legal rights practically ever since it first came out, which kept the film — which was a major blockbuster and won several Oscars — from being as widely circulated or well-remembered as it probably ought to have been.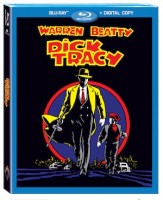 Cast: Warren Beatty (Bonnie and Clyde, Reds), Madonna (W.E., Evita), Al Pacino (Scent of a Woman, The Godfather), Dustin Hoffman (Rainman, Kramer vs. Kramer), James Caan (The Godfather, Misery)

Director/Producer: Warren Beatty (Bugsy, Reds)
Screen Writers: Jim Cash (Top Gun, Anaconda) & Jack Epps Jr. (Top Gun, Anaconda)
Rating: PG
Feature Run Time: 105 minutes
Release Date: December 11, 2012
Aspect Ratio: 1.85:1
Audio: Dolby Digital Surround Sound
Languages: English, French, Spanish
Subtitles: English, French, Spanish

Madame X is available in Box Set, CD, Vinyl and Cassette!
Get your copy HERE!