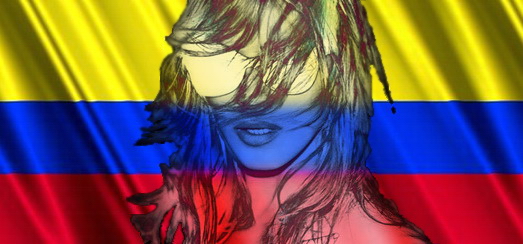 You took pictures, videos or just want to tell us about your MDNA Tour experience, do not hesitate to send us an email at [email protected]
—
Madonna apparently got hit by a dancer right above the eye during the "Gang Bang" performance at last night's MDNA Tour concert in Medellin.

More details by John Alexander:
Okur accidentally hit Madonna's face during Gang Bang. Madonna ble
ed a lot during the rest of the song and when the dancers tried to clean her face in Hung Up she looked upset and didn't let them so she had blood in her face during Hung Up, Papa Don't Preach and I dont give a. Later ashen she was sigmoid Open Your Heart she made a joke changing the lyrics. She said "I think you're afraid to look in my bleeding eye" our something like this. She enjoyed the show in Medellin and almost cry during Masterpiece for the response of the audience.
VIDEOS

FAN VIDEOS

FAN PICTURES

CREW PICTURES

Thanks to everyone who shared their material!

Madame X is available in Box Set, CD, Vinyl and Cassette!
Get your copy HERE!