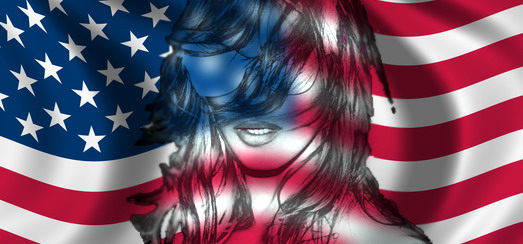 You took pictures, videos or just want to tell us about your MDNA Tour experience, do not hesitate to send us an email at [email protected]
—
FAN VIDEOS

FAN PICTURES

CREW PICTURES

REVIEWS

Elvis, for most of his life, was Elvis –– until he became, in the impudent vernacular of amateur historians, Fat Elvis, almost a separate entity and a symbol of talent in sad, lumbering decline.
Based on Monday night's lively concert performance at AmericanAirlines Arena there should be no fear that its 54-year-old headliner may soon transition into anything other than Madonna, just Madonna.
In an astonishing display of stamina and sexy provocation, the singer ran through a fast-paced two-hour set of more than two-dozen songs in a performance that included multiple costume changes and daring dance numbers in which the star was tossed and contorted into shapes that would challenge the body of someone half her age. As she strutted the catwalks jutting into the audience, or popped out of a hole in the stage in a new, skin-baring outfit, Madonna again displayed the sexy muscularity, energetic showmanship and boundary-pushing cheekiness that have been her trademark for nearly three decades.
There may have been some added pressure on Madonna to bring her best for the show, which will be repeated at the AAA on Tuesday night. The concert was being shot in 3-D for an upcoming DVD, and the extra energy the film crews sought was in short supply when the singer finally hit the stage just after 11:20 p.m. By that time, nearly two unconscionable hours after opener Paul Oakenfold had finished, the spaces between each time-killing song on the arena sound system were being filled by impatient boos and a chant of "Bullshit! Bullshit!" You can only watch gay men in skinny jeans bumping rumps with carefree cougars to "Sexy Back" for so long.
Madonna arrived on a stage filled by a mystical haze of smoke, robed monks and the deep rumble of Gregorian chants. But the singer quickly exploded this solemn scene with the frisky dance number "Girls Gone Wild," from her new "MDNA" album. Clad in towering black heels, black leather top and rock-hard legs seemingly painted in black lacquer, with six bare-chested male dancers dragging her through a series of sexy poses, Madonna as fashionable, powerful, but vulnerable sex toy was an ongoing theme for the night.
The singer leaned on "MDNA" for about a third of the set list, with many of her biggest hits getting quick medley treatments or new, modern renditions. She had help from Kalakan, a trio of Basque singer-musicians from northern Spain, most notably on their treatment of "Open Your Heart," which evolved into a spirited gypsy hoedown. It was one of many songs in which the singer's extraordinary team of dancers and choreography was on fine display.
Other highlights included a poignantly reimagined version of "Like a Virgin," with Madonna in nylons, briefs, corset and an architectural bra that suggested Gaultier's famed dual cones. Astride the instrument as a lone pianist played the pop trifle as a solemn elegy, Madonna laid bare all the emotion of being "touched for the very first time." Many catcalls and sexy whistling ensued.
A stylish version of "Vogue" got an enthusiastic response, as did the tortured "Love Spent," in which Madonna's strip-tease prompted fans to throw many a dollar bill onstage. There also was a spirited "Express Yourself," with its sexy drum major motif and drummers hanging from the rafters (and, yes, Madonna can handle a baton).
At around 1:15 a.m., when fans' stamina seemed to be flagging, Madonna followed a Kalakan-aided version of "I'm a Sinner" with a rousing gospel take on "Like a Prayer," with three dozen singers swaying behind her as she raised the dead. As the lights came up the crowd took to their feet in unison for a moving, sing-along, clap-along moment. The power of "Prayer."
Is it a sign of her outsized stardom and pop imagination or her ego that the overflowing spectacle of Madonna's MDNA tour also shows a very personal odyssey? It's both, as well as a sign of maturity and a sense of perspective.
Madonna's sold-out concert at the AmericanAirlines Arena Monday night was a jaw-dropping sequence of stunningly designed set pieces; including an aerial drum corps, a battalion of dazzling dancers, an explosively bloody gangster fantasy and a surreal spiritual voyage. But the tireless woman at its center, taut and confident as ever at 54, was just as riveting stripped down to lingerie and singing alone with a pianist. "Sometimes it's easier to show your ass than your feelings," she said. "Tonight I'm gonna try and do both."
She needed both, and all of her magnetism, after keeping the audience waiting for more than three hours after an 8 p.m. start time. (The opening act, star DJ Paul Oakenfold, finished at 10 p.m.). The impatient crowd was chanting expletives by the time Madonna emerged at almost 11:30 p.m. Officials said technical problems with a live video shoot delayed Monday's show, and that Madonna's second concert at the AA Arena Tuesday night would start on time.
All was forgiven once Madonna was onstage. "Did I keep you up?" she mocked. "This is Miami!" The audience included women decked in her flouncy, 80's style gear and men in wedding dresses and nuns' habits. "They can call us whatever they want – we don't care, do we?" Madonna said. "We know what's important is on the inside."
Madonna pioneered that extravagant, express-yourself ethos, which has become as much a pop culture standard as huge tour productions. She asserts her dominance in both areas, digging at Lady Gaga by dropping a line from Born This Way into Express Yourself. "There's only one queen, and that's Madonna," Nicki Minaj says on video for another song.
Madonna also upholds her position by setting a new standard, not just for scale and extravagance, but concept and design. The concert starts with her floating out in a veiled pavilion over dancers in Buddhist and Christian monks' robes, which they strip to reveal bare chests and towering heels for Girl Gone Wild. She leads a parade of baton twirling, drum beating dancers, some suspended overhead, in Express Yourself. Vogue is a black and white extravaganza of surreal 50's fashion imagery. Illuminated platforms ripple in their own dance of formations and patterns onstage.
The songs and set pieces trace a narrative that starts in violent, self-destructive rage, with Madonna stroking fake guns and murdering masked attackers in Revolver and Gang Bang. She emerges from darkness with Express Yourself, and dons a guitar for a gutsy rendition of Turn Up The Radio, an anthem for herself and pop music.
It's one of several times where she finds creative new uses for what has never been a strong singing voice. She gives a starkly vulnerable twist to Like a Virgin by exposing her voice and body, even opening her legs to the camera-flashing crowd. From there she makes a spiritual journey with I'm a Sinner, then finds redemption in an stirring performance of Like a Prayer that had the audience clapping and singing along. She finished with a raving dance party in Celebration. It seemed a commemoration of her own power, and that of pop music.
Thanks to everyone who shared their material!

Madame X is available in Box Set, CD, Vinyl and Cassette!
Get your copy HERE!