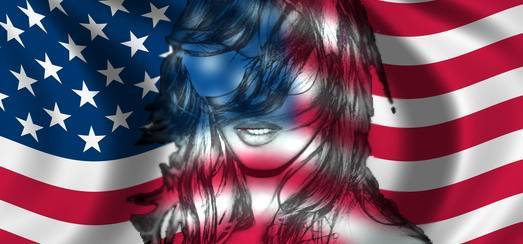 You took pictures, videos or just want to tell us about your MDNA Tour experience, do not hesitate to send us an email at [email protected]
—
I recognize a lot of familiar faces and it makes me so happy to see you again. I have the best fans in the whole world. So take that Lady Gaga. Nah, I'm just kidding.
You know I invited her to sing with me on stage, but she turned me down.
It's ok, I've been rejected before. It's good to build character.
FAN VIDEOS

FAN PICTURES

CREW PICTURES

REVIEWS

"There's only one queen, and that's Madonna!" says Nicki Minaj in a video cameo.
Ok, ok, so there's no excuse for the mysterious delay, but once the Queen of Pop hit the stage Saturday night (Nov. 3), at approximately 10:36 p.m., it was intense.
Madonna's two hour, sold out show at the Xcel Energy Center in St. Paul was more like a musical on steroids than your typical concert.
The 54-year-old pop icon has incredible energy and her body, rock solid.
The first few acts may seem a little dark and shocking — filled with guns, dramatized murders, and blood splattering across enormous video screens.
But we all know Madge is far from ordinary.
"I don't care who you vote for, as long as you vote for Obama," Madonna said at one point. She follows that with,"You must VOTE NO on the marriage amendment."
The crowd erupts.
Drama continues to build with each hit song, perfectly choreographed with flying drummers, trap doors, contortionists, and backup dancers parading across the stage wearing glittery heals.
The crowd went wild when Madonna incorporated the chorus of Lady Gaga's "Born This Way" into "Express Yourself." I guess that's her way of showing she has embraced her pop offspring.
Highlight: Most entertaining costume changes I've ever seen!
Lowlight: Some of the song pairings were off but that didn't matter because you're eyes had plenty to focus on.
Set list includes classics: "Like a Virgin," "Open Your Heart," and "Vogue" but she also mixes up new hits (and misses) "Give Me All Your Luvin," "Revolver," "I'm a Sinner," and "Love Spent."
Family friendly: Not at all. Madge is comfortable wearing very little and at one point even unzips her pants, moons the audience and apologizes for her bruises/ripped fishnets but not the fact that she just showed her unmentionables to a screaming crowd of complete strangers.
Note: Madonna's 12-year-old son Rocco makes an appearance. Keep an eye out for the talented little cutie as he shares the stage with his superstar mom.
Fun fact: Madonna's last show in the Twin Cities was in 1987. At one point she even says, "It's been too long Minnesota, it's been way too long."
Overall rating: 10 out 10. Hands down, MDNA is one of the best concerts of 2012, filled with energy, seduction, acrobatics, mystique, and drama.
Tonight is a school night so I hope fans won't have to wait long for MDNA to kick off it's second show of the MDNA tour at the X.
The long wait was over for Madonna fans, who dressed in her old looks Saturday at Xcel Energy Center and saw how much their lives have changed since her last show here in 1987.
The last time Madonna came to town, Beth Ingebretson missed the concert after hitting that most impenetrable of roadblocks: Mom's disapproval.
"My dad was willing to let me go, but not Mom," lamented Ingebretson, who was 9 at the time.
Like most of the lifelong Material Girls who vogued their way into downtown St. Paul Saturday for Madonna's first Twin Cities show in 25 years, Ingebretson wasn't letting anything keep her away this time. Not the $47 to $380 ticket prices. Not the mocking jabs from her brother and co-workers. Not even her own disagreement with some of the singer's frequently voiced political beliefs.
"She says and does whatever she wants, and that's why we love her," said Ingebretson, 34, who's now free to do whatever she wants, too. She has traveled to Chicago five times in the past 11 years to see her favorite pop star — but this time is different, she said. "We've been waiting so long for her to come back. This is like a big release for us."
That pent-up excitement made for quite a celebration around Xcel Energy Center, where Madonna performs again Sunday. Tutu-like skirts mixed with gold lamé tops and Madonna T-shirts as fans broke out their old "Like a Virgin" or "Like a Prayer"-era looks.
David Gardner, 32, wore a sweatshirt from her current outing, the MDNA Tour, having already seen the show in his native Toronto. He said he traveled to the Twin Cities to see it again because of the 25-year wait here: "I figure the fans are going to be more hungry."
While the retro-'80s attire harkened back to that bygone era when a mouthy diva from Detroit singing the V-word was the scariest thing in pop, it also underlined how much things have changed for Madonna's core audience.
Many of the Material Girls who once had to get Mom's approval are now mothers themselves. Instead of messing up their hair with Aquanet and dying their lacy skirts, they had to get a baby sitter and maybe see to another dye job. Instead of saving up their allowance, they had to break out a credit card and pay as much as 10 times the 1987 ticket prices ($22-$37).
Kelly Koehnen wore the "Like a Virgin" T-shirt she bought at age 15 at Madonna's Twin Cities debut in 1985, and brought her own 15-year-old daughter, Michelle.
"Maybe in 15 more years, she can bring her daughter," Koehnen said sweetly, drawing an eye-roll from Michelle, who did say she likes Madge as much as Lady Gaga.
Laura Condon Leventhal, a Minneapolis mother of boys ages 6 and 4, bought tickets with her best friend from junior high, who also accompanied her to a Madonna show in the '80s.
"A lot of people are mad she isn't doing more of those old songs," she said, "but I'm actually interested in seeing the New Madonna that I've missed since I redirected my life to kids and 'Sesame Street' and whatnot."
Excitement around this weekend's concerts also ran high among the gay men who make up another big chunk of Madonna's crowd — and have also seen plenty of change in 25 years. Instead of the conservative tone and AIDS crisis that defined the era around her last concert here, they celebrated openly Saturday and came out heavily dressed in "vote no" attire.
From the stage, Madonna addressed Minnesota's proposed amendment banning same-sex marriage when she led the crowd in a "vote no" chant mid-concert. "We live in a democracy," she said. "You can marry who you want."
And yes, there were a few men in the crowd who dressed like her, too.
"She's worth getting dolled up for," said Matt Fever, who performed as his drag-queen persona Krystal Kleer at a concert pre-party Friday at Camp, a St. Paul bar. He then watched the Queen herself perform Saturday night and is headed to Sunday's show, too.
Having seen her '87 show in St. Paul when he was 16 and several Chicago shows since then, Fever noted how his appreciation for Madonna has evolved over the years: "I just liked her voice and her look back then," he said. "Now, I love who she's become: an outspoken activist, a mother of two adopted kids and just one of those rare icons."
As for superfan Ingebretson, she grudgingly admits her mom was right in not letting her see the show at age 9. However, she thinks some people have the wrong perception of Madonna and she expects these shows to remedy that.
"A lot of the naysayers around here are going to change their tune. You haven't really seen Madonna until you've seen her perform."
They had to wait a little bit longer to finally see her Saturday. The Queen did not enter the building until 10:35 p.m., and she proceeded to blow fans away — with guns. Her opening montage of "Revolver" and "Gang Bang" featured gun-toting dance routines and blood-splattering video.
Clearly, Madonna herself has changed a lot in 25 years, too.
It's been 25 years since we've had the Material Girl live and in the flesh — and strangely enough, it appears she hasn't aged a bit.
"It's been a long time, Minnesota," Madonna said to a roar of screaming fans. "It's been too long, Minnesota. Sorry it took me so long to come back."
It may have taken more than two decades — and several minutes — before she took the stage, but as Madge fans are accustomed to know, Madonna always does what she wants.
That was true in the opening act, when a somber scene, including monks and priests, was followed up with anarchy and "Girls Gone Wild."
The show's open had a running theme — almost a storyline — about Madonna's journey straight to h-e-double hockey sticks. Her bloody and at times, overly violent, rendition of "Gang Bang" seemed to be her shock-and-awe moment of the night — complete with guns a'blazin' and giant, graphic blood splatters on ceiling-high monitors.
While this was my first taste of some of her most recent work, "Gang Bang" reminded me of an upbeat, electronica version of Nancy Sinatra's "Bang Bang" — without the melancholy undertones.
The song, which references shooting a lover dead, in the head, worked quite nicely as the precursor to "Papa Don't Preach" — a song where Madonna begged for forgiveness before being carried away by what appeared to be dancing militia.
Still, her new stuff in a nutshell, likely isn't the kind of music that's going to produce chart-topping hits — and I couldn't help but cringe at the overuse of auto-tune. Perhaps it's naive, but in my understanding, auto tune seems to be used for those who don't have vocal veracity. So with Madge, it was like putting ketchup on a $50 steak.
The concert's timing and flow was spot on — with entertaining contortionists and shirtless dancers amusing the crowd in front of racy video of Madge while she made her way into her next costume and hairstyle.
The sequences between one song to the next was flawless — proving to the Gaga's of the pop world, Madonna is the originator and the reigning queen.
And my goodness, the woman is 54 years old. She has four children — and yet, as she showed both literally and figuratively, she still kicks ass. I love her for her energy and ability, but hate her for her arms and toned abs.
No surprise, Madonna's best moments were during some of her oldest songs. Her beaten down and pained rendition of "Like A Virgin" took the song to new depth — it wasn't a sunny, innocent chorus, complete with flirtatious gasps, it was a dark, lonely and raw plea, a desperation for a time that was — and a highlight of the entire night.
And sure, while we've seen the black-and-white bit a hundred times, "Vogue" live with the legendary diva in a cone-shaped brassiere still is one of the best things to happen on a stage.
From beginning to end, Madonna pushed the boundaries, and played with the shocking — and sure, to some that seems overly unnecessary and contrived. But the point, which seems to be the same point Madonna's been stressing in her long, lustrous career, is just that — a reaction. If you walk away talking about the shocking or the provoking, you will find yourself tangled in Madonna's web.
She may urge you to think the way she thinks ("I don't care who you vote for as long as you vote for Obama," she said at one point) but it seems the point is more to think, period, to be affected and to feel something more. After 25 years, that message remains the same.
—
By Eric Henderson
What makes Madonna such a compelling artistic force? First and foremost, her blond ambition, which throughout her career has usually reared its perfectly-coiffed head most decisively during the moments everyone has been primed to finally write her off as passé.
So even as she releases new material that, for all its scattered merits, can't hope to stand up against her impressive back catalog ("I guess I'll just end up another 100-hit wonder," joked comedian-impersonator James Adomian, playing Madonna in a recent episode of Adult Swim's Children's Hospital), you could never accuse her of using her greatest hits as a creative crutch in concert.
If anything, she sometimes comes off as though they're holding her back. I couldn't help but feel a little bit sorry for the hundreds and hundreds of soccer moms I saw roving in packs at the X, dressed up in their love of "Material Girl"-era Ciccone, clad in fishnets and denim. Just because Madonna hasn't been in the Twin Cities since before the Berlin Wall fell didn't mean she was going to play catch-up with Minnesotans clamoring for a fresh (but not too fresh) take on "Holiday."
Her setlist Saturday night featured nearly all of the dozen songs from her newest album MDMA (an OK-ish collection that, while certainly no Like a Prayer, is also pretty far from Hard Candy), and many of the hits that peppered the evening were flipped, remixed, inverted, or mashed up into … well, lets just say few in the room were singing along karaoke-style to her tour version of "Hung Up."
Most of her creative energy had clearly gone into envisioning gloriously dark scenarios for the likes of "Gang Bang," a visceral, gruesome depiction of perpetual violence that, to my twisted sensibilities, was the highlight of her new material. Though I also greatly appreciated the massive flying drumline that accompanied "Give Me All Your Luvin," in part because they drowned out the actual song.
Also, though it was mainly used as an opportunity to give Madonna a breather and costume change, the montage-blitzkrieg video presentation accompanying "Nobody Knows Me" (from American Life) blows through practically every available provocation before concluding with a heart-stopping series of slides commemorating the too brief lives of gay teens who committed suicide (a declarative exclamation point coming just off the heels of her "Vote No" command).
To say it's a grueling program would be an understatement, both conceptually as well as physically. "I made it through the wilderness" might stand as the signpost refrain of the evening, as the newly twice-divorced 54-year-old, having invited the audience to take a look at the bruises on her backside, climbed atop a piano and slowly, deliberately savored the bitter ironies within the lyrics of "Like a Virgin."
While she never completely lost her sense of humor (as when she motioned to her fans in the pit to toss her a few dollars), she also clearly utilized the tune — among her most effervescent, adolescent songs — to take a fearless plunge into the abyss of accrued time.
If the payoff is wisdom and life experience, the price is self-awareness. Which, of course, is not something Madonna has ever lacked.
Thanks to everyone who shared their material!

Madame X is available in Box Set, CD, Vinyl and Cassette!
Get your copy HERE!