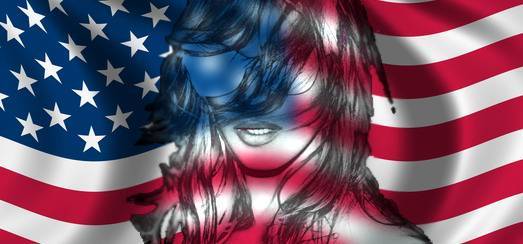 You took pictures, videos or just want to tell us about your MDNA Tour experience, do not hesitate to send us an email at [email protected]
—
FAN VIDEOS

FAN PICTURES

CREW PICTURES

REVIEWS

Gerrick D. Kennedy of the Los Angeles Times recently broke down Madonna's MDNA tour by the numbers. Among his findings: 89 shows in 28 countries (18 — including the show in KC — are places where Madonna has never performed), 90 speakers hung on stage, 700 pieces of wardrobe required for all of the onstage performers, 374 tons of pure stage, and even 16 different kinds of salad dressing required by the crew from craft services. This is some high-maintenance shit.
Obviously, with high-maintenance shit come high-dollar tickets. And high-dollar tickets tend to bring out, shall we say, a more discerning crowd. In the case of Madonna's show at the Sprint Center last night, the crowd skewed older. Not many spring chickens in the house. They flocked in early, then clogged up the booze lines and complained about the late set time (10:30 p.m.).
If they were so inclined, they might also have complained about the huge fleet of big rigs that kept the westbound lanes of Truman Road blocked last night. Or the fact that Madonna didn't play very many of her signature hits. Or, if they were prudes, that she literally showed the audience her ass at one point.
But, hey, Madge didn't come to town so you could hear "Open Your Heart" for the millionth time. She came to show you what's up. And she looked awesome doing it.
Over the course of the evening, Madonna took us from church and monks to a broken-glass shootout in a sleazy motel room — yes, she was in a motel room set that moved — to walking on a wire to being surrounded by a marching band. She twirled a baton, played guitar (kind of), allowed a dancer to tighten her bustier and let down her hair, danced on top of a psychedelic bus, and danced solo in front of mirrors. At one point, she even walked with a cane. It was visual overload: Among the dancers (some of whom appeared to be double-jointed), the hydraulics, the band, and the video screens in the back, there was too much to watch at any given moment.
To satisfy the folks who wanted to hear the hits, Madonna performed a slowed-down version of "Like a Virgin" atop a piano being played by a black man in a top hat. She was wearing a bra — a really little bra. But that wasn't the end of the show. After a video montage of misunderstood people — Kim Jong Il, Tyler Clementi, herself — the Sprint Center went full-bore gay-club anthem with "I'm Addicted."
Of course, the olds in the house were annoyed. They don't get it anymore. It was past their bedtime, apparently. Madonna has passed them by. But hey, baby, that's why she's the Queen.
Random Detail: I was so excited, I chewed up a pen and rendered it useless.
Personal Bias: I really wish she had played something off Ray of Light.
By the Way: I still can't believe someone brought their giant Romney/Ryan sign in with them.
Like so many others this week, I am dressing up with my friends and heading out for some fun.
But my road to Tuesday's Madonna concert stretches much longer than 45 minutes on I-70.
As an oldest child and, by nature, rather naïve, I started junior high in 1984 just past the borderline of childhood. Not only like a virgin, but actually a virgin in this new and foreign teen world, I soon found a group of girlfriends with whom I would begin my adolescent journey, guided, of course, by the trio of Molly Ringwald, the Huxtables and Madonna.
While my parents cringed at that last one, my friends and I shared the same girly passion for lace gloves, bangle bracelets and slow-dancing (or, in my case, hoping to slow-dance) with cute boys to "Crazy for You." Before there was karaoke, there were 10 girls from Queen of the Holy Rosary Catholic School gathered for sleepovers every weekend, belting out "Material Girl" into our hairbrush/microphones.
While we all slowly lost touch in high school and college, Madonna did not lose us. And, as my circle of friends evolved over the decades, Madonna was always part of my gang.
Sometimes she was the one in the group we all envied; sometimes she was the one we all called a whore. Sometimes she was the one who broke up with her boyfriend or had a baby or married Sean Penn. Sometimes she was the one who showed us a new dance move or got us into yoga or made us think that if she could write a children's book, we all could.
It would not matter where I lived or who my friends were, Madonna was the lucky star that bound us.
She got us into the groove, she told us to express ourselves, and she proved it is possible to star in "Shanghai Surprise" one decade and still win a Golden Globe the next.
And, last spring, she announced she was coming to Kansas City.
My gaggle of girlfriends jumped at the chance to "Vogue" out with Madonna, counting on me to buy the five of us tickets at 10 sharp the morning the pre-sale tickets were released.
Unfortunately, Ticketmaster only allowed four to be sold at a time.
Even more unfortunately, I, like Madonna, am far better at faking a bad British accent than I am managing other areas of my life (in this case, online ticket-ordering), so I am sitting by myself, two rows down from my four friends.
But don't cry for me, Lawrence, Kansas. The truth is I am not worried.
While the rest of Section 109's ninth row might point and wonder, "Who's that Girl?", if there is one thing Madonna taught me, it is that music makes the people come together.
And I cannot wait.
The day Madonna turned 19 — Aug. 16, 1977 — was the day Elvis Presley died, and there's a certain symmetry to the coincidence.
She was still several years away from barnstorming the music world with her gummy dance hits and inimitable fashion and, subsequently, becoming one of the most provocative and popular pop-culture figures in the world. Sex, religion, music, politics: Nothing was spared her brazen iconoclasm or sacrilege.
In its artist biography of Madonna, Rolling Stone says: "Until she toned down her press-baiting behavior in the '90s, she was the most consistently controversial (pop star) since Elvis Presley."
She turned 54 this year, but Madonna hasn't lost much lust for generating attention, if not controversy. And she is going to great lengths to avoid Elvis' fate: becoming a caricature as his career drifted into its gloaming.
Tuesday night, Madonna performs for the first time ever in Kansas City, where she is bringing her extravagant MDNA Tour, a two-hour blitzkrieg of music, theater, dance and acrobatics. The tour opened May 31 in Tel Aviv, and it has generated several "incidents."
At a show in Istanbul, Turkey, she bared one of her breasts. She has been sued twice — once by a group in Russia for a pro-gay speech she delivered in St. Petersburg and once by the National Front Party in France for a video shown during the tour that associates the party's leader with Hitler and the Nazis.
At a show in Washington, D.C., she referred to President Barack Obama as a black Muslim. She later told the Washington Post: "Yes, I know Obama is not a Muslim — though I know that plenty of people in this country think he is. And what if he were? The point I was making is that a good man is a good man, no matter who he prays to."
And she chafed some raw wounds at her show in Denver on Oct. 18, three months after 12 people were killed in a mass shooting at a theater in nearby Aurora. As she does at every show on the tour, during the song "Gang Bang," Madonna and her entourage pointed fake weapons at the crowd and then shot several assailants.
She later issued a statement saying, "It's true there is a lot of violence in the beginning of the show and sometimes the use of fake guns — but they are used as metaphors. … they are symbols of wanting to appear strong and wanting to find a way to stop feelings that I find hurtful or damaging."
It's also worth noting that at nearly every stop on this tour, Madonna hasn't taken the stage for her two-hour show until 10:30 p.m., long after the 8 p.m. starting time on the tickets, some of which cost more than $350. (If you're hiring babysitters for this school-night show, take note.)
None of the above incidents seems anything worse than an act of insensitivity or poor taste. In fact, it seems that when it comes to true controversy or acts of deep offense or indelible sacrilege, the world has become desensitized since Madonna started baiting us with her music, videos and behavior. Others have since upped the ante in music (Marilyn Manson) and film (Quentin Tarantino), and there's so much raw reality on the Internet.
Even exposure of a breast seems merely juvenile, a punch she was beaten to by Janet Jackson. Her performance during this year's Super Bowl halftime was widely panned, notorious only because M.I.A flipped the bird.
The MDNA Tour is Madonna's ninth; she has called it the "journey of a soul from darkness to light." Reviews have been widely positive, mostly for the tour's opulence and energy.
In the Chicago Tribune, Greg Kot wrote: "(It) opened with an act of contrition and closed with a robed church choir paving the road to a celebration. In between there was fake blood, pretend guns, the return of the infamous conical bra, whiffs of sadomasochism and poison-tipped political commentary, as well as allusions to the pop art of Roy Lichtenstein, movies by Oliver Stone and Stanley Kubrick, Brecht-Weil cabaret, Asian mysticism, Cirque du Soleil-style tightrope acrobatics and Basque folk music."
In his review of a show in Philadelphia, Jon Pareles of the New York Times wrote, "Madonna and her team do know how to dazzle. Her male dancers bounced on web tightropes in slack-lining routines, twisted themselves in scary contortions and even wore some high heels. 'Vogue' placed Madonna at a decadent party with a chandelier overhead, surrounded by dancers in angular black-and-white costumes, while she struck her own poses in a latter-day remake of her old conical bra, now a black-ribbed exoskeleton."
In 2012, rather than changing the game, Madonna is letting everyone know she's still in it, out-ranking all the divas birthed in her wake, from Britney Spears and Beyonce to Katy Perry. She is overtly aware of the tide of popularity around Lady Gaga, who has become something of a rival. In several shows Madonna has made reference to Gaga, implying her imitation of the Queen of Pop borders on theft. She has been slipping the chorus of the Gaga hit "Born This Way" into "Express Yourself," noting their similarities, then telling the crowd, "She's not me."
Two years ago, writer and social critic Camille Paglia took on Gaga in an essay in the London Sunday Times titled "Lady Gaga and the Death of Sex": "Gaga has borrowed so heavily from Madonna that it must be asked, at what point does homage become theft? However, the main point is that the young Madonna was on fire. She was indeed the imperious Marlene Dietrich's true heir.
"For Gaga, sex is mainly decor and surface; she's like a laminated piece of ersatz rococo furniture. Alarmingly, Generation Gaga can't tell the difference. Is it the death of sex? Perhaps the symbolic status that sex had for a century has gone kaput; that blazing trajectory is over."
Paglia has been a supporter/admirer of Madonna for decades. In 1990, she wrote an essay for the New York Times titled, "Madonna — finally a real feminist." The essay focuses on the decadent "Justify My Love" video and its liberating, empowering themes.
"Madonna is the true feminist. She exposes the Puritanism and suffocating ideology of American feminism, which is stuck in an adolescent whining mode. Madonna has taught young women to be fully female and sexual while still exercising total control over their lives. She shows girls how to be attractive, sensual, energetic, ambitious, aggressive and funny — all at the same time."
Madonna was 32 then and truly on fire, about to launch the debauched "Blond Ambition Tour," which prompted the Vatican to call for a boycott, and soon to release the "Erotica" album. Since then, she has become a Golden Globe-winning actress, a wife, a mother, a divorcee, a filmmaker.
And she has left a trail of controversy and infamy: the video for "American Life," which was banned for anti-war themes; her lip-locked kiss with Spears at the MTV Video Music Awards; the fusillade of f-bombs released during an appearance on "The Late Show With David Letterman"; her self-crucifixion in the "Live to Tell" video; the "Get Stupid" video, played during 2008's "Sticky and Sweet Tour," which showed images of Sen. John McCain, then a presidential candidate, with images of Hitler and Zimbabwe President Robert Mugabe.
Four years after that tour, she is back, with a new album, "MDNA," that generated lukewarm reviews and a tour that is generating praise, if not raves. She is making it clear that this is not a "hits" tour and that she's no heritage act, no Vegas theater performer living off her past.
The set list for the MDNA tour features nine of its 12 tracks, and a few of her hits have been dramatically rearranged. And that 10:30 p.m. starting time? An assertion that what she has to deliver is worth any wait.
In 2012, she may not be on fire or able to render the hype or ignite the controversy or stir the cultural pot like she used to. A new generation of divas may be on her heels, but the Madonna in the midst of her sixth decade has made something clear: The world around her can change all it wants to, but she's not about to change along with it. The queen still reigns.
Halfway through her two-hour show at the Sprint Center on Tuesday, Madonna acknowledged the raucous response she'd received from the crowd that nearly filled the place. And in so many words (including a couple that can't be printed here), she apologized. To paraphrase: This is the first time I've been in Kansas City. What took me so long?
She turned 54 in August; in May she launched the MDNA Tour, the ninth of her career. And if the first time turns out to be the last time she performs in Kansas City, then she gave a crowd a once-in-a-lifetime treat and an everlasting hello.
The show was a relentless and extravagant spectacle of sights, sounds and feats, a screaming locomotive of music, dance, theater, videos, lights, costumes, and cocksure attitude from a woman who may be in the midst of her sixth decade on earth but is hellbent on proving she's still royal and relevant.
She would make her fans wait. It was a few minutes past 10:30 p.m. when church bells rang, heralding the start of her show. From the start, she, her band and her small legion of dancers/acrobats/contortionists enflamed that mood. The stage was set with an enormous video screen in back that displayed a barrage of images and visual stimuli that competed with all the live action going on and with the music, which, a few times, felt incidental to the visual drama.
Madonna spent much of the show keeping up with her younger gymnast/dancers, most of whom who looked like they indulge in extreme cross-training and yoga twice a day. She would prove she was nearly as fit as they are, joining a slack-line routine and even dropping her drawers and revealing her sculpted buttocks .
The show followed its stated theme — a journey of the soul from darkness to light. After the church bells tolled and the dancers, dressed as monks, set in a pendulum swing an enormous incense thurible, Madonna made her descent onto the stage, carrying an assault rifle. Firearms and violence were a big part of the first three songs. During "Gang Bang," she shot and killed several assassins/would-be killers. Each time, that big video screen was splattered with blood (which looked more like pureed cranberries).
After the initial ovation, the first big eruption came for "Papa, Don't Preach," one of her certifiable hits. If this show has a weakness, it's the setlist, which favors heavily Madonna's latest album, "MDNA," released in March. (She would perform eight of its 12 songs, more than one-third of the show.)
The crowd, which stood for nearly the entire show, seemed familiar with most of the new material; "I Don't Give A," which featured a video appearance by Nicki Minaj, "Turn Up the Radio" and "Give Me All Your Luvin," which featured a video cameo from M.I.A., all ignited outbursts of dancing and big sing-alongs. But with all the anticipation that preceded the show and as wound-up and giddy as the crowd seemed throughout, Madonna could have ripped a hole in the arena's roof if she'd uncorked a few of her biggest hits on a crowd that was surely primed for them.
Instead, she altered one of her biggest hits, "Like A Virgin," into a gothic waltz on piano, making it sound like some tragic Leonard Cohen ballad. "Vogue" was played close enough to its original version to generate a big ovation. And the loudest, most cathartic moment came near the end, during a gospel-anthem version of "Like A Prayer," which employed a 36-piece choir — the best use of one since Foreigner's "I Want to Know What Love Is." In a show that was rife with religious themes and imagery, that was its spiritual peak.
If "light" was this show's destination, she reached it, emphatically. After the church bells chimed again, Madonna and her crew uncorked the rubbery bubble-gum disco anthem "Celebration," an invitation to a party and to "the dance of life."
As it was for most of the night, the stage was ablaze with movement and light and sound. Yet there was no doubt who was the force in the middle of all that color and motion: the woman who introduced herself to Kansas City two hours before and ultimately left it wanting more.
Setlist: Girl Gone Wild; Revolver; Gang Bang; Papa, Don't Preach; Hung Up; I Don't Give A; Best Friend/Heartbeat; Express Yourself/Born This Way; Give Me All Your Luvin'; Turn Up The Radio; Open Your Heart; Masterpiece; Justify My Love (interlude); Vogue; Candy Shop/Erotica; Human Nature; Like A Virgin; Nobody Knows Me (interlude); I'm Addicted; I'm A Sinner; Like A Prayer; Celebration.
Read more here: http://www.kansascity.com/2012/10/31/3893920/madonna-gives-kansas-city-an-everlasting.html#storylink=cpy
Thanks to everyone who shared their material!

Madame X is available in Box Set, CD, Vinyl and Cassette!
Get your copy HERE!