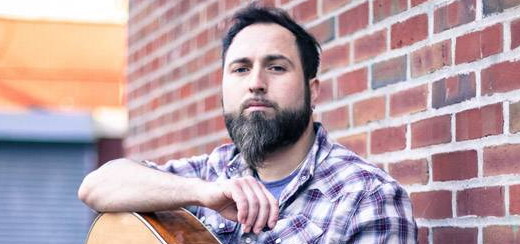 Madonna's guitarist Monte Pittman will be releasing his third album "M.P.3: The Power Of Three, Pt. 1," on November 19.
Here is the official press release…
(LOS ANGELES) – American rock musician Monte Pittman will release his third album, "M.P.3: The Power Of Three, Pt. 1," on November 19.

On his new album, Pittman digs deeper into his soul than ever before and uncovers some of his most personal stories yet. Through a set of four stripped down and introspective acoustic songs, he shares the trials and tribulations of his raw human experiences, like the pain of separation and the triumphs of freedom.

Listeners will find a fragile and revealing artist baring confessional meanderings of his heart and soul with just his impermeable, yet vulnerable voice and an acoustic guitar.

Recorded in just one day with Grammy Award-winning Danish engineer Flemming Rasmussen at the helm, who is best known for producing Metallica's highest selling albums – "Ride the Lightning," "…And Justice for All" and "Master of Puppets" – the new album exposes Rasmussen's trademark wall of sound production style.

Part one of "M.P.3: The Power Of Three" will come as the first course of sorts, offering the initial taste of what is to come from the inspired duo. On the first of three parts, the new album will explore more of Pittman's softer guitar side, in a similar vein to Ray LaMontagne and Nick Drake.

Its next two successors will go in completely different musical directions, but as a whole will showcase the artist's stylistic versatility and instrumental mastery, and will paint a true picture of an artist not afraid to experiment and reinvent.

"M.P.3: The Power Of Three, Pt. 1" is the official follow-up to the artist's critically acclaimed 2011 album, "Pain, Love & Destiny," an explosive rock album that shot to No. 1 on CDBaby's Rock and Pop Albums charts, and cracked iTunes' Top 200 within its first week.

The album was hailed as a "rock album classic" by The Ripple Effect, and ROCK iKON Magazine called it "a real treat from a highly talented and gifted guitar genius."

In 2012, Pittman was honored with his very own signature guitar series by Jarrell Guitars, and was honored with a Career Achievement Award from the Hollywood F.A.M.E. Awards, as well as an award for Best Solo Artist at the 2012 Artists in Music Awards. The album was produced and engineered by Rasmussen at Winding Road Studio in Copenhagen, Denmark.

For more information, visit Monte Pittman's official Web site, www.montepittman.com. Monte can also be followed on Twitter at @Monterrific, and on Facebook.
Monte Pittman will also be playing a FREE show tonight, Saturday October 20th, at 8pm at the Hard Rock Cafe in Dallas.
Address:
Hard Rock Cafe Dallas
2211 North Houston Street (Southern end of Victory Park)
Dallas, TX 75219

Telephone: +1-469-341-7625

Madame X is available in Box Set, CD, Vinyl and Cassette!
Get your copy HERE!