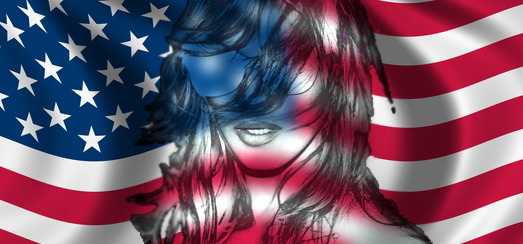 You took pictures, videos or just want to tell us about your MDNA Tour experience, do not hesitate to send us an email at [email protected]
—
FAN VIDEOS

CREW PICTURES

REVIEWS

On her knees, she sought penitence with an assault rifle.
But as Madonna begged forgiveness for her misdeeds, she divined plenty more to come like a soothsayer of the naughty.
"My inhibition's gone away. I feel like sinning," she purred while wielding a faux AK-47 during a show opening "Girl Gone Wild" Saturday at the MGM Grand Garden, moments after striking a suppliant pose on a stage designed to look like an ornate church, complete with singers dressed as priests engaging in Gregorian chants.
Throughout her career, Madonna has acted as a pendulum between virtue and vice, favoring neither, embracing both.
Now, fresh off a bitter divorce, with a new album "MDNA" that's among her most unguarded, she has seldom seemed so human or humane.
She's wounded, angry, petulant and sad, but also emboldened, galvanized and empathetic.
Madonna spelled out these emotions in all caps during her seething and sultry two-hour, 20-song performance, which was divided into multiple segments separated by video interludes, the theme of which was emotional and visual excess hurtling down the pothole-heavy road to redemption.
First up was her wrath.
It was Madonna as a Charlie's Angel, clad in a curve-hugging black bodysuit, doing cartwheels across the stage and firing a pistol at invisible foes during "Revolver."
Next, on electro slow burn "Gang Bang," she was shooting masked assailants in the head inside a set designed to look like a seedy hotel room as blood spattered across a massive video screen in crimson bursts.
Her defiance reached its apex on "I Don't Give A," a song that doubled as both an assertion of self-confidence and an angry kiss off to her ex, which Madonna performed while gripping a guitar, sucking her cheeks in and glowering at the crowd before her with eyes that doubled as daggers.
"I tried to be a good girl / I tried to be your wife," she sang. "Diminished myself /And I swallowed my light."
This hurt later turned inward on broken-hearted ballad "Love Spent."
"Would you have married me if I were poor?" she sang with hand pressed hard against her stomach, eyes closed, looking pained. "If I was your treasury / You'd have found the time to treasure me."
And it wasn't just her former husband in her cross hairs.
"Express Yourself," which Madonna performed dressed as a majorette backed by a marching band drumline suspended from the rafters, came buffered with a sample of Lady Gaga's "Born This Way" (a song some have criticized for being a facsimile of the hit in question) followed by a portion of "She's Not Me," which could be read as a shot at the younger pop star.
Even some audience members received a little ribbing after Madonna learned the political persuasion of a self-identified gay Republican sitting upfront upon asking the crowd who was going to vote for Barack Obama in the upcoming presidential election.
"A gay Republican?" she scoffed incredulously. "It's OK. I love you so much that I forgive you."
A few songs later, after "Human Nature," she'd drop trou and expose her backside to the crowd.
"Why does anybody show their ass onstage?" she asked of herself afterward. "So that people pay attention."
Aside from a palpable, often playful measure of impudence, the other main constant in the show was the way in which Madonna continually reconfigured past hits into something new, with some songs being barely recognizable from their original recorded form.
Basque folk trio Kalakan contributed pounding drums and three-part vocal harmonies to "Open Your Heart," helping turn it into an old world incantation.
The blood was drained from "Like A Virgin," rendering it a spectral, spare torch song that Madonna sang backed only by piano.
Former dance floor fire starter "Hung Up" was leavened by dreamy synth lines and Auto-Tuned vocals, while "Candy Shop" was similarly reshaped and slowed down with a vamping bass line.
There was so much going on, both in song and onstage, that the show felt a little muddled in places, like someone trying to force together pieces of a puzzle that don't fit with one another.
But at the same time, the do-your-own-thing ethos at the heart of Madonna's catalog wouldn't be served with a played-straight greatest hits performance.
And so Madonna serves her audience by only being concerned with serving herself.
"If it makes you feel good, I say do it," she sang during a show-closing "Celebration," and so that's exactly what she did.
When you look past the immense staging and lighting of a Madonna show, beyond the lavish costuming and the army of backing dancers and musicians populating the stage, you notice something not so fancy all the way down to the artist's feet.
Pulled over Madonna's feet are ankle braces that creep up from whatever shoes she wears at the moment. These are elastic, like ACE bandages, flesh-colored and not decorated in any way. These wraps are not to be celebrated, or even detected, but serve the vital purpose of keeping the whirling, stomping diva steady on her spindles. These braces are commonly worn by athletes, especially tennis and basketball players, to ward against injury while leaping and making quick cuts.
Madonna is as athletic a performer as you will see on any stage. At age 54, she is in supreme condition, and that physical fitness is the core of her stage show, which she rolled into MGM Grand Garden Arena on Saturday for the first of two Las Vegas performances. The second was Sunday night.
At various points during her latest stage spectacular, the 2012 MDNA Tour, Madonna performed as a gangster, a majorette and a dominatrix. She spun, leaped, strutted and happily swiveled her pelvis in a two-hour performance that would have been astonishing even without music accompaniment, given its exhausting pace.
Deep into the show, she spun around with her backside facing the audience. She unsnapped her black slacks, lowered them several inches and showed the sellout crowd what a 54-year-old tushy might look like if you married into a workout plan of toning, conditioning, speed, agility, strengthening, flexibility and endurance (the specifics of this regimen are outlined, in sweaty fashion, in her DVD series "Addicted to Sweat.") There was a message behind the nakedly memorable moment, as she said many people find her to be obscene, but what she finds obscene is "our lack of humanity."
Agreed. Madonna also said revealing her backside was to secure our attention, and she was right about that. Regardless, absent her impressive conditioning, Madonna's performances on her MDNA Tour might look a lot different. She might even consider going the Garth Brooks route, where the most challenging physical act is turning a tuning knob on an acoustic guitar.
As it is, the productions on this tour rise to the lofty standard Madonna has established throughout her career. She was late to the dance, but she's always late, arriving onstage about 10:35 p.m., just as crowds in pockets of the Grand Garden began booing (or maybe they were chanting, "Ma-DOOOO-na!").
The opening was overpowering, as she took the stage surrounded by muscular monks chanting in a haven that looked like a Madonna Vatican. A huge, gold cross loomed high above with the letters "MDNA" facing the audience. The spotlight hit Madonna at the back of this spirited scene, and she was wielding a semiautomatic rifle (a prop, we expect) and exploded into a performance of "Gang Bang" that could have been directed by Quentin Tarantino and endorsed by the NRA.
With blood splashing across the LED screens at the back of the stage, Madonna shifted to a scene in the seedy Paradise Motel, where she swapped her assault rifle for a 9MM sidearm and continued to fire away at an assailant who managed to crawl through the room's only window as nobody in the audience thought to shout, "Madonna! Look out!"
Later, Madonna would talk of love conquering fear, and how we should all accept one another, a sentiment that would have been more palatable had she not turned the arena into a bloody mess at the start.
But that is a mere quibble. The opening scene was just that. She was delightfully playful in her red-and-white cheerleader costume for "Express Yourself" and repeatedly ventured around the walkway encircling much of the audience at the front of the stage. Seeming to shed vocal tracks — and please don't claim she was singing purely in her own voice while dancing at nearly a full sprint for much of the night — she turned "Like a Virgin" into a ballad performed as a backing dancer pulled her corset so tight, it seemed her eyes might pop out. The same, slow-tempo treatment was given to "Papa Don't Preach" and "Hung Up."
The show was precision, but moments were set aside for the superstar to banter with the crowd. She did ask, "Is Las Vegas a place where you are actually from?" Many shouted "Yes!" as she moved on to say hello to folks up front who were visiting from Puerto Rico, Detroit and Venezuela.
Given that this show unfolded in Las Vegas, it was impossible not to feel the influence of Cirque du Soleil-type acrobats and set pieces. Madonna walked, briefly, across a tightrope and was frequently surrounded by dancers who also happened to be contortionists. In Cirque shows in Vegas, it is impressive to observe even a single contortionist, those who fold their bodies into pretzel-like figures. But Madonna, she surrounds herself with a half-dozen of these guys — and they contort choreographed numbers, in time with the music.
Somewhere, there is a camp of such artists. There has to be. Where do they all come from?
In stark contrast to its bang-bang beginnings, the show closed with an angelic take on "Like a Prayer," as a fully robed choir showed up in vocal support.
Madonna once more boogied out to the front of the rounded stage, stomping in rhinestone-studded Chuck Taylors. She was gleaming with sweat and her hair was wildly frayed, appearing ready for some well-earned time off.
But you got the feeling as she closed this two-hour spectacle, that was the furthest thought from her mind.
Thanks to everyone who shared their material!

Madame X is available in Box Set, CD, Vinyl and Cassette!
Get your copy HERE!