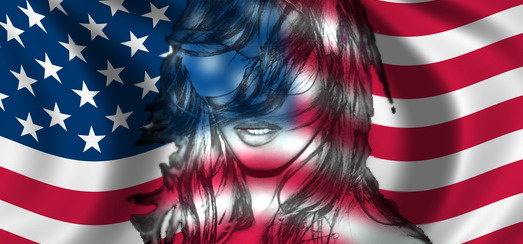 You took pictures, videos or just want to tell us about your MDNA Tour experience, do not hesitate to send us an email at [email protected]
—
The MDNA Tour in Los Angeles was packed with Celebrities: Heidi Klum, Mia Michaels, Neil Patrick Harris, Rose McGowan, Heidi Klum, Jessica Alba, Sophia Bush, Mark Salling, Emma Roberts, Bobby Newberry and more…
FAN VIDEOS

FAN PICTURES

CREW PICTURES

REVIEWS

Human contortionists festooned with wings. Robed monks, mysterious crooning priests. Gunfights in seedy hotels. Dramatized murder, with blood splattered on a billboard-sized video screen. A warrior-ninja spinning nunchuku.
These musical dramas and more highlighted pop singer Madonna's return to Los Angeles on Wednesday night, where she appeared at the Staples Center for the first of two concerts in support of her album, "MDNA."
And that was just in the first act.
At various times in the second and third acts she brought out a floating drum line that played while hanging from the support beams, twirled a baton in unison with dancers/cheerleaders, and comforted a troop of soldier-dancers with an acoustic guitar, fiddle, and beat-based version of "Masterpiece."
She floated on a chrome carriage above the stage, crawled on a staircase near the audience, clasping the hand of a fan. The joyous energy that lit up one middle-aged man's face as Madge focused her gaze on him could have powered the Staples Center.
Of course it did. She's Madonna, and nobody does this stuff better. Not Lady Gaga, Katy Perry, Britney Spears, Ke$ha, Rihanna, Christina or any of the other generations of pop stars who have used as a model Madonna's tightly crafted concerts/dance showcases/art projects/spectacles. Some of them may be better singers or more acrobatic, or offer cheaper ticket prices — good seats went for more than $300 — but nobody has proved so adept at delivering the proverbial goods as Madge.
One piece of evidence: the suggestive way in which she incorporated the chorus of Lady Gaga's "Born This Way" into Madonna's "Express Yourself." Delivered as both an incitement and a generational bridge, the gesture embodied the ways in which Madonna has embraced her pop offspring.
Which is saying something, given that the album she's supporting is one of the least challenging of her career. A mostly failed effort at continuing her chart dominance by competing with pop artists now half her age, the approach on record felt a tad desperate, less dictating the conversation than chasing it.
She front-loaded her show with tracks from "MDNA," crafting a film noir-inspired, acrobatically choreographed run of the first five songs on the album. From there, the drama built, both within her musical seductions and during breaks.
And as is her wont, she let loose on a mid-set sermon, this one focused on Russian band Pussy Riot, and the recent shooting of a 14-year-old Pakistani girl, Malala Yousafzai, allegedly at the hands of the Taliban. She protested with her voice, and with her music she shocked and awed.
Rolling on the floor during "Human Nature," she stripped to her bra and turned her back to the crowd. The seductress pulled down her pants to reveal her derriere, above which on the small of her back was written the name "Malala."
The hits continued, moving through the set like a well-crafted mixtape: "Vogue" rendered in black and white; "I'm a Sinner" saw Madonna with a guitar playing to a version that morphed into a kind of Indian raga. "Like a Prayer" featured a choir of three dozen, consisting of the dancers who over the course of the night performed feats of balletic strength and agility.
Combined, the Queen of Pop delivered a grand spectacle, almost two hours of ridiculously joyous performance. No wonder tickets were so expensive. This was some serious business that required a lot of (shirtless, muscular) manpower, and just as much feminine energy and mystique.
Madonna brought her eye-popping MDNA Tour to L.A.'s Staples Center on Wednesday night, where she dedicated a song to Malala Yousafzai, the Pakistani child activist shot in the head and neck on Tuesday by a masked member of the Taliban.
Dressed in a leather skirt and black beret, the music icon took a break from the evening's theatrics to tell the sold-out crowd of 18,000 that it was time "to have our serious chat."
"This made me cry," Madonna said. "The 14-year-old schoolgirl who wrote a blog about going to school. The Taliban stopped her bus and shot her. Do you realize how sick that is?"
"Support education! Support women!" she shouted, to the crowd's cheers of approval.
Yousafzai, one of the most outspoken and influential advocates for girls' rights to education in the Middle East, remains unconscious in a hospital since the shooting. Pakistani Taliban spokesman Ehsanullah Ehsan said of the assassination attempt, "Let this be a lesson," and pledged that the Taliban would try again to kill her should she survive her injuries.
Later in the show, Madonna performed a striptease, during which she turned her back to the audience to reveal the name "Malala" stenciled across it.
"This song is for you, Malala," she said, then launched into "Human Nature."
At past tour stops, Madonna's back has read things like "Obama" — which was accompanied by her controversial proclamation that the country had "a black Muslim in the White House" — and "Pussy Riot," a reference to the punk rock group sentenced to two years in a Russian prison camp for a guerrilla performance in a Moscow cathedral.
One of the three convicted Pussy Riot members has since had her sentence suspended, but Madonna's thoughts were with the two who still sat behind bars.
"One thing I've realized during my travels is how lucky we Americans are," she told the L.A. audience. "We are for sure an imperfect country with an imperfect government. But I tell you — the s— I have seen in the Ukraine and in Russia… May I remind you that two members of Pussy Riot are still in jail. In St. Petersburg, 75 men were arrested for being gay."
But the serious talk was just a few minutes of a staggering, two-plus-hour multimedia spectacle, the likes of which the pop music world rarely sees.
Madonna, now 54, kept up impressively with her chorus of physically gifted (several literally double-jointed) dancers, ably commandeering a set heavy on new material that featured gothic monks, space samurai, a Tarantino-esque murder scene, Bollywood train surfing, an Art Deco voguing ball, a flying marching band and … whew … much more.
The star took some delight in taunting the L.A. crowd — which included the likes of Jessica Alba, Heidi Klum, Neil Patrick Harris and Darren Criss of Glee — by throwing around the dreaded "J" word.
"They say the people in L.A. are so jaded. That they're not excited about anything because they've seen it all and have done it all. True?" Madonna asked.
She then took the liberty of answering on behalf of the rowdy crowd. "F— no!"
And the effort was a family affair, with son Rocco Ritchie grooving with mom to "Open Your Heart" — a sweet nod to the song's classic music video — and her other son, David Banda Ciccone Ritchie, joining her re-mixer Martin Solveig onstage for his pre-show DJ set.
Madonna plays a second show at the Staples Center on Thursday, then brings the tour to Las Vegas on Saturday for the first of two dates at the MGM Grand Garden Arena.
Madonna
Rating for Madonna Staples Center
5
Advertisement
Madonna is coming to Las Vegas this weekend. If you haven't bought tickets yet, you will be missing one of the most spectacular theatrical concerts ever produced. Her performance at last evening's MDNA Tour at the Staples Center in Los Angeles not only cements Madonna's position as the ultimate gay icon, but it shows that Madonna is not an oldies act; she is more relevant than ever.
The controversy surrounding the show since this summer has been greatly exaggerated. Viewing pictures from the show means that they have been taken out of context. The guns were appropriate for a metaphor on Madonna's life. The stripping was not sexual in one bit; it was Madonna's way to assert power and to give a middle finger to a sexist and ageist society.
The controversy over the setlist is somewhat legit, as the show plays too heavily on Madonna's latest album MDNA, which is average at best and doesn't deserve to take up almost half of the show.
The beginning of the show was very dark. Madonna opened up with a religious themed "Girl Gone Wild" and soon sung "Revolver," which featured incredible acrobatics and gun slinging. She then went into "Gang Bang," which featured splattered blood, foul language, etc. It was more comical than anything else and the audience didn't seemed to mind.
The highlight of the first section was "Hung Up," in which Madonna was dragged to a slack line by people representing demons. She walked the rope, symbolizing that there is a fine line between Heaven and Hell.
The second part of the show began with "Express Yourself" and featured Madonna in the much dreaded majorette uniform. It looks horrible in pictures, but works in concert. She sang part of Lady Gaga's "Born This Way" and then part of "She's Not Me" from the Hard Candy album. Thankfully, this wasn't really a desperate slam against Mother Monster; it felt more like a tribute with Madonna saying that they are not the same stars and people should stop comparing them.
Before launching into her first hit "Holiday," Madonna took time to talk to the crowd about gay rights. This brought tears to the eyes of many gay men in the audience who have been abandoned by friends, family, etc. just because of their sexuality. Gay rights may have improved over the past ten years, but there is still a long way to go.
Madonna also talked about teenager Malala Yousafzai, who was shot by Taliban members for wanting to be educated and blogging about it. Tears ran down Madonna's face as the audience was touched by seeing that Madonna actually has human qualities.
The only slight downward part of the show was when Madonna sang "Like a Virgin" as a simple cabaret number. Several in the audience went to take bathroom or drink breaks, but she did receive a huge roar of applause when she finished the number. Things turned around when she performed "Love Spent" from MDNA right afterwards.
The second to last number in the show was "Like a Prayer." This has to be the most outstanding performance ever in a Madonna show. It was very joyful, spiritual, and dance inducing. The complete audience was dancing in excitement. This was the point in the show where Madonna most connected with the audience.
The final performance of the evening was "Celebration," which featured amazing lighting and crazy dancing. Usually, many in the crowd leave during the last song. That wasn't the case with this song, although it's possible that some expected some type of encore.
Lady Gaga, Kesha, Rihanna, and Katy Perry may be cooler to the younger generation than Madonna these days, but last evening's show demonstrated how far ahead of the pack Madonna still is. The Queen of Pop's reign has just been extended.
Thanks to everyone who shared their material!

Madame X is available in Box Set, CD, Vinyl and Cassette!
Get your copy HERE!