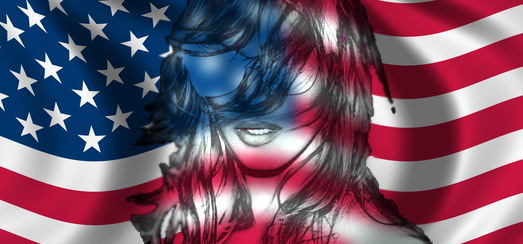 You took pictures, videos or just want to tell us about your MDNA Tour experience, do not hesitate to send us an email at [email protected]
—
FAN VIDEOS

CREW PICTURES

REVIEWS

There is only one word to say after Madonna's extravaganza, spectacle and concert Tuesday night: Respect.
Madonna tore it up on the dance floor at the age of 54. She shot her dancers up in a dance sequence rivaling the video game "Call of Duty." She bared her butt — with "Obama" written across her back. But she is nobody's baby.
For many women, she is the one, the beginning and possibly the end.
Even rapper Nicki Minaj, in a video segment at the concert, acknowledged, "There is only one queen and that's Madonna."
Madonna showed us that a woman didn't have to be nice to succeed, even as U.S. Secretary of State Hillary Clinton continues to struggle with her icy image. Madonna had children and marriages but was never defined by her partners, unlike Elizabeth Taylor and Angelina Jolie. Madonna is a singer who became a brand. There have been many women who tried to imitate, but fell short: Britney Spears, J. Lo, Lady Gaga. Most importantly, she is a megastar who did not self-destruct, unlike Marilyn Monroe.
Some women behave like men to get ahead. They wear pants. They talk like men. Madonna used her sex to succeed, and she did it Tuesday, stripping down to a bra, then pulling her pants down below a thong and baring her cheeks to the Key. "My ass belongs to Obama, even if he is a Christian. When he is in the White House for a second term, I will take my pants off all the way." (The religion reference was the diva's comeback to an earlier comment when she joked that he was a Muslim.)
Some fans wore t-shirts supporting same-sex marriage and approval of Referendum 74. We probably would not be voting on the issue on Nov. 6 without Madonna. She championed gay men, bringing them into mainstream pop culture with the song "Vogue," her movie "Truth or Dare" and her book "Sex."
And to those who were shocked by the shooty-shooty-kill-kill scene at Madonna's concert, it's only shocking because she's a woman. Men have been shooting people up in movies and on television for decades. Besides, I would be disappointed if she failed to produce any outrage. It would be like going to a U2 concert and not getting an education about government oppression in some corner of the world.
The shooting was one segment in an extravaganza that included a marching band suspended from the ceiling, Irish stepdancing (think "Riverdance"), a Jabbawokeez-style dance troupe, Parkour leaps across rising and falling pedestals and dancer contortions worthy of a Beijing acrobatics troupe. If Madonna was stiff in the opening numbers, by the middle and end, she was outdancing her band of androgynous, multicultural dancers 30 years her junior.
As opening DJ Martin Solveig said, "You all have the best seats that ever existed." KeyArena felt like an intimate arena on Tuesday, far better than the Tacoma Dome. It's worth saving, ahem, Seattle City Council and Mayor Mike McGinn.
In two hours, Madonna showed us the uselessness of Seattle's passive aggression. I bow down to her Madgesty, and deliver her message to those who missed the concert.
What are you looking at?
Strike a pose.
Express yourself.
Describing Madonna's current tour in a set amount of words is a lot like being asked to explain your life story in detail to a total stranger in under a minute. There are so many moments of beautiful minutiae that are going to be glossed over in recapping it that it almost seems fruitless from the start. Madonna's 135 minute set was a master class in the art of professional presentation, and there wasn't a second of it that didn't feel packed to the edges with the sort of meticulous attention to detail that it feels tragic to overlook. Keeping that in mind, here I go, trying to explain what I saw in the 135 minutes I spent with Madonna at Key Arena on Tuesday night.
Madonna has always been an intense aggregator of pop culture. Some would call her a trendsetter or pioneer; others would liken her to wearing culture as a costume. Whatever side of that fence you sit on, it's impossible to deny the woman's broad grasp of influences, and seeing all of this in a concentrated, back-to-back experience was intensely inspiring and simultaneously jarring. Toss what you know/feel about organized religion, spirituality, sexuality, politics, fashion, love, fear and the general human condition into a blender with a well-stocked iPod and you've got a good idea of the chaotic story that Madonna is trying to navigate through in the MDNA tour.
This isn't to say that the chaos is unwelcome or unplanned. Approaching an arena show is a lot like going into Fourth of July festivities; if they're doing it right, it's going to be loud, bright, and you're going to find yourself processing it for a while. You're there for the spectacle, the bombast, the opportunity to see something larger than life, and everything about the MDNA tour is hellbent on filling up your peripheral to the point of your processor overloading/melting down. The show started out beautifully enough, with mohawked monks chanting a haunted melody (as rainbow-winged gargoyles took their positions on LED-wrapped cubes that rose above and sunk into the massive stage) and a giant smoking thurible swung from the rafters, spreading incense above the crowd. Were we being blessed or forgiven? Towering video screens flanked the background, showing a large ornate "MDNA" cross and an ancient cathedral backdrop whose dark, rich, jagged nature seemed like something out of an Alexander McQueen piece. Behind the screens, lights were staggered to appear like rays of daylight scurrying through the cracks. Madonna rolled into the arena, praying in a window before the stained glass on the screens around her shattered loudly and dramatically, raining to the ground and effectively starting the show. Never one to eschew controversial tactics, Madonna strode from the prayer room onto the stage in a burqa, toting a machine gun. Subtlety gets a night off when Madonna is in town.
Although the set was skewed a bit more toward newer material than some fans would probably like, it was hard to even worry about hearing favorite songs when every second of the set was as visually stunning as it was. During "Gang Bang", Madonna reminded us heartily of her continuing penchant to shock. Appearing in a seedy motel room set, various intruders (creepily choreographed dancers) crawled into her room to meet their grisly demise at the end of Madonna's pistol, Madonna gleefully cackling while the giant LED screens making up the stage backdrop were strewn with bright red blood sprayed onto a while background. It was a pretty healthy tip of the cap toward Quentin Tarantino, as well as a gripping reminder that this wasn't going to be a quick, baggage-free bounce through Candy Land.
That said, Madonna wasn't all gloom and doom the entire time, either. During "Express Yourself", Madonna went into full blown eye candy mode. Entering with a troupe of majorettes and some absolutely amazing Roy Lichtenstein-inspired pop art graphics blasting and spinning the entire time, Madonna seemed to be throwing down the gauntlet for any current and future pop singers to just TRY to outdo her. A marching band entered midway through the song, with an army of drummers suspended from wires above the stage floating above the crowd, drumming as if it was just a normal thing to be hanging 100 feet above the ground. No big deal, right? Subtlety be damned, Madonna wove Lady Gaga's "Born This Way" into "Express Yourself" (they're basically the same song), which seemed like a bit of a friendly nod toward Gaga until Madonna ended the song defiantly saying "She's not me."
The show's narrative was loose and scattershot, with Madonna going from hell-to-heaven ascents to raining bullet casings, from ancient jigs ("Open Your Heart", with Basque trio Kalakan on vocals and percussion and spotlighting her own 12 year old son Rocco Ritchie as a featured dancer) and the slow, moving love song "Masterpiece" before jettisoning to the art-deco runway show of "Vogue" and the writhing orgy of androgyny that was "Candy Shop". Even some of the classic Madonna material was redone, with "Like A Virgin" becoming a sparse, creeping piano-accompanied piece, turning the song on its head from the sugar-rush celebration of a relationship into a desperate, mournful ballad of unbreakable codependence. Along with some of the darker moments, the airtight and creative dance segues (obviously somewhat inspired by the Jabbawockeez) were less drill team pump-it-up and more focused on maudlin elements; "Erotica" had a troupe of creepy clown intruders surrounding Madonna's film noir penthouse, and the pop-art graphics of "Nobody Knows Me" addressed the trappings of fame, as well as making a touching tribute to kids who had (presumably) passed away due to bullying. The back-to-back of "I'm A Sinner" and "Like A Prayer" showcased classic Madonna at her poking-the-bear best; giving nods to the Beatles' Eastern mysticisms while embracing the wild life, then inviting a 35 member choir up on stage for a massive and heavenly rendition of "Prayer". It was a hilarious (if not slightly expected) move on her part, showing her 2012 take on being comfortable in her own skin versus her 80's struggle with Catholic guilt. Rather than some literal ascent to heaven, Madonna ascended to a Tron-inspired dance club for the set closer "Celebration", bringing out a troupe of dayglo-clad, DJ-inspired dancers and turning Key Arena into a throbbing, pulsing spaceship preparing to jettison the arena into orbit. I hope they have ATM's in space, because something tells me that riding with Madonna ain't gonna be cheap.
Notebook Dump: If her genuinely sweet interactions with the audience are any indication, the faux-British accent period has seemingly come to a halt. Thankfully. She also sang (live) most of the show. She apologized for a scratchy throat (blaming Vancouver for the giant cloud of marijuana smoke the night before), and did an admirable job of being a ringleader and a singer. Sure, there were a few flat notes here and there, but I feel better knowing a person (not a backing track) is manning the microphone at Madonna's shows.
Notebook Dump #2: For as many "scary arms" jokes as I wanted to make, I got nothing. The woman looked absolutely incredible.
"If my voice is a bit scratchy tonight, I still haven't recovered from all the marijuana in Vancouver," said Madonna Tuesday night at KeyArena. "Thank you for not smoking."
Madonna was not kidding around. Before she went on stage, a voice through the speakers reminded the audience not to smoke. Of course, smoking at indoor concerts is illegal in Washington. But if you had wanted to try anyway, you would have thought twice after her opening salvo.
The middle-aged Queen of Pop kicked off her concert by simulating a killing spree, complete with audiovisual effects. Wielding an assault rifle and a pistol, she pretended to fire at black-clad assailants in time with her music. Each gunshot was matched with blood splatters on a giant screen behind her, and was eardrum-cracking loud. It was extraordinarily violent.
She finished by shooting one body several times, crying out, "If you're gonna act like a bitch, you're gonna die like a bitch!"
It gave a theatrical edge to "Girl Gone Wild," followed by "Gang Bang" — songs from Madonna's new album "MDNA," which focuses on her recent divorce. But the violence was so over the top, it overshadowed the rest of the show.
And it was some show: Two hours of hits from a remarkable career, with high-budget sets and intricate choreography. "Like A Prayer" got the biggest audience response, next to "Holiday." "Vogue" was a standout, with dancers and Madonna dressed in drag. She wore pants, a button-down shirt and a necktie — and one of the iconic, pointy-breasted metal contraptions she wore in the '90s, which Lady Gaga and Nicki Minaj copy today.
At one point Madonna stripped down to her bra and pants, and mooned the audience, showing her thong underwear and a tattoo on her back that said "OBAMA."
"When Obama is in the White House for his second term, I will take my pants off all the way," she said. "And that's not some cheap political promise."
At any other concert, that would have been the most memorable bit. But with that ultraviolence at the beginning, it was tough to think about anything else walking out of Seattle Center.
Thanks to everyone who shared their material!

Madame X is available in Box Set, CD, Vinyl and Cassette!
Get your copy HERE!