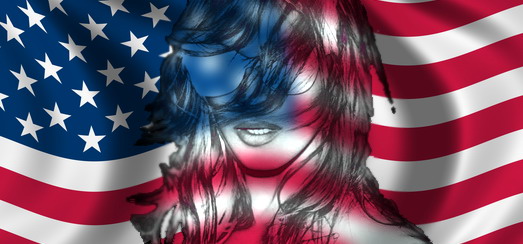 You took pictures, videos or just want to tell us about your MDNA Tour experience, do not hesitate to send us an email at [email protected]
—
Madonna on the Obama statement…
I was being ironic on stage. Yes, I know Obama is not a Muslim – though I know that plenty of people in this country think he is. And what if he were?
The point I was making is that a good man is a good man, no matter who he prays to. I don't care what religion Obama is – nor should anyone else in America.
FAN VIDEOS

FAN PICTURES

CREW PICTURES

REVIEWS

Madonna's Good Diva and Bad Diva faced off Sunday at the Verizon Center, the first night of a two-night stand in the District. Good ultimately triumphed.
But it took a while. Like only a Bad Diva would, Madonna came to the stage at 10:30 p.m., 21 / 2 hours after the posted showtime. The delay disrupted more than babysitting arrangements; arena management was forced to strike a deal with Metro to extend the usual midnight service deadline. Madonna, however, surely benefited financially from the stalling, because some portion of the audience, made up of fans who'd paid from $59 to $390 per ticket, killed time by visiting merchandise booths, at which they could spend an additional $45 on licensed "I'm a Sinner" T-shirts or Madonna-endorsed "Addicted to Sweat" workout DVDs (featuring routines called "Get Wet" and "Dripping Wet").
Once the show, indeed, went on, the benevolent side of Madonna's divadom took hold. Everything Madonna threw at the fans made the road shows of other dance-pop arena acts, such as Britney Spears and J.Lo, look amateurish and small. Madonna seemingly has better dancers, choreographers and designers, and a far bigger budget, than everybody else. As Nicki Minaj told the audience in a videotaped cameo shown at the end of Madonna's recent ranting single, "I Don't Give a .?.?.": "There's only one queen, and it's Madonna!"
Take her entrance: With the stage full of buff guys in monk outfits and contortionists on pedestals putting their feet behind their necks, and as a massive smoking golden thurible-shaped object swung to and fro in front of a giant cathedral-like structure while some sort of dense Gregorian chant-sounding noise blared over the public address system, Madonna dropped from the ceiling wearing a black jumpsuit and wielding an assault rifle. The medieval music was then replaced by Madonna moaning, "Oh, my God!" over and over before kicking into her recent techno single, "Girl Gone Wild," which she shrieked while rubbing pretty much all of her own and her dancers' body parts as humongous video screens showed what looked like the end of the world. Madonna survived this mini-Armageddon with enough energy to pick up the assault rifle and strafe the crowd one more time before song's end.
She maintained that level of bombast for most of the two-hour set.
Madonna's show, dubbed the MDNA Tour, is surely her most violent production to date. During her rendering of "Gang Bang," the stage became a seedy motel room in which she chugged whiskey and used more firearms to gun down two generic bad guys. She mounted their carcasses for a theatrical but confusing pelvic thrust routine, yelling "Die b—-!" a whole lot, though it wasn't clear whether all the lyrics were being sung live. Meanwhile, the video screens showed enough splattered blood to make Quentin Tarantino nauseated.
Although Madonna, 54, seems a little old for her fascination with cartoonishly macabre violence, her fan base has aged enough to handle it. Gone are the days when millions of tween girls expressed their individuality communally by wearing the same tawdry outfits the headliner wore onstage or in videos.
"Nobody else dressed up tonight!" lamented Lauren Bruzonic, 34, of Annandale, wandering the Verizon Center concourse with a quartet of 30-something friends from her native Northern Virginia while waiting for the show to start. Almost everybody was in civilian clothes, but Bruzonic and her buddettes dusted off the vintage bustier-and-crucifix get-ups they wore years ago to pay irony-free tribute to their idol.
"I was in love with Madonna when I was a little girl — what little girl wasn't?" Bruzonic said. "I'm here because all of her old songs still make me happy."
Fans who've been with Madonna as long as Bruzonic were no doubt prepared for the scandalousness that characterized this performance. But the crowd seemed far more engaged when Madonna channeled her attention-getting energies in more playful ways. She put on a majorette's outfit for "Express Yourself," and, while a large drum corps swung overhead, twirled a baton, perhaps re-creating moves she used during her days as a high school cheerleader. Alas, before the song was over, Madonna lifted her skirt and dirty danced with the baton. The fans ate it up, just as they ate up her yelling, "Do the bump with your neighbor!" amid all sorts of crotch-grabbing during "Holiday"; her donning a painful-looking metal bra and sashaying down a long runway while reprising "Vogue"; and her pulling down her pants to flash her buns of steel during "Human Nature."
But a Madonna show isn't entirely dependent on prefabricated outrageousness, pre-recorded voices or exposed naughty parts. The house lights went up as "Like a Prayer" opened, and Madonna led her hired choir and about 20,000 volunteer crooners on a fairly straight singalong of that 1989 single. Nary a gun was fired nor crotch grabbed. No dirty words were uttered. Yet "Like a Prayer" delivered more joyful noise and thrills than one has a right to expect from an arena concert, even one where the headliner makes fans wait as long as Madonna made these fans wait.
Brava, diva!

Thanks to everyone who shared their material!

Madame X is available in Box Set, CD, Vinyl and Cassette!
Get your copy HERE!