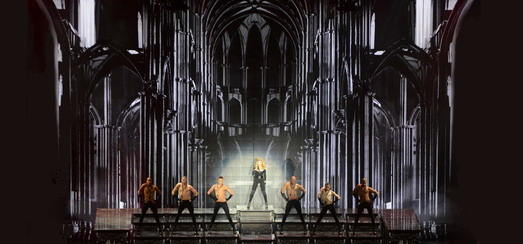 Johanna Marsal, a producer at Moment Factory, told blogTO…
The whole process started right after the Super Bowl. The day after we finished that show, everybody put their minds on the tour.

The [Girl Gone Wild] cathedral took us more than a month and a half to create. She really wanted to have a dark and magical beginning.

The amount of communication and co-ordination in this project was insane.

It was a pleasure to work with her, because she was very involved in every level. We would know right away if we were going in the right direction or if we should rework the concepts. She made sure all the departments were in synch. I was surprised by her energy and talent.

There were plenty of things that we wanted to put into the Super Bowl that we couldn't, because we only had 12 minutes. So the tour was a great opportunity to showcase all the ideas and everything Madonna wanted to showcase.

When we saw the show for the first time and saw the public react to it, it was an amazing sensation. For me, the best part was when the show came to Montreal, and the fact that we could share our work with our colleagues, collaborators and community; it was a completely different feeling.
Slackliner Hayden Nickell who's currently touring with Madonna and is also a good friend of slackliner Andy Lewis who performed with Madonna during the Super Bowl halftime show, told Metro…
I was so excited to see slacklining get so much attention.
She practices every show day. [The MDNA Tour rehearsals in New York] was actually really easy and fun. There was no intimidation.
She shows you that whatever you put your energy into, you can make happen.
He also told The Star…
[He remembers the lessons] Breathe, look forward, use your arms to balance, relax, have fun.
Not as easy as it looks. She really pushes herself. She's an incredibly fast learner.

Her music is something I've grown to appreciate. Before I never really heard too many of her songs. I listen to a lot of rock, guitar based songs. For me it's what you're exposed to.

She gravitates to unique things that she is interested in — she looks at the people who are doing it, how and why they're doing it and I presume she asks herself 'Is that something I'd want to do or incorporate into a show?

When I first heard that Madonna wanted to include slacklining in her tour, I was absolutely thrilled. I've spent four years promoting the sport with Gibbon. But when Madonna put it in the Super Bowl — it really opened people's awareness to it and there was a mass awakening around the world.
To stay in the MDNA Tour spirit, here is some rehearsal footage…

Madame X is available in Box Set, CD, Vinyl and Cassette!
Get your copy HERE!