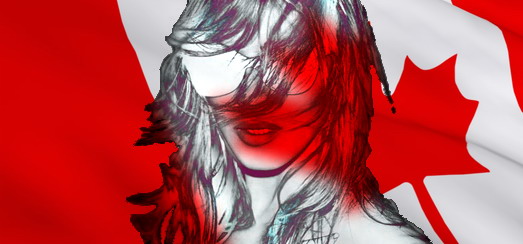 You took pictures, videos or just want to tell us about your MDNA Tour experience, do not hesitate to send us an email at [email protected]
—
FAN VIDEOS

FAN PICTURES

CREW PICTURES

REVIEWS

The fans who shelled out upwards of $300 for the hottest ticket in town know that Madonna puts on less of a concert than an all-out event, and none went home disappointed from a sold-out Scotiabank Place show that stretched well into the midnight hour.
Of course, with all the international headlines left in the wake of her MDNA tour — with the swastikas superimposed over political faces, the flaming crucifixes, the boob flashes, feigned violence and calls for revolution — it seemed like everyone was waiting to see which pot Madonna would stir next.
Truly, it just doesn't qualify as a cause celebre anymore until Madonna's scrawled in lipstick across her backside.
But other than a "No Fear" tattoo on her exposed back, there was little in the way of political furor, and except for a few cheeky exchanges with fans, Madonna mostly let her music do the talking.
Not that a Madonna concert is ever just about the music.
The accompanying imagery, dripping with metaphor, was just as much a part of the spectacle as the music, and, as expected from someone with Madonna's knack for provocation, the images pulled no punches.
The show's overture began with a dozen cloaked figures swinging a giant smoking urn over the crowd as Madonna descended from the rafters in a gilded confessional, launching her MDNA tour as she does the album with Girl Gone Wild.
Images of Renaissance-styled angels descended into a hellfire backdrop as the beat slipped into Revolver, but the opening credits to The Exorcist soon dissolved into something more closely resembling a Tarantino film.
Under the throbbing beat of Gang Bang, Madge and her femmes fatale wielded pistols and assault rifles and randomly picked off imaginary assailants in the crowd as all sorts of blood spatter and viscera splashed across the screen.
Numerous video interludes showcased her entourage of toned dancers, and allowed for the customary costume changes as the set unfolded in five distinct acts: Transgression, Prophecy, Turning Up the Hits, Masculine/Feminine and Celebration.
After such a foreboding opening, resonating with Gothic subtext, Madonna emerged from the first costume change as a caricature of her old, bubbly bleached blonde persona, dressed as a marching bandleader complete with twirling baton for Express Yourself.
And if there's anything to the rumours of a feud between Madonna and her prime progeny Lady Gaga, the Queen still wears the crown, as she interpolated the carbon copy Born This Way, singing (somewhat cattily) "She's not me" before busting back into Express Yourself.
And the fans — the show was, as expected, a complete sellout with more than 15,000 packing Scotiabank Place, many likely rueing Tuesday morning as the show didn't get underway until almost 10:30 — gleefully played the part, with many dressed up and putting on their favourite era Material Girl face.
All of those faces were present on stage, too.
Madonna emerged in tight black leather slinging a matching six string for Turn Up the Radio, she was her bad Catholic girl prototype on all fours in Papa Don't Preach, Masterpiece ushered in a cadre of Golden Age Hollywood romantics in flickering monochrome, the sex-charged groove of Human Nature featured her Erotica imagery, and she was barely recognizable as a grown-up crooning the once-bubbly Like a Virgin.
Yet, for all of her longevity, the 54-year-old Queen of Reinvention rarely showed her age, her trademark lithe moves front and centre on every song.
The only time she even hinted at her years was when she informed the audience her son, who usually dances in the show, had to miss Monday's gig "because he had to go to school."
Only fitting, because "back to school" is exactly where Madonna sent a new generation of impersonators.
Thanks to everyone who shared their material!

Madame X is available in Box Set, CD, Vinyl and Cassette!
Get your copy HERE!