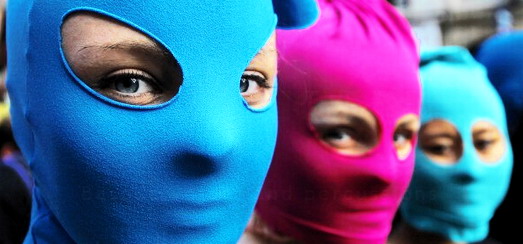 On the eve of tonight's 2012 Video Music Awards, MTV News sent questions to members of the Russian agitprop collective, Pussy Riot, asking them to respond to the growing list of artists who have shown solidarity with the wave of international outrage that has followed the two-year sentencing of fellow members Maria Alyokhina, Nadezhda Tolokonnikova and Yekaterina Samutsevichand for "hooliganism."
The group released a 90-second video moments ago showing the remaining members of the collective unfurling a massive banner, thanking Madonna, Bjork, Red Hot Chili Peppers and Green Day for their solidarity while rappelling down a building and defiantly declaring, "The fight for freedom is an endless battle that is bigger than life!" Then — in a loaded political statement — they burn a photo of Vladimir Putin.
On February 21, five members of Pussy Riot staged an impromptu demonstration in Moscow's Cathedral of Christ the Saviour, in which they stormed the soleas (or sanctuary), crossed themselves, and performed a "punk prayer" that asked the Virgin Mary to rid the country of president Vladimir Putin.
On March 3, two of the women behind the demonstration, Alyokhina and Tolokonnikova, were arrested by Russian police on charges of "hooliganism motivated by religious hatred." Two weeks later, a third member of the group, Samutsevich, was also arrested on the same charges. The three members of Pussy Riot would then spend the next five months in detention, awaiting a trial date while their case made international headlines and caught the attention of a wide collective of musicians, including the aforementioned Madonna, the Chili Peppers and Green Day.
Finally, on August 17, amidst protests outside a Moscow courthouse, Alyokhina, Tolokonnikova and Samutsevich were found guilty, and sentenced to two years in a Russian penal colony. The decision was quickly met with derision from human rights groups like Amnesty International (who called it "a travesty") and outrage from the global community; demonstrations were staged around the world with demands that the trio be set free. To date, that request has not been met.
Some see Pussy Riot as freedom fighters, especially given Putin's contentious re-election and the country's crackdown on all manner of civil protests. To others, however, Pussy Riot are little more than a nuisance, rabble-rousers who, with their Christ the Saviour performance, went too far, insulting the deeply held religious beliefs that have guided the nation for centuries.
MTV News will solicit artist reactions to the video on the 2012 Video Music Awards red carpet tonight at 7 p.m. ET/PT during the pre-show.
Source: MTV

Madame X is available in Box Set, CD, Vinyl and Cassette!
Get your copy HERE!