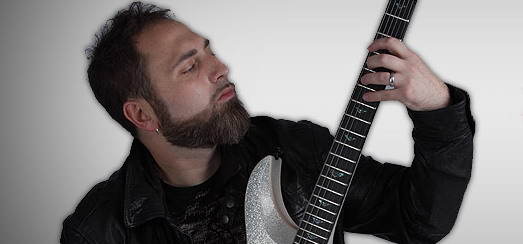 We know Madonna has good taste, but now we also can confirm that her crew has excellent taste as Monte Pittman just stated that his favourite album is "American Life"!
Madonna's guitarist Monte Pittman was interviewed by Anne-Marie Withenshaw on Montreal's The Beat 92.5 FM discussing his solo music Pain, Love & Destiny, the MDNA Tour, and even some metal talk.
Here's a transcript by Madonnarama…
Anne-Marie Withenshaw: The MDNA Tour only began it's North American run a couple of nights ago. Tell me how it's been.

Monte Pittman: The first show was last night in Philadelphia for the North American Tour. It was packed. There were people behind us. You're standing on stage and you look behind you and there were people standing up and dancing.
It was a great crowd, a great way to start. I wanted to wait as long as I possibly could to see what the visual was going to be. So I'm only thinking about it musically. It all kind of slides in together at the end.
It's really bizarre how certain accents you hit, or something like that, does interact with what happens on the stage.

Anne-Marie Withenshaw: After so many tours with Madonna, how would you describe your musical relationship to her?

Monte Pittman: Each tour is unique. They've all been great. It's hard to compare them all.
A lot of my role kind of happens at the beginning, helping define what's going to work live or maybe a song that she's going to play on the guitar, since I've been giving her guitar lessons for twelve years now.
That's kind of my main input.
Sometimes, we come up with a guitar song, like a version of the song.
Speaking of the "Drowned World Tour", I came up with an acoustic rendition of "What it feels like for a girl", Re-Invention there was something we did for "Burning up", Sticky & Sweet "Borderline"…
Each time that's kind of my involvement. I'm there for whatever is needed.
One of the great things about Madonna is that she's not like "here's your part, you play this." We all kind of play together and she utilizes everybody's unique talent. That kind of creates everything.

Anne-Marie Withenshaw: Earlier this year, I spoke with Sofia Boutella and she said the exact same thing. She said she really makes it like one huge giant band, one huge giant family. "We sort of all feed off each other's energy."

Monte Pittman: I think that's one of the secrets of her success.
Everybody influences each other and you always take something from that.

Anne-Marie Withenshaw: I love the story of how you ended up, now almost 12 years ago, working with Madonna. You were working in a guitar center in LA and Guy Ritchie came in to buy her a guitar. Fast forward a couple of weeks later and you are her guitar teacher.

Monte Pittman: The story always gets twisted around a little bit, but it's close.
I played my first gig when I was fourteen in Texas. I moved down to LA hoping that maybe my band would come with me or start a band or do something to work professionally as a musician.
I started working at the guitar center in Hollywood so I could meet musicians, do something. I gotta have a job so to work with music.
But then I found that I wasn't really good at selling guitars.
The thing is, to make money… the best guitars don't necessarily make the most money.
I quit the guitar center and starting teaching guitar lessons, because a lot of people would come in looking for guitar teachers.
One of my first students…It was Guy's assistant at the time, he just said "I need to get lessons for my boss". So, I drive up to the house and Madonna was in the front yard playing with Rocco. I was like "What am I getting myself into". I'm like "Hi, I'm here to see Guy". So I started teaching him, and from that I started teaching her.
A month after teaching her how to play the guitar, she invited me to play with her on The David Letterman Show. From there on, I just kept teaching her and then she was going to go on tour.
She said "I'm going to need a guitar player, you want to play guitar for me?"
I've been with her ever since.

Anne-Marie Withenshaw: As long as Madonna's touring, you're going to be by your side?

Monte Pittman: If she wants me to be there, I'm going to be there.
Some of the songs on the new album are some of my favourite songs she has done in a long time: Falling Free, Some Girls, I'm Addicted.
I think there's great songs on there. A great overall album.
It's kind of dark and I like that.
"American Life" is my favourite album of hers. It got kicked around a little bit, but it's kind of dark and I like that kind of stuff.

Anne-Marie Withenshaw: Do you sometimes feel like "I was in this super heavy rock band and I've been playing with Madonna for 12 years? This is crazy."

Monte Pittman: People sometimes don't understand that I do acoustic stuff, rock stuff, the whole Madonna thing or the Prong thing and they're kind of baffled, but to me it's just music.
My first album is just acoustic guitar and vocal.
My second album that's out now, it just came its own thing, a rock album.
The idea is in my show, I've got something for everybody.

Anne-Marie Withenshaw: What kind of a student of the guitar was Madonna? What was it like teaching her? How has she evolved as a guitar player now?

Monte Pittman: As anybody would, the more you play and the longer you do it, the better you get.
When I first started teaching her, I could tell that she had gone over everyone of my notes, every piece of paper that I gave her. Just as she is in her career, she goes over every detail.
I've been very proud of her seeing her out there, playing on this tour. I am every time.
She just keeps getting better and better.
Unfortunately for me, that's less that I get to work with her one on one.
In this tour, when she's playing, we went through each song a little differently.
You're playing arenas and stadiums, what's going to work?
AC/DC and Kiss, they don't play a lot of stuff. There's just cords that they play and bring out, because they're playing to a lot of people. You have such a distance from where the sound is created to hitting the back of the arena.

Anne-Marie Withenshaw: Your two or three favourite moments from the tour that we can expect?

Monte Pittman: Every one of her concerts seems to have four sections. You've got to take the whole thing in as a whole. It's like a show.
A Madonna show is not like your every day concert, it's like you're seeing a movie being field, it's like you're at a theatre performance and you're at a concert.

Anne-Marie Withenshaw: I wanted to ask you about Pussy Riot. Madonna spoke out and was so brave and awesome. Did you get any feedback from them?

Monte Pittman: It really helped bring more attention to the situation.
For what those girls did, that punishment is just atrocious.
Hopefully more people will start recognizing that.
One thing that you've heard her say at the shows throughout Europe, it's something we've seen, the intolerance of people it seems to be growing and not to be going away.
Bad things start that way.
If you follow history, you either learn from it or you repeat it.
Listen to the full interview…
Don't forget to vote on Monte Pittman's remix of Bon Iver's song "Calgary" HERE!

Madame X is available in Box Set, CD, Vinyl and Cassette!
Get your copy HERE!