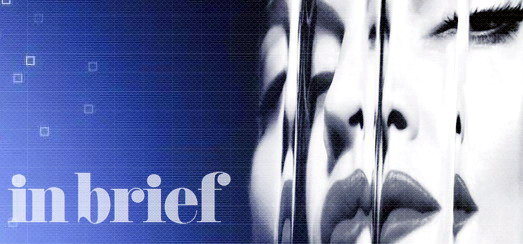 A League of their Own
The "A League of their own" Blu-Ray will be released on October 16th 2012 in the United States and Amazon.com has recently updated the cover.
Have a look…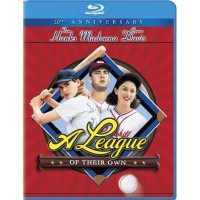 Azealia Banks channeling Madonna
The incredible Azealia Banks released her latest video yesterday and tweeted…
Channelling Madonna, Crystal Waters, And Aaliyah for ya!
Madonna cracking Jokes with Georgia May Jagger
Madonna was "cracking jokes" when Georgia May Jagger modeled for her.
The Queen of pop selected Georgia as the latest face of her Material Girl clothing line.
The model flew to meet Madonna and was amazed by how kind and fun she was.
She tells InStyle…
Madonna was funny.
She was cracking a lot of jokes.
I love it when women are as powerful as she is.
People have been looking up to her for 30 years.
Madonna impersonator Jimmy Moore gets thumbs up from Madonna's inner circle
Moore was welcomed into Madonna's VIP gold section when the Material Girl headlined Montreal's Bell Centre this week.
I was already going to the show but was invited to the VIP area by a longtime fan of mine from some 12 years ago. I arrived [in Madonna drag] in a limousine, drank champagne, posed for tons of photos with Madonna fans for over an hour and everybody went crazy!

Then Madonna's manager Guy Oseary saw the commotion, came out and told me, "You look gorgeous!"

And Madonna's [fashion designer] also came out to meet me and they made me feel special.
It was a beautiful night and Madonna is living proof that you can do whatever you want to do, if only you work at it.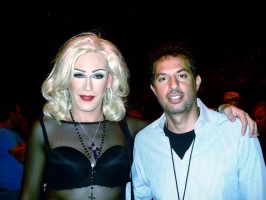 Four Boeing 747 Freighters Needed To Carry Madonna's "MDNA 2012 World Tour" Equipment To The U.S.
Paris-Vatry Airport was selected by singer Madonna's team to repatriate all the MDNA Tour stage sound and lighting equipment and other material to the US upon completion of the star's European engagements.
Thirty-five trucks arrived at the airport loaded with 360 tonnes of equipment and material which were put onto pallets.
These were then loaded onto four Boeing 747 freighters belonging to Air France-KLM Group, Kalitta Air and Atlas Air bound for for New York/JFK Airport.
Duane Wood, President of Sound Moves Inc, said…
We wish to convey to the entire team at Paris-Vatry Airport our sincere thanks for successfully orchestrating this large-scale operation within the prescribed timeframe.
Fashion's Night Out promo video featuring "Dress you up"
Thanks Philippe
Madonna tumbles at the MDNA Tour in Montreal
Madonna and dancer Emilie Capel had a big laugh when they fell during "Celebration" at the @MDNA Tour in Montreal!
Around the 2 minute mark…
The MDNA Tour Masks
Latest video by Cedric Coldefy showcasing the incredible work by Erik Halley who worked on the masks for Madonna's MDNA Tour…
Madonna Mania on ZDF
Tonight, German TV channel ZDF Kultur has planned an evening full of Madonna goods!
20h15 – Madonna: the woman behind the brand
21h20 – Best of Madonna
21h50 – Madonna on Tour
22h05 – Desperately Seeking Susan
The first three programs will be rebroadcasted starting at 00h05
Billboard Touring Award
Madonna has been nominated by the Billboard Touring Awards that will take place on 7-8 November 2012 at the Rossevelt Hotel in New York.
Vote for Madonna to win the Eventful 2012 Fans' Choice Award HERE!
Thanks Erick
Feel Yourself – Bright Light Bright Light vs Madonna
If Bright Light Bright Light's latest bootleg has left you desiring even more Madonna, check out DJ D'Auria's hour-plus long 'Spotlight' mix of Madonna remixes old and new, available for download via SoundCloud.

Madame X is available in Box Set, CD, Vinyl and Cassette!
Get your copy HERE!