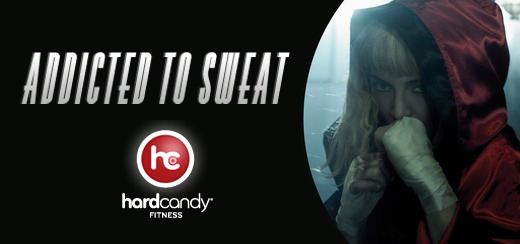 The "Addicted to Sweat" DVD series by Madonna's Hard Candy Fitness are finally available!
Here is the official press release…
NEW YORK, Sept. 5, 2012 /PRNewswire/ — Hard Candy Fitness®, the global luxury fitness brand co-founded by Madonna, announced today the launch of a new DVD series "Addicted To Sweat" (ATS). The groundbreaking fitness DVD series will feature the exclusive programs created by Madonna and demonstrated by Madonna's personal trainer Nicole Winhoffer. The programs were previously available only at Hard Candy Fitness clubs. The four-disc set is available for purchase at www.AddictedToSweatDVD.com.
Madonna commented…
The Addicted To Sweat series is inspired by my weekly workout regimen that helps me take care of my mind and body.
In the DVD series, Winhoffer showcases and teaches the Hard Candy Fitness' results-driven techniques and programming created by Madonna, which blends innovative dance, toning and cardio training.
Winhoffer who is also a professional dancer stated…
Madonna is my mentor and my teacher. Working together these last few years has enabled us to reach our goals in creating a beautiful and ideal physique for her. Through this experience, we were able to create training techniques that I get to showcase in the Addicted To Sweat DVDs.
The series of four DVDs are as follows…
DVD ONE- ATS DANCE: GET WET
Structured like a dance class, Winhoffer breaks down all steps in this tutorial-style DVD. It will hone in on the importance of form and focus to perfect choreographed dances, strengthen the core, and reach optimum results.

DVD TWO- JAW BREAKER TOWEL: SLIPPERY WHEN WET
A unique, total body conditioning workout that targets every muscle during a short, intense routine that pays special attention to abs, core, arms, chest and back.

DVD THREE- ATS DANCE: WET, WET, WILD
Building from DVD one, Winhoffer pushes the dance skills to the next level, featuring more diverse moves that increase the power of the workout.

DVD FOUR- JAW BREAKER CHAIR: DRIPPING WET
A chair and the floor are the only tools required for this extreme workout aimed at sculpting, toning and tightening the entire body.
PRICING & AVAILABILITY The four-disc set is available beginning today and can be purchased for $59.95 at www.AddictedToSweatDVD.com.
ABOUT HARD CANDY FITNESS ®
Hard Candy Fitness® is a global luxury fitness brand with a distinctive footprint. The clubs are focused on innovative group fitness programming and personalized fitness training. The brand was created in 2010 by Madonna, the world's leading female pop-icon and well-known fitness enthusiast, and New Evolution Ventures, the world's leading expert in fitness club development and operations. Hard Candy Fitness® currently has club locations in Moscow, Santiago, and Mexico City, and will soon announce the opening of several other locations around the globe
For more information about Hard Candy Fitness®, please visit www.hardcandyfitness.com and www.facebook.com/hardcandyfitness.

Madame X is available in Box Set, CD, Vinyl and Cassette!
Get your copy HERE!