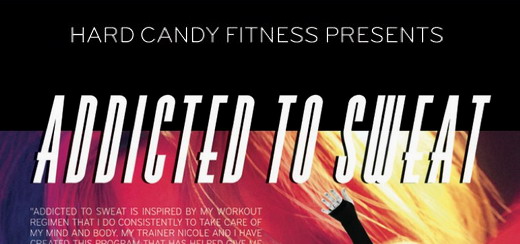 On September 5th, Madonna and her trainer Nicole Winhoffer will be releasing the "Addicted to Sweat" DVD series.
Here is an overview of what's included…
ATS DANCE: "GET WET" is the first level of 3 routines from Madonna's cardio dances. Nicole Winhoffer breaks down each step in a tutorial, so you are able to practice and master the choreography before turning up the music and performing. You will learn 3 ATS signature dances, "Step Together," "Cha Cha" and "Electric Slide." These are high impact, intricate, and high endurance dances, but through N
icole's teaching technique they are simple to learn and follow along. Together, Nicole will train and guide you as she does with Madonna, to achieve results and learn about the body. As an added bonus segment, Nicole combines all three routines together, so you can perform without stopping: just like Madonna. By the end of the workout, you will be wet and Addicted To Sweat.
JAW BREAKER TOWEL: "SLIPPERY WHEN WET" is the most unique, functional total body conditioning workout ever created. A complete transformation of your body can be attained with the use of 2 towels. Nicole Winhoffer targets every muscle in this short, intense workout and pays special attention to the abs, core, arms, chest and back. During the warm up you will become familiar with the core standing
moves. Next, the full body conditioning challenges every muscle in the body. Finish up the toning, is the unique ab and core training technique. You will finish up with a delicious flexibility and mobility cool down. No worries if you are new to exercise. Nicole offers one-on-one expert coaching provided in the tutorial to guarantee flawless technique and rapid results. As she guides Madonna, she will be able to guide you. Any fitness level can begin this program and as you get stronger, you will be able to do more and more. Get toned, long lean muscles like Madonna by bringing your all to this innovative, fun and energizing workout.
ATS DANCE: "WET, WET, WILD" is the second level of 3 routines built on the skills that you mastered in DVD #1. Nicole Winhoffer features three new ATS signature dances, "Ride the Horse," "Drop Down" and "Hop Forward". These dances definitely take the intensity factor up a notch but with the one-on-one coaching in the tutorial segment, you will have plenty of time to practice before moving on to the calorie blasting workout. Experience the excitement and feel like a real performer in the bonus segment when all 3 dances are put together in one combination – just like a live dance class!
JAW BREAKER CHAIR: "DRIPPING WET" is a brand new way of working out that will change your body forever! This power packed program uses a chair and your body to sculpt, tone and tighten your muscles. "Dripping Wet" is a full body workout with special focus placed on the butt, hips, and thigh area. And as in all of Nicole Winhoffer's workouts, your abs and core, will be the driving center of your pr
ogram. After the warm up, you will get moving using the chair to get your heart rate going and enhance toning with the leg exercises. Next you will hit the floor for focused ab and core training. Finish up with flexibility and mobility for the entire body. The repetitions are high and the intensity is increased but with the modifications provided, anyone can achieve their goals. Follow along with Nicole in the tutorial to learn her specific teaching techniques and guidelines for precise execution of all the unique moves. "DRIPPING WET" is challenging, but so much fun. You won't even feel like you are working out!

Madame X is available in Box Set, CD, Vinyl and Cassette!
Get your copy HERE!