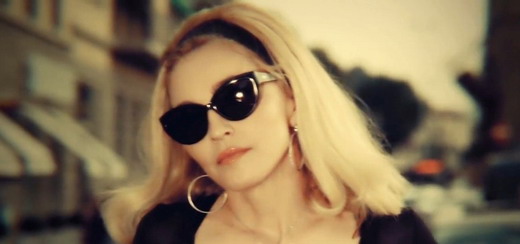 Madonna earns her record-extending 43rd No. 1 on Billboard's Dance/Club Play Songs chart, as "Turn Up the Radio" lifts 2-1. (The ranking will refresh on Billboard.com Thursday, Aug. 30.)
"Turn up the Radio" is Madonna's third Dance/Club Play Songs No. 1 from "MDNA," which bowed atop the Billboard 200 the week of April 14. "Give Me All Your Luvin'," featuring Nicki Minaj and M.I.A., led the week of March 31, while "Girl Gone Wild" reached No. 1 just three weeks later.
"Turn up the Radio" is headed for radio, too: Interscope Records begins seeking airplay for the song at mainstream top 40 stations on Sept. 25.
With her 43rd leading title on Dance/Club Play Songs, Madonna pulls further away from runner-up Janet Jackson, who has 19. Beyonce and Rihanna follow with 18 No. 1s each, trailed by Kristine W (16) and Mariah Carey (15).
Looking forward, with one more No. 1 on Dance/Club Play Songs, the Material Girl would claim even more historic honors.
Upon her latest coronation, Madonna is now one No. 1 away from tying George Strait's record for the most toppers on any single Billboard chart. The King of Country has sat at the Country Songs chart's throne with 44 titles between 1981 and 2009. With one more No. 1 on Dance/Club Play Songs, the Queen of Pop would tie Strait for unmatched Billboard chart royalty.
Given her multi-format appeal, as opposed to Strait's status as a country-exclusive act (and an unparalleled one, at that), Madonna leads not only Strait but also all artists for the most No. 1s on all Billboard charts combined. With "Turn up the Radio" ruling Dance/Club Play Songs, Madonna logs her record-extending 156th leader on an active, current-based domestic Billboard survey.
Here's a breakdown of Madonna's No. 1 sums on active, current-based U.S. charts: 43, Dance/Club Play Songs; 33, Hot Dance Singles Sales; 15, Hot Singles Sales; 12, Billboard Hot 100; 9, Radio Songs; 9, Music Video Sales; 8, Billboard 200; 7, Dance/Mix Show Airplay; 5, Adult Contemporary; 4, Internet Albums; 3, Digital Albums; 2, Dance/Electronic Albums; 2, Digital Songs; 2, Hot Digital Tracks; 1, Pop Songs; 1, Tastemaker Albums.
Here is an updated look at Madonna's 43 Dance/Club Play Songs No. 1s, beginning with the double-sided single "Holiday"/"Lucky Star," which reached the top the week of Sept. 24, 1983. (For titles that spent multiple weeks at No. 1, total frames in the lead are noted in parentheses).
1983, "Holiday"/"Lucky Star" (five weeks at No. 1)
1984, "Like a Virgin" (three)
1985, "Material Girl"
1985, "Angel"/"Into the Groove"
1987, "Open Your Heart"
1987, "Causing a Commotion (Remix)"
1988, "You Can Dance (LP Cuts)"
1989, "Like a Prayer" (two)
1989, "Express Yourself" (three)
1990, "Keep It Together"
1990, "Vogue" (two)
1991, "Justify My Love" (two)
1992, "Erotica"
1993, "Deeper and Deeper"
1993, "Fever"
1994, "Secret" (two)
1995, "Bedtime Story"
1997, "Don't Cry for Me Argentina"
1998, "Frozen" (two)
1998, "Ray of Light" (four)
1999, "Nothing Really Matters" (two)
1999, "Beautiful Stranger" (two)
2000, "American Pie"
2000, "Music" (five)
2001, "Don't Tell Me"
2001, "What It Feels Like for a Girl"
2001, "Impressive Instant" (two)
2002, "Die Another Day" (two)
2003, "American Life"
2003, "Hollywood"
2003, "Me Against the Music," Britney Spears featuring Madonna (two)
2004, "Nothing Fails"
2004, "Love Profusion"
2005, "Hung Up" (four)
2006, "Sorry" (two)
2006, "Get Together"
2006, "Jump" (two)
2008, "4 Minutes," Madonna featuring Justin Timberlake & Timbaland (two)
2008, "Give It 2 Me"
2009, "Celebration"
2012, "Give Me All Your Luvin'," Madonna featuring Nicki Minaj & M.I.A.
2012, "Girl Gone Wild"
2012, "Turn Up the Radio"
Source: Billboard.com

Madame X is available in Box Set, CD, Vinyl and Cassette!
Get your copy HERE!