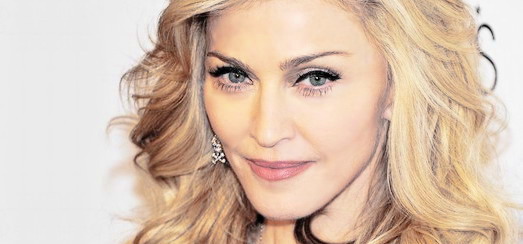 Marie Claire's beauty director Lisa Oxenham interviewed Madonna during the launch of "Truth or Dare". The full article is featured in the 2012 September issue of Marie Claire UK.
When I walk into the boardroom of Macy's New York, Madonna is sitting at the table. She is slender, but not skinny. Her body is in great shape and her muscles don't bulge as much as you see in pictures. I think the shadows make the press shots worse. She's wearing a black lace Dolce & Gabbana dress and sky-high Louboutins. To my trained beauty eye I can see she's wearing hair extensions, but her skin is glowing.

Everyone I'd told that I was meeting Madonna wanted to know about her face, whether there are any telltale signs of surgery. I can honestly say that what strikes me the most is the intensity of her blue eyes. She holds a gaze for slightly longer than feels comfortable – useful for intimidating journalists.
The interview goes well. She is happy, friendly, open but surprisingly nervous. She's very different from the sassy loudmouth we see on stage. She is also a true go-getter, who knows how to project herself as both a performer and a professional high-achiever. It's easy to forget that as well as being the queen of pop, she's also one of the most successful businesswomen of our age.

Can Madonna the person ever match up to the myth? I suppose it's difficult for anybody to match up to 30 years worth of hit songs, countless reinventions and controversies.
But the charming, inspirational woman I met that day certainly didn't disappoint.

Marie Claire: You look amazing for your age. Tell me your beauty secrets…
Madonna: In the morning, I have a tendency to get up with my kids before they go to school and then go back to sleep and sneak in a few more hours, because I don't usually go to bed until late.
So I wake up twice, or I wake up once and I'm very grumpy for the rest of the day. I splash cold water on my face and use Japanese eye drops that really burn my eyes, and that makes me wake up. I use this new line of products by Eminence. They contain all-natural ingredients. Everything they make smells like food, so facial cleansers smell like blueberries [Blueberry Soy Exfoliating Cleanser], the toning serum smells like strawberry [Strawberry Rhubarb Hyaluronic Serum], and the body scrub smells like coconut [Coconut Sugar Scrub]. At night I brush and floss my teeth and I don't think I've ever gone to sleep with make-up on. I hang up my clothes and wash my face.

Marie Claire: Everybody saw your amazing entrance at the Super Bowl for the half-time show. Do you always have that confidence?
Madonna: It had to be extravaganza. Not only was I entertaining a stadium full of people, but it was also half-time at one of America's most important sporting events and I knew there would be people watching all around the world.
It had to translate on every level. But I have to keep it real. I have to distinguish between what is the Super Bowl and what is real life. When I walk into a room, I don't feel like I have such a responsibility, but it is nice to make an entrance – perhaps just not as expensive! I am a Leo, so looking good and smelling good are very important. For everyday, though, I just show up to rehearsal with my hair wet and wearing a tracksuit. Sometimes I just don't have time to make an entrance.

Marie Claire: Why has it taken so long for you to create a perfume? And what did you discover during the process?
Madonna: I have expensive taste. Also, rose is hard to recreate. I used to live in the English countryside and there were wild roses that grew there – they were narcotic, but we could never recreate that smell of an authentic rose, so I decided to go back to the smell of gardenias and tuberose in Truth or Dare. Gardenias have always been a big part of my life – I smell them every day as they surround my homes in Los Angeles and Miami. And I love the smell of whisky. Whenever I smell whisky, I think, 'Oh, this would make a great men's cologne.'

Marie Claire: As a natural rebel, how do you feel about your teenage daughter, Lourdes?
Madonna: My daughter has a very strong opinion and she knows what she likes. She has a good sense of style and I like the way she dresses. Sometimes we disagree on things. I don't like that she shaves her head, but she likes it. Often it's fun to collaborate with her and I can always go to her and say, 'Does this look OK? Is this good? No? Shoes? No? High-waisted? Low-waisted?' She's a pretty good judge and very critical.

Marie Claire: Who is your beauty icon and why do you consider them to be beautiful?
Madonna: I look up to Frida Kahlo, because she wasn't a conventional beauty but she had a strong face. She always painted self-portraits and she didn't try to get rid of her moustache or her eyebrows, whereas other people would try to make themselves look better or be what was accepted by society at that time. I think what makes a woman most beautiful is if she's proud of who she is and the way she looks, if she owns herself and doesn't try to hide things or change things, or make something up that doesn't exist or apologise for who she is or what she looks like.

Madame X is available in Box Set, CD, Vinyl and Cassette!
Get your copy HERE!