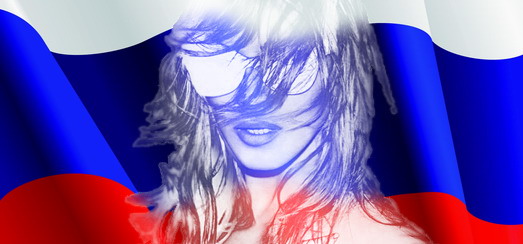 You took pictures, videos or just want to tell us about your MDNA Tour experience, do not hesitate to send us an email at [email protected]
—
VIDEOS

FAN VIDEOS

FAN PICTURES

CREW PICTURES

REVIEWS

(Reuters) – Pop star Madonna spoke out for gay rights at a concert on Thursday in St Petersburg, Russian President Vladimir Putin's home town, where activists say a law adopted this year to curb homosexual "propaganda" is discriminatory.
Performing in black lingerie with the words "No Fear" scrawled on her bare back, Madonna urged the audience – most wearing pink wrist bands distributed at the door – to "show your love and appreciation to the gay community".
"We want to fight for the right to be free," she said.
The American singer has turned a two-concert tour into a platform for comment on Putin's Russia.
In Moscow on Tuesday, she told a crowd she prays for the release of three members of the band Pussy Riot, who prosecutors want jailed for three years for their "punk prayer" criticizing Putin on the altar of Russia's main cathedral.
She told Reuters Television that the three women, whose trial verdict is to be announced on August 17, had been treated unfairly and suggested they were victims of censorship.
Madonna had promised to use her St Petersburg show to speak out against legislation adopted by the city in March that imposes fines for spreading homosexual "propaganda" that could "damage the health, moral and spiritual development" of minors.
On her Facebook page, she called the law a "ridiculous atrocity".
Critics of the law – the model for a bill submitted to the national parliament – say they fear it could be used to clamp down on the lesbian, gay, bisexual and transgender community, for instance by barring gay rights demonstrations.
St. Petersburg police chief Sergei Umnov told local reporters in July that 74 people had been fined so far.
Homosexuality, punished with jail terms in the Soviet Union, was decriminalized in Russia in 1993, but much of the homosexual community remains largely underground as anti-gay prejudice runs deep.
Numerous attempts to hold gay protests in Moscow, ruled illegal by the authorities, have ended in arrests and clashes with violent Russian Orthodox believers who say homosexuals should be punished or treated for "illness".
"Do we live in fear?" Madonna asked her audience on Thursday night. "No!" came the reply. "We love you!" shouted some fans, but not everybody was thrilled.
"One should not mix showbusiness with human rights activism," said gay rights activist Yuri Gavrikov, who picketed the concert venue. "If she wanted to support the LGBT community, she could have … refused to hold concerts in Russia."
(AFP) – US pop icon Madonna drew the wrath of Russian ministers and the mighty Church again Thursday as she took her gay rights activism to a city that has just banned "homosexual propaganda".
The gay community icon stripped to her bra on stage to reveal the words "No Fear!" written on her back as she preached the dangers of societies that fail to treat their own people with "dignity, with respect and with love".
"Show your love and appreciation for the gay community," she called as a sea of hands shot up to display pink bracelets that her team had distributed to the 10,000-strong crowd.
The pop legend's show in strongman leader Vladimir Putin's native Saint Petersburg came two days after she donned a balaclava on a Moscow stage in solidarity with the jailed all-girl protest punk band Pussy Riot.
Madonna had stripped to a black bra in Moscow on Tuesday to reveal the words "Pussy Riot" on her back.
Prosecutors have sought three years in a corrective labour facility for the band on charges of hooliganism for their church performance of an anti-Putin "punk prayer". The verdict will be handed down August 17.
On Thursday, Madonna's lightning-rod antics and outspoken reputation again created a combustible mix, in a city that this year passed controversial anti-gay legislation that some Putin allies hope to apply nationwide.
The US embassy in Moscow warned this week that its Saint Petersburg consulate had "received information regarding a threat of physical violence against spectators and performers".
The governor deployed 300 police to the Saint Petersburg Sport and Concert Complex as priests vowed to burn pictures of the US pop star and sprinkle holy water on sites she visited on her last stop in the city in 2009.
The war of words between Madonna and her hosts was in full swing hours before the concert's scheduled, and inevitably delayed, late evening start.
Russia's deputy prime minister and former NATO envoy Dmitry Rogozin used an epithet he declined to spell out in an angry tweet about Madonna's moral values.
"Either take off your cross, or put on your knickers," Rogozin wrote.
A local lawmaker meanwhile said Madonna's show would be closely monitored for signs of violating the new ban on propaganda of deviant behaviour.
"We should not allow the imposition here in Russia of Western values that Madonna promotes," said a spokeswoman for lawmaker Vitaly Milonov.
Saint Petersburg this year passed a loosely-worded law that fines those "promoting homosexuality" to minors and apparently equates it with paedophilia.
Russia legalised homosexuality in 1993 after the fall of the Soviet Union but only ceased to classify it as a mental disorder in 1999.
Homophobic attitudes run high across the country and are promoted by some of Russia's most popular and powerful politicians today.
The Russian Orthodox Church for its part has seen its ranks swell during Putin's 12 years in power as the state seeks a reliable national base of support.
"She calls herself 'Madonna' and desecrates the cross," said religious activist Kirill Frolov of the Corporation of Orthodox Action.
"We will not tolerate this," he said.
Saint Petersburg banned what would have been Russia's first authorised gay pride rally last month after a deluge of complaints from residents.
Gay activists earlier called on the superstar to cancel her Russia concerts as a gesture of support for the gay community. Several held solitary pickets Thursday to show their displeasure at Madonna's decision to show up.

Thanks to everyone who shared their material!

Madame X is available in Box Set, CD, Vinyl and Cassette!
Get your copy HERE!