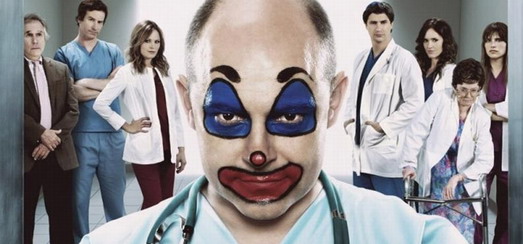 Childrens Hospital is a satirical American comedy television series, that started as a web series and has recently been nominated for an Emmy!
In a recent interview with the HuffingtonPost, creator Rob Corddry tiptoed around the topic of Madonna guest starring…
HuffingtonPost: I love that Jon Hamm is coming back, and you've got David Krumholtz and Timothy Busfield, but did I hear something about Madonna?
Rob Corddry: Listen. I am not allowed to say. I have been scolded. I am not allowed to say that Madonna is guesting on the show. That's all I can say right now … but I'm not allowed to say it. I invite you all to interpret that as you will, without any legal ramifications on my part.

HuffingtonPost:The cast on this show is hands-down one of the best on TV, with Winkler, Ken Marino, Lake Bell, Rob Huebel, Erinn Hayes, Megan Mullally, Malin Akerman … and the guest stars are always insane, too. Has there been a dream guest star that you haven't yet gotten?
Rob Corddry: Madonna is … I cannot say that Madonna is on the show. […]
The new season premieres tonight at midnight ET on Adult Swim.
Will Madonna guest star? Only time will tell…

Madame X is available in Box Set, CD, Vinyl and Cassette!
Get your copy HERE!