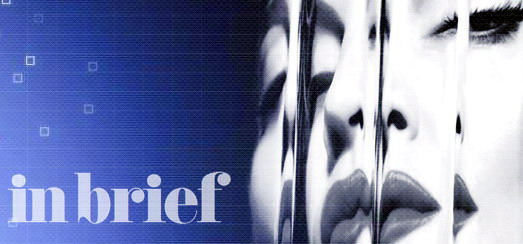 Travis Wall "Shaping Sound" MDNA Tour Dance Submission
New reality series "All the Right Moves" talks about the very talented dancer Travis Wall trying to create his own dance company "Shaping Sound" with his friends, and incredible dancers, Nick Lazzarini, Teddy Forance and Kyle Robinson.
The first episode aired last week and we learned that Travis Wall made a submission for Madonna's MDNA Tour, but unfortunately didn't get picked.
Here it is, let us know what you think!
MDNA à l'Olympia – Song by Song
Due to popular demand, we'll be making all the songs from Madonna's controversial Paris show available as individual videos next week. Also, big announcement coming soon – watch this space: http://www.youtube.com/user/LoveLiveTV
Hard Candy Fitness Presents Madonna's Addicted To Sweat DVD Trailer
Global luxury fitness brand, Hard Candy Fitness®, co-founded by Madonna, is launching the ground-breaking "Addicted To Sweat" (ATS) fitness DVD series featuring the exclusive programs previously only available at Hard Candy Fitness clubs. Madonna, the cultural icon renowned for her success as a musician, dancer, entertainer, film director, producer, fashion designer, and author is now sleeker, sexier and stronger than ever and ATS is an intimate training session that can lead to those same results.
"A League of Their Own" Blu-Ray
On 16 October 2012 Sony Pictures will be releasing "A League of Their Own" on Blu-Ray, according to blu-ray.com.
Sony's Blu-ray presents the film in its 2.39:1 original aspect ratio with a 5.1 DTS-HD Master Audio track. The disc also contains the following supplements:

– Commentary with Penny Marshall, Lori Petty, Megan Cavanagh & Tracy Reiner
– Deleted scenes with video introductions by Penny Marshall
– Nine Memorable Innings Pre-Game feature
– "This Used to Be My Playground" music video
More details…
Video
Video codec: TBA
Video resolution: 1080p
Original aspect ratio: 2.39:1

Audio
English: DTS-HD Master Audio 5.1

Subtitles
English, French, Spanish, Japanese, German, Danish, Finnish, Hindi, Norwegian, Swedish, Turkish

Discs
Blu-ray Disc
Single disc (1 BD)
Madonna signed the Guest Book at the Leopold-Museum
When Madonna was in Vienna, she visited the Leopold Museum together with her daughter Lourdes, her boyfriend Brahim Zaibat and a few of the dancers.
Madonna also signed the guestbook and imitated Egon Schiele's signature.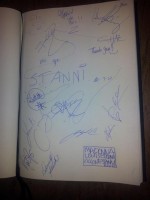 Madonna on the cover of South African magazine "You"
Big thanks to Carlo
"A league of her own" Party Weekend in Colorado
Club Q in Colorado Springs is hosting a huge Madonna Blowout Party upcoming weekend. One of the prizes that are going to be given away are tickets to see Madonna's MDNA Tour live at the Pepsi Center October 18th!
– Friday August 10th
The Cast of EVOLUTION presents a Madonna Tribute Show 11:00PM
After Party with DJ Kyree

– Saturday August 11th
Pride Night at SKY SOX Baseball. Sponsored by Club Q!
DJ Kyree with special guest DJ Infern-o spin all of your favorite club hits with a little extra Madonna spice all night…

– Sunday August 12th
The Main Event with Samantha-Donna 11:00PM
All the details on the official Facebook page!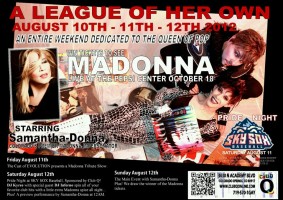 Madonna leaving Hotel Imperial in Vienna – August 1 , 2012
Madonna has a Kiki by Captain Obvious
Madonna party in Budapest
On August 21st, there will be a Madonna party in Budapest, sponsored by Universal Music Hungary with some special treats to be won!
For all the details, join the Facebook page!
Calling everyone attending Madonna's Birthday Show in Oslo!
Madonna's Official Fan Club Icon have asked that fans bring paper "white hearts" for themselves and other fans to her 'birthday show' in Oslo, Norway on 15th August, and hold them aloft after she sings "Open Your Heart" as a birthday surprise for the Queen of Pop.
This tradition started in 2009 at her birthday show on the Sticky & Sweet Tour in Warsaw, and it is hoped that it will continue on this tour in Norway and indeed for all of Madonna's birthday shows in future years.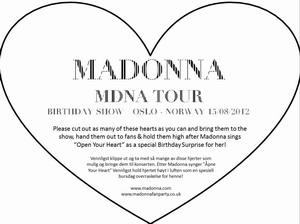 Here is a link for your to download your heart , print them to A4 or even A3, cut them out and bring them along to the show to wish Madonna a Happy Birthday!
MDNA Tour in Russia: Security message for US citizens
The Embassay of the United States in Moscow has released a statement alerting U.S. citizens in Russia who are planning to attend the Madonna concerts in Moscow on Tuesday, August 7, or in St. Petersburg on Thursday, August 9, that the U.S. Consulate General in St. Petersburg has received information regarding a threat of physical violence against spectators and performers.
Read more…
"Turn up the Radio" Remix EP
The remixes of "Turn up the Radio", the third single off Madonna's MDNA album, have been released in iTunes!
Tracklist…
Turn Up the Radio (Offer Nissim Remix) – 7:28
Turn Up the Radio (Martin Solveig Club Mix) – 5:31
Turn Up the Radio (R3hab Remix) – 5:41
Turn Up the Radio (feat. Far East Movement) [vs. Laidback Luke] – 3:23
I'm Addicted (Madonna Cover) Multi Voice by nickandeal

Madame X is available in Box Set, CD, Vinyl and Cassette!
Get your copy HERE!