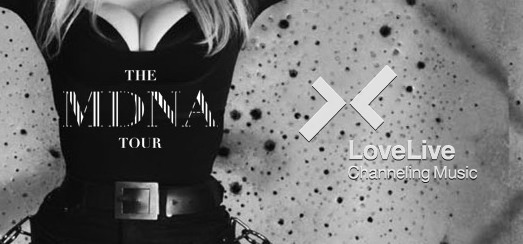 LOS ANGELES, July 25, 2012 — Following overwhelming demand for tickets to Madonna's intimate club show scheduled to take place on Thursday, July 26th at the historic Olympia in Paris, the Material Girl has invited her fans around the world to see her performance via a live global stream through LoveLive's YouTube channel beginning 10:15pm Paris time CET; 4:15pm ET. There will also be a post stream of the show where the footage can be viewed in its entirety.
The show, which was confirmed by Live Nation – Madonna's MDNA international tour partner -, will include songs from the artist's current album, MDNA, along with her new single, "Turn Up The Radio" as well as several classics. MDNA which was released by Universal Records debuted at No. 1 in over 40 countries. The Olympia, founded in 1888 has been the site of legendary shows by performers such as Marlene Dietrich, Edith Piaf and Charles Aznavour. .
Toby L, Creative Director of LoveLive commented…
We are beyond elated to be hosting a global stream of one of the world's most iconic artists in such a unique and intimate circumstance which will bring our audience closer than ever to Madonna. This performance typifies what we're doing with the LoveLive music series, which will continue to feature the world's most recognisable music artists.
Patrick Walker, Senior Director, Content Partnerships EMEA, YouTube commented…
It's incredibly exciting that Madonna's performance from this iconic, intimate venue will be available to her fans around the world via YouTube. No one needs to miss out on this great addition to YouTube's music line-up this summer.
Madonna's MDNA Tour, currently whirling through Europe, has reaffirmed her reputation as one of the most thrilling and fearless performers ever: "Spectacular" raved the Mail. "Seeing Madonna live is a privilege," glowed The Independent. "Another world-class show her fans will lap up," raved The Sun. "Madonna's back with a vengeance…our disco Messiah," commented MOJO Magazine.
The global live stream can be viewed through the LoveLive channel on YouTube @ www.youtube.com/madonnaclubshowparis
For complete MDNA tour and ticket information, visit: www.madonna.com and www.livenation.com

Madame X is available in Box Set, CD, Vinyl and Cassette!
Get your copy HERE!