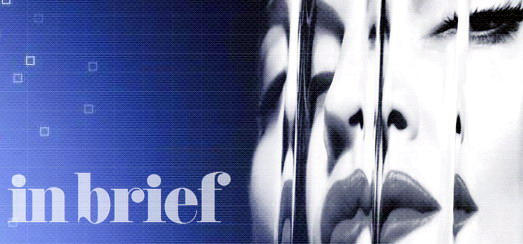 "Girl Gone Wild" fanmade backdrop by Bruce17
The incredible Bruce17, who's a backdrop animator and editor, made his own version of the "Girl Gone Wild" video backdrop. Let us know what you think!
Girlie Show on Blu-Ray?
A few weeks ago Blu-Ray.com updated their website and added the "Madonna: The Girlie Show – Live Down Under" on Blu-Ray to their catalog. The tentative release date has been set for January 11th, 2013.
No word from Warner Bros. and still unsure if any of her past tours will also receive the Blu-ray treatment.
Only time will tell, but for now here are the specs…
Video
Video codec: MPEG-4 AVC
Video resolution: 1080p
Aspect ratio: 1.78:1

Audio
English: DTS-HD Master Audio 5.1
English: LPCM 2.0
Thanks TheHighRoller5
W.E. Soundtrack nominated at the World Soundtrack Academy awards
The soundtrack for Madonna's film W.E. by Abel Korzeniowski is nominated for a Public Choice Award at the World Soundtrack Academy awards. Vote HERE!
MDNA Tour Pit Tickets
The official Material Girl Facebook is giving away Pit tickets to each MDNA Tour concert in the US. To participate, click HERE!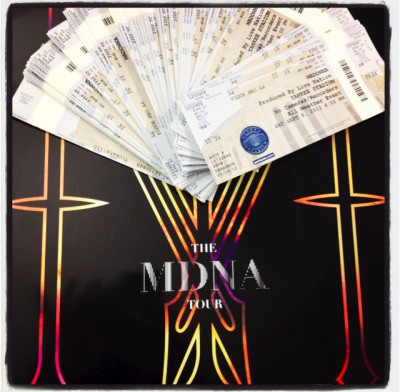 "Turn up the Radio" on the Charts
Madonna's "Turn Up the Radio" – her 60th entry on the ranking – debuts at No. 39 on Billboard's Dance/Club Play Songs.
Request "Turn up the Radio" on your local radio: KIIS-FM, WHTZ-FM, KMVQ-FM, WIOQ-FM
Thanks Alan b
Fausto Puglisi: The man behind Madonna's tour outfits
Fausto Puglisi has worked for Madonna since the "Music" era and more recently on the Super Bowl Halftime Show and the MDNA Tour. He told the Telegraph…
It's all about the incredible work of Arianne Phillips [Madonna's long-time stylist]. She knows what works on Her Madgesty. It all started during the promotion of Music, when Madonna wore my blouses. I was a boy and Arianne and Madonna have trusted me ever since. At the MTV Europe Music Awards in Stockholm [in 2000], Madonna wore an amazing Dolce & Gabbana red cowboy suit and I designed bling-bling, Swarovski accessories for her. I can't forget all the work I did by hand, putting hundreds of crystals and beads on while flying from Rome to New York. The hostesses were looking at me like I was ET.
Peanut Gallery: Madonna's 'Like A Virgin' Vs. 'Like A Prayer'
PG is a weekly Ology feature where two classic "impossible to choose" albums from the same artist are pitted against each other!
This week the Peanut Gallery features a match-up between Madonna's 'Like A Virgin' and 'Like A Prayer'!
Vote for your favourite!
"Turn up the Radio" Fashion Credits
Costume designer and stylist B. Akerlund, who worked with Madonna on multiple projects, posted the "Turn up the Radio" fashion credits on her Tumblr page…
Madonna
Python Jacket – Alaia
Suite Case – Roberto Cavalli
Crop Top – Madonna's own
Bra – La Perla
Leather Shorts – Balmain SS 2012
Gloves – Chanel
Skull Ring – Loree Rodkin
Knuckle Duster Ring – Sophie Bille Brahe
Diamond Cross Neckless – Cartier
Belt – Temperley London
Fishnets – Danskin
Shoes – Christian Louboutin
Sunglasses – Moschino

Driver
Suit, shirt, tie, boxers & shoes – Dolce & Gabbana
Gloves – Sermonetta
Sunglasses – Rayban
Hat – Vintage
Sock holders – Stylist's own

Hitchhikers
* White suit – Dior Homme, available at Luisa via Roma
Shirt – Prada
Belt & Shoes – Dolce & Gabbana
* Shirt, tie, cardigan & glasses – Dolce & Gabbana
Pants & Shoes – Dsquared
Socks – Calze
Hat – Borsalino
* Grey suit & shirt – Prada
Tie – Dsquared
Watch – Hermes
Glasses, shoes & duffle – Dolce & Gabbana

Pimp
Gold mirrored sunglasses – Dolce & Gabbana
Jewelry, scarf, pants & robe – Roberto Cavalli archive
Boots – Christian Louboutin

Female Hooker
Robe – Roberto Cavalli archive
Bodysuit – Dolce & Gabbana
Earrings – Carlo Zini
stockings – La Perla
Shoes – Versace
Sunglasses – Agent Provocateur
lace gloves – Sermonetta
Purse – Bluemarine
Bangles – Sharra Pagano

Male Hooker
White fur coat – Roberto Cavalli archives
Slip – Roberto Cavalli
Neckless – Mawi
Gloves – Agent Provocateur
Earrings – Carlo Zini
Bracelet – Sonia Rykiel
Bag – Versace
Tights – La perla
Shoes – Versace

Street Performers
Hat – Borsalino
Glasses – Fendi
Pants – Jeremy Scott for Adidas
Boots – Vintage
Red net top – Isabel Marant
Star shorts – Jeremy Scott for Adidas
Shoes – Adidas
Sun glasses – The Cast

Female Gas Station Attendant
Overalls & boots – Vintage
Gloves – Sermonetta
Sunglasses – Rayban

Male Gas Station Attendant
Coverall – Dolce & Gabbana
Tank, boots & watch – Vintage
Neckless – Dolce & Gabbana
Interesting Madonna articles
A very interesting and well written article by Charlie Alderwick for The Independent where he talks about the MDNA show, Piers Morgan, Gaga and pretty much tells Madonna-bashers what's what!
On Tuesday night Madonna brought her MDNA tour to England, performing a show in Hyde Park that was witty, narrative and relentlessly energetic, as well as the ridiculous spectacle you would expect from the Queen of Pop. After emerging on stage from a confession box brandishing a firearm, she wasted no time in introducing slackline walking, video screen cameos from hip-hop heavyweights, a troop of military drummers suspended from the ceiling, and much more.

My friends and I were enthralled throughout the two hour experience, screaming and clapping at Madonna's various gymnastics, jokes and the moments of meritable vocal performance, agreeing in the post-concert buzz that the vibrancy and cleverness of MDNA leaves her previous tour lying in the dust.
An excellent article by Larry Womack for the Huffington Post. He writes about the recent MDNA Tour gun scandal, Lady Gaga, ageism and a lot more! Here's an excerpt…
Did you hear that Madonna — desperate for attention and clearly irrelevant — waved guns on stage in Scotland, just hours after people were actually shot in Colorado? Shockingly insensitive, I know. Did you also hear that a major motion picture in which gun violence is a recurring theme proceeded with its opening in over four thousand theaters in the United States alone this weekend, and that it is also the movie people were actually killed at? Probably, but that story wasn't presented the same way. Nor should it be. If anything, changing these diversions would deepen their association with a form of horrific, real-life violence that clearly neither one endorses.
Another interesting read is the post by Damien Morley on The truth about Madonna, MDNA at Hyde Park.
Santiago Hard Candy Fitness Now Open
Santiago! Madonna's New Hard Candy Fitness is now open for workouts! A 32,000 square foot state of the art facility is waiting for you to sweat!
Enjoy the finest fitness equipment, avant-garde interior decorations, luxury locker rooms with sauna, steam bath and massage rooms, juice bar/cafe, and two temperate pools.
For more information please visit www.hardcandyfitness.com
Lipstick for Madonna
The result of an exclusive collaboration between Make Up For Ever and Madonna's personal make-up artist Gina Brooke, Aqua Rouge #8 has been created for the MDNA world tour.
The make-up artist and runway cosmetic brand worked together to create an iconic red lip lacquer, designed to be perfect color for Madonna. "The most important thing when looking for a lipstick is to find a reliable shade that lasts" explained Gina Brooke. "We only have a minute and a half between songs to do retouches, leaving no room for mistakes." With its liquid texture, the lipstick is easy to apply, giving the shine of a gloss with the wear of a lipstick. The pigment-packed red was created for the Material Girl herself, but it nevertheless works with every skin tone.
Aqua Rouge #8, €23. Available in September. www.makeupforever.com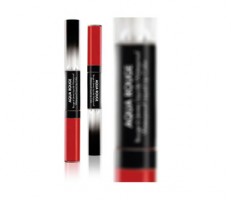 Madonna concert in Poland to open with WWII film
WARSAW, Poland (AP) – Organizers of a Madonna concert in the Polish capital have agreed to a request from city officials to start the show with a brief clip about the Warsaw Uprising, the 1944 revolt against Nazi rule, in a nod to war veterans.
Some veterans and young Catholics have voiced anger that the Aug. 1 concert falls on the 68th anniversary of the uprising.
The 63-day rebellion ended in the deaths of up to 200,000 Poles and the destruction of the city. Every year, the anniversary is marked with somber commemorations, with the wailing of a siren, a minute of silence and special prayers in churches.
City officials proposed airing a clip about the revolt to allay the veterans' feelings.
Ania Pietrzak, a spokeswoman for concert organizer Live Nation, said Wednesday that organizers had agreed to that.
It is an important moment in Polish history, so we have decided to remind people of that moment.
Poland is a largely Roman Catholic country where some people object to what they consider Madonna's sacrilegious use of Christian imagery. Madonna's last concert in Warsaw, in 2009, also sparked protests because it fell on Aug. 15, the holiday celebrating the heavenly assumption of the Virgin Mary.
Several billboards promoting the latest concert were defaced, including some with Madonna's face crossed out.
MDNA Tour Facebook "Basque Country" Petition
We've been contacted by Madonnarama reader Iker, to let fellow fans know that he has created a petition on Facebook for Madonna to close the MDNA Tour in the Basque Country in 2013.
Click here if you want to join him…
Madonna "Girl Gone Wild" cake
Tony "The Pastryarch" can't get enough of his Madonna cakes and made another one, this time based on the "Girl Gone Wild" performance of the MDNA Tour.
Madonna's late night after-show party
According to British tabloid "Daily Mirror" Madonna managed to avoid the noise pollution jobsworths at her Hyde Park gig, but still ended up causing enough of a late-night racket to make neighbours complain to the council.
The singer, 53, threw an after-show party back at her Mayfair home with George Michael and Stella McCartney, to the dismay of residents, who called out the noise abatement team over her loud music and screeching.
A neighbour, who asked not to be named, claimed the council did nothing to stop the noise until it was too late. A Westminster Council spokesman said a complaint about loud music was called in after midnight from a resident in Great Cumberland Place.
William Orbit talks about unreleased songs and demos
The last couple of weeks William Orbit is commenting on his past work with Madonna.
Here is a small selection…
Original "Gang Bang" Demo – Bang Bang Boom (Priscilla)
Liquid Love
Run

is real. 99%. Jamming with M way back. Someone's beefed up the mix tho. I rather like it. Has got bollocks. But yes, is all us. Doing crazy off the cuff stuff on the Kork MS20. "You run like a girl" etc. Priceless. Brings back mems. Where is all this coming from. THis is actually a decent mix. Or remaster, or whatever.
Serhat KiDiL – Vogue & Frozen (MDNA Tribute Music Video)

Madame X is available in Box Set, CD, Vinyl and Cassette!
Get your copy HERE!