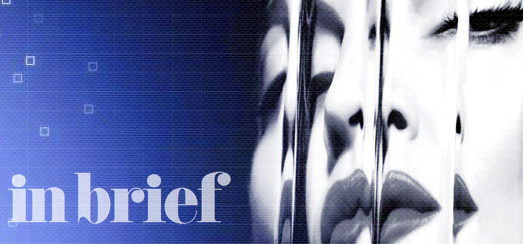 Christian Louboutin: Madonna is a feminist
Christian Louboutin has inspired legions of women to fetishise footwear, including Madonna, who love to slip on his scarlet-soled, 6in heels – the auteur who pretty much single-handedly brought the stiletto back into fashion.
He recently spoke with Genevieve Roberts from The Independent and talked about Madonna…
Madonna is a feminist and has been doing more for the cause than all the grumpy feminists, who are giving nothing back by being grumpy.
[He believes suggesting women should not wear heels is actually anti-feminist.]
It's saying women are not smart enough to make their own choices.
Lady Gaga replies to Madonna
Lady Gaga responded to criticism that her hit song "Born This Way" too closely resembles Madonna's 1989 tune "Express Yourself" during a performance in Auckland, New Zealand Thursday.
It sometimes makes people feel better about themselves to put other people down or make fun of them or maybe make mockery of their work. And that doesn't make me feel good at all.
Madonna fourth on the UK's biggest selling singles act of all time
The Beatles have been named the biggest selling singles act in the UK, since charts began 60 years ago in 1952.
The Fab Four pushed Elvis Presley into second place and Cliff Richard into third, in a new list compiled by the Official Charts Company.
Madonna takes fourth place in the list followed in fifth by Michael Jackson. The Beatles have scored 17 Number One singles, whilst Cliff has had 124 Top 40 hits and 14 Number One tracks. Madonna meanwhile has had over 60 Top 40 hits in the UK.
Of the list, which also includes the more contemporary likes of Katy Perry and Lady Gaga, Radio 2's Head of Music Jeff Smith has said: "This list is intriguing, Adele is missing and we've all forgotten just how huge artists such as Shakin' Stevens, Boney M and UB40 were in the UK in the '70s and '80s." Scroll down to see the complete Top 60.
Last month a rare photograph showing The Beatles walking 'backwards' across Abbey Road sold for £16,000 at auction. The snap, taken by late photographer Iain Macmillan, shows the band walking right to left across the zebra crossing outside the London studio where they made their 1969 album – the opposite direction to the photograph which appears on the album cover.
The Top 10 biggest selling singles acts in UK are:
1. The Beatles
2. Elvis Presley
3. Cliff Richard
4. Madonna
5. Michael Jackson
6. Elton John
7. Queen
8. Abba
9. David Bowie
10. Rihanna
MDNA Tour masks
MDNA Tour dancer Sasha Mallory gave us a closer look at some of the masks being used during the show…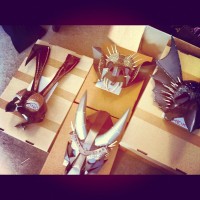 Win tickets to see Madonna perform in New York
At the end of the MuchMusic Video Awards show, Fuse will be giving away a trip for two to attend the concert of your choice at Madison Square Garden, Radio City Music Hall, The Theater at MSG or The Beacon Theatre in NYC. Madonna is playing at MSG on November 12, 2012, and if you enter you could win tickets to their NYC show!
Enter to win HERE!
Thanks Keaton!
Madonna was right to highlight the horror of Marine Le Pen
There is nothing simple about the politics of racial hatred, but we all knew what Madonna was getting at when she depicted France's Front National (FN) leader Marine Le Pen with a swastika across her forehead. The image appeared briefly at one of the material girl's concerts in Tel Aviv, and caused a worldwide stir. Reactions ranged from high-fiving cheers of support to Ms Le Pen threatening to sue "if she tries that in France" (note how even legal threats are imbued with aggressive nationalism when they are made by the doyenne of the Gallic far right).
Read the full article, which is spot on, written by Nabila Ramdani for The Guardian.
Madonna autographed guitar up for auction
Bidding For Good auctioned off a guitar autographed by Madonna!
Priceless! Baby Taylor GS acoustic guitar autographed by Madonna! Says, "love, Madonna." Authenticity verified. Taylor Guitar retails for $599.99 (Special thank you to West LA Music who donated guitar at cost. We had it autographed by Madonna.)
Georgia May Jagger is a Material Girl
First look of Georgia May Jagger as the new face of Material Girl…
Ads of the world
MTV Ukraine uses different advertisements to promote their five year anniversary. Here is the one they titled "Madonna"…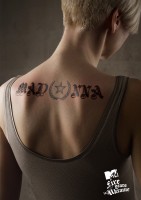 Sexiest man and woman in pop?
Billboard.com is currently looking for the sexiest man and woman in pop.
Madonna has been nominated and you can vote HERE!
Madonna Celebrate's MDNA Tour After Party
To honour the Queen of pop's ONLY London date in Hyde park on her record breaking 2012 world tour, Madonnalicious Presents… Madonna Celebrate's MDNA Tour After Party held on 17th July in one of Soho's most decadent venues, Punk.
This is the sixth year of Madonna Celebrate throwing a legendary event in the name of an icon, which has previously garnered acclaim in The Times 'Top 5 Clubs'. 2012 is set to be the best yet. 'We reckon it'll be a tad more fun than the real thing' The Guardian.
Backed up by a trio of the UK's leading pop club DJ's, the night will be hosted by alternative cabaret superstar, Jonny Woo. " Like the bastard love child of Kenny Everett and Marlene Dietrich.' – The Sunday Times Style.
David Robson, resident at the historic G-A-Y/Heaven and fresh from playing with the Ministry of Sound with 'Example'. Prince Nelly, hot off the red carpet from playing a set at this year British Soap Awards. Also Kurt Hoffman, one of the founders of Madonna Celebrate and has worked at MTV and with music legends such as Soul II Soul and James Lavelle.
Included on the night is a special MDNA raffle to raise vital funds for the St Stephens Aids Trust. All monies will go directly to our chosen charity who works very hard in the fight against HIV and AIDS. The first prize is the ultimate Madonna goodie bag filled with MDNA , W.E. & Truth or Dare promotional and rare items. All kindly donated by Polydor, Barbara Charone (Madonna's UK Publicist), Studio Canal UK, Coty Prestige and Live Nation.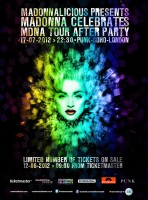 ONLY 200 tickets will be available and go on sale 9am 12th June 2012. Price £8 from Ticketmaster.
Like a Virgin T-Shirt
Original Music Shirt is selling a new "Like A Virgin" t-shirt. Have a look…

Madame X is available in Box Set, CD, Vinyl and Cassette!
Get your copy HERE!