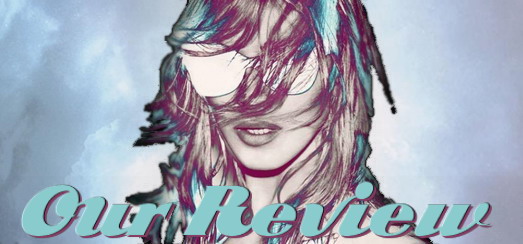 Let's get this straight: The MDNA Tour is everything you expect from a Madonna concert and more.
She's taking risks (we love it, dont we?), the show is heavily and amazingly choreographed, she's dancing more than she ever did in any previous tour, the visual effects and production are out of this world…
To sum it up, it's probably the most entertaining show you've ever seen.
Is there some lip-synching involved here and there? Sure, but a lot of it is live and so many things happen on stage, you might not even notice it.
Madonna is really giving it her all during the whole show, doing what we enjoy the most… performing!
The dancers also do a tremendous job assisting Madonna on stage, in a playful or serious, sometimes even scary way – shout out to the incredible "Best Friend" interlude!!!
Brahim Zaibat is surprisingly good at dancing in high heels and there's a real chemistry with Madonna during the sensual "Candy Shop vs. Erotica" number. He surely is a great addition to the show.
The costumes are beautiful, especially those designed by Jean Paul Gaultier – a collaboration that always brings the best out of both artists.
Arianne Phillips and the MDNA costume department really did a great job on the overall look and feel of each section!
After having watched the show from the very first row at the end of the catwalk, two questions remain: who the hell had the idea of this inadequate stage and who's responsible for one of the most ridiculous features in the history of concerts aka the Golden Triangle (which, by the way, is shaped like a semi circle)!
The triangle shaped stage has absolutely no use – Madonna isn't driving a car this time – except for maybe keeping loyal fans, who've been waiting days in front of the venue, away from all the action. More than 70% of the performances happen on the main stage.
During her show Madonna stated, "we are all equal, we are all human beings." Well, the Golden Triangle is everything but equality.
To summarize the situation, 50-70 people including a few fans will be chosen or selected randomly. They will be treated better than the rest of the audience: A lot more space to freely move around and being able to experience the show much closer than anyone else. Madonna also gives them special attention throughout the show, shaking hands, extending her microphone for them to sing, giving them I love you's…
You might wonder why? Well, no reason really…
Some fans who paid $400 for a Golden Circle ticket in Tel Aviv and waited all day or even slept in front of the venue, told us that they were amazed by Madonna's performance, but a lot remained frustrated being so far away from the action!
They also complained that multiple times during the show, they couldn't see Madonna on the main stage with all the hands from the people in the pit jumping up and down. So they had to look at the side screens to get a clear view during the show.
Those of you who got used to getting all the action by being front row might be a little disappointed. To those who bought early tickets or even VIP packages, you'll wish you had better connections in "higher places", as the Golden Triangle has become the new super VIP area!
Kind of unacceptable, right?
Also, ICON only gives out 20 Golden Triangle tickets (ten winners, plus one guest per winner), less than a third of its capacity, so you might wonder who Guy Oseary has elected to be added to that list, as we learned that he was the one to decide.
While the pit of the Re-invention Tour was brilliantly designed to give people a special experience in an unusual place located inside the stage, the "Golden Triangle" now creates real barrier between the main stage and the people standing around the catwalk. The front-row experience has completely changed.
Unlike the Confessions or Sticky & Sweet Tour, only two songs are fully performed on the catwalk: "Papa Don't Preach" (shortest song on the setlist) and "Like a Virgin" with Madonna turning her back to the general public during half of the song, while the pit people are still getting all the goods.
Let's make a list for fellow fans:
Girl Gone Wild (Main Stage)
Revolver (Catwalk/Main Stage)
Gang Bang (Main Stage)
Papa Don't Preach (Catwalk)
Hung up (Main Stage)
I Don't Give A (Catwalk/Main Stage)
Express Yourself (Main Stage)
Give me all your Luvin' (Main Stage/Catwalk)
Turn up the Radio (Main Stage)
Open Your Heart (Main Stage)
Masterpiece (Main Stage)
Vogue (Main Stage/Catwalk)
Candy Shop (Main Stage)
Human Nature (Main Stage)
Like a Virgin (Catwalk)
I'm Addicted (Catwalk/Main Stage)
I'm a Sinner (Main Stage)
Like a Prayer(Main Stage/Catwalk)
Celebration (Main Stage/Catwalk)
It's 10 songs fully on the main stage, 2 songs fully on the catwalk and 7 in-between…
So our advice would be to avoid waiting all day or sleeping in front of venues because first or last row, you might end up watching the screens more than you think!

Madame X is available in Box Set, CD, Vinyl and Cassette!
Get your copy HERE!