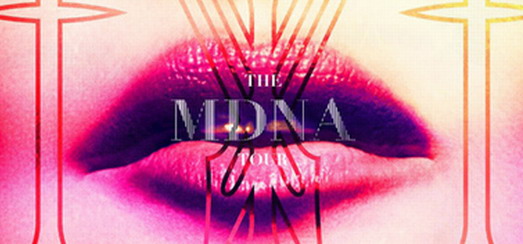 NOTE: This post will be updated continuously in the upcoming hours
Madonna will kick off her MDNA Tour, tonight, at the Ramat Gan Stadium in Tel Aviv. Stay tuned for live updates, lots of pictures and videos!
23h17 – Celebration
23h10 – Like a Prayer

23h04 – I'm a Sinner vs. Cyber-Raga
22h59 – I'm Addicted

22h54 – Nobody Knows me (Interlude)

22h50 – Like a Virgin

22h45 – Human Nature
22h41 – Candy Shop vs. Erotica

22h38 – Vogue

22h34 – Justify my Love (Interlude)

22h28 – Masterpiece
It's easy to say we want peace in the world, but it's another thing to do it!
If there is peace in the Middle East, then there can be peace in the whole world! – Madonna
22h25 – Madonna explains why she chose to open her MDNA Tour in Tel Aviv, Israel and about peace in the Middle East.

22h18 – Open Your Heart/Sagarra Jo (ft. Kalakan)

22h14 – Turn up the Radio

22h10 – Give me all your luvin'

22h06 – Express Yourself

22h03 – Best Friend (Interlude)

21h58 – I Don't Give A

21h54 – Hung up

21h52 – Papa Don't Preach

21h47 – Gang Bang

21h42 – Revolver

21h38 – Madonna appears on stage and performs "Girl Gone Wild"

21h34 – The first show of the MDNA Tour has started in Tel Aviv, Israel.

20h10 – Martin Solveig has finished his set.

19h40 – Martin Solveig on stage now. Started with a new remix of "Music" and "Into the Groove", followed by "Beautiful Killer" (Album version)

18h40 – DJ Offer Nissim plays Donna Summer's "On The Radio" live from the Ramat Gan Stadium

18h12 – Fans were let in while Madonna was rehearsing "I Don't Give A"
Pictures by Guy Oseary
Pictures by Arianne Phillips

Madame X is available in Box Set, CD, Vinyl and Cassette!
Get your copy HERE!