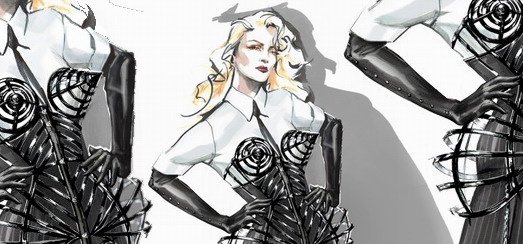 Madonna is set to vogue her way around the world on her MDNA concert tour, which kicks off Thursday in Tel Aviv — and she's enlisted a cadre of designers to create an array of showstopping looks for the stage.
The Material Girl's parade of costume changes includes outfits from longtime collaborators Jean Paul Gaultier and Jeremy Scott, shoes from Prada and Miu Miu and pieces from Alexander Wang. Dolce & Gabbana made suits for the band and background vocalists, Fausto Puglisi created menacing bandolier vests and rams head masks for the backup dancers and even J Brand whipped up custom-made jeans.
Bras and panties — including one heart-shaped style from Madonna's new intimates line Truth or Dare — are incorporated into some numbers, as are shoes from the new Truth or Dare footwear line, at retail this fall. A somber, elegiac version of the usually peppy "Like a Virgin" will be sung by Madonna in an Agent Provocateur bra.
Costume designer and stylist Arianne Phillips, who oversaw the entire wardrobe design for Madonna, her backup singers, musicians and 22 backup dancers says…
"It's a real journey from the first act to the fourth, and the way she constructs her shows is like a theater piece."
The original Gaultier design is worn during the "Vogue" number and includes a white shirt, black tie, opera-length black gloves and a rigid skeleton corset. The getup references the iconic pink bustier-with-pin-striped suit look the designer created for Madonna's 1990 Blond Ambition world tour, widely considered a pinnacle of both of their careers.
Gaultier explained…
"We played with the ideas of a suit and a corset. But the corset is now like a cage.
What I have done this time is a nod to the conical bra corset of the Blond Ambition tour but reinterpreted in 3-D, in patent leather on the outside with metallic leather on the inside.
It's all about masculine and feminine, Madonna and Jean Paul Gaultier classics reinterpreted for 2012.
I love Madonna. She is the only woman I have asked to marry me. She refused, of course. But when she asked me to do a costume for her for this tour, I couldn't refuse."
The designer and Phillips also re-created some archival Gaultier pieces for Madonna's dancers, as an homage to his long relationship with the iconic singer. Gaultier was also responsible for the kinky equestrian and "Saturday Night Fever"-inspired looks of Madonna's 2006 Confessions tour, and she once walked his runway with her nipples exposed.
Prada created high-heeled shoes for the male dancers in the gender-bending "Vogue" performance, which includes imagery of the Vogue magazine logo on massive video screens — similar to Madonna's Super Bowl performance of the song, which was viewed by 117 million people.
Arianne Phillips added…
"This show is epic and bigger than anything she's done before. There are many more costume changes. We're taking 700 shoes on the road. Madonna changes outfits seven or eight times and the dancers change 10 to 15 times, depending on the dancer.
Prada have been generous for so many years. Her relationship with them is really special. Everything is specially made and they made some incredible high-heeled boots for the boys."
Phillips, who has done the costumes for Madonna's four previous tours, designed a number of looks herself, delivering a wide range for her famously chameleonlike boss. The lineup veers from a forbidding Joan of Arc-inspired outfit fashioned from metal mesh and Swarovski Elements to a vernal, miniskirted majorette getup for the 53-year-old "Girl Gone Wild" singer.
She explained…
"It's inspired by a 1940s majorette and I was looking for something playful and fun.
The show explores the idea of stripping away layers of identity and discovering the layers of who you are.
This is her brainchild and her concept. We have a 15-year relationship and there's a rhythm to how we collaborate. She's very open-minded but she expects a lot.
Madonna herself was closely involved with the show's costume design. She's always challenging herself and pushing herself constantly to learn new things and she pushes me further than I would myself. When you're on the world stage with her, you really have to bring your A game."
Masks are a big component to many outfits, with dancers hiding their faces behind gargoyle and bunny guises. There's a menacing streak to some looks, with themes of violence explored in certain segments, which are accessorized with swords, guns, armor and holsters.
As for the media dustup this week when Madonna supposedly lobbed a grenade at Lady Gaga by mashing up her own "Express Yourself" with Lady Gaga's allegedly reductive "Born This Way" in rehearsals, it wasn't just a ploy for attention and it's part of the permanent show. At the end of the song, Madonna throws in the line "She's Not Me," from her recent song of the same name.
Liz Rosenberg said…
"Whether it's an homage or a smack in the face or just being funny, I don't know, People can decide what it means. Madonna isn't one to explain herself."
Jeremy Scott for Adidas look for Madonna's backup dancers…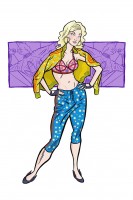 Source: WWD

Madame X is available in Box Set, CD, Vinyl and Cassette!
Get your copy HERE!