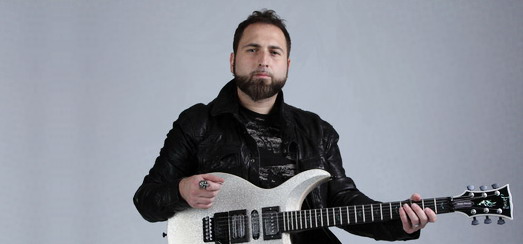 Constant presence on stage, in studio with Madonna for years, Monte Pittman spoke to The Jerusalem Post about career.
Sometimes all it takes is some luck and a good break. Nobody joining Madonna onstage Thursday night at Ramat Gan Stadium for the debut of her MDNA world tour will attest to that more than her guitarist Monte Pittman.
Pittman already had oodles of a third ingredient – talent – when in 1999 at age 24, he left his home in Longview, Texas to pursue a music career in Los Angeles. Like many struggling musicians, he ended up making ends meet by first working in a guitar store and later giving private guitar lessons.
It was hard to leave my home and everybody I grew up with, but I thought I would try to make it and just come home if it didn't work out. What I discovered though is that every time I got to the point where I thought it wasn't going to work out and I'd have to quit, something amazing happened.
The pivotal amazing development occurred when a novice who had just received a guitar as a gift from his girlfriend approached him about giving lessons. The novice was filmmaker Guy Ritchie, and the girlfriend was Madonna.
I didn't even know who he was when I started teaching him, that was before [acclaimed Ritchie film] Snatch came out.
The lessons apparently went well, though, because soon Ritchie introduced Pittman to Madonna, who also started taking lessons from the young guitar whiz. Pittman was in seventh heaven, unaware that the best was yet to come.
Booked to appear on The David Letterman Show to promote her newly released album Music, Madonna felt emboldened to perform on guitar in public for the first time.
But revealing that even cultural icons have moments of self confidence gaps, she asked Pittman to accompany her.
So in March 2000, the struggling guitarist from Texas who had been resigned to the likelihood of returning home with his dream of making it in the music business unfulfilled, was suddenly performing an acoustic guitar duet on the song "Don't Tell Me" with the most famous singer in the world on one of the most watched TV shows in the US.
I really thought that she was joking when she asked me to appear with her. Then it kind of dawned on me – 'hey, she's not kidding after all, we're going to go on 'Letterman'!
It's a performance people still talk about – her debut playing guitar on TV.
Delighted with the performance, Madonna soon after invited Pittman to join her band for the 2001 Drowned World tour, and the guitarist has since performed on every tour the Material Girl has undertaken, including appearing at least year's Super Bowl performance. In addition, he co-wrote three songs with her for her 2009 album Celebration.
Writing together can work in several different ways, just from playing the guitar together and coming up with something, to already having a chorus and having the other person add the bridge or the verse.
For me, it's sort of like creating a painting, where you start out thinking it's going to be one way and it comes out completely different.
Different is what the 37-year-old Pittman is about – and his good fortune with Madonna has opened up opportunities for him to express that versatility – including stints with the metal industrial band Prong, playing lead guitar and acting as musical director for American Idol alum Adam Lambert's live band, and juggling a thriving solo career that has two albums to its credit.
His 2009 debut solo album, The Deepest Dark, featured 11 acoustic songs and last year's Pain, Love & Destiny, recorded with the aid of Kickstarter campaign that raised $65,000 in under 24 hours, delved into his rock & roll side.
To me, music is music, and it's all about the effect and attitude that goes behind it.
I don't need to psych myself up to play certain styles of music, it all comes naturally.
When I'm playing my own music, I leave things open so I can do things differently depending on how I feel – whether it be using different guitars or tunings.
Playing live, it's like this is this show's version of that song, and it's not going to be the same as the night before.
But when he's on tour with Madonna, there's less leeway for changing the tempo and moods of songs, a restriction that Pittman doesn't find restricting at all.
When I'm performing with Madonna, what I try to do is to go to work every day and taking on a character – following a certain way she wants everything to be organized.
I'm happy to be playing that role.
The touring band, which arrived in Israel over the weekend, was going through grueling rehearsals in New York, led by Madonna's musical director Kevin Antunes.
According to Pittman, the level of professionalism among the performers is the highest he's encountered.
There's not so much pressure, but it's a lot of work. I can only speak for myself, but I think everybody's really pleased at the outcome of all this work and the show is going to be great.
While Pittman is not involved in the business behind the tour or the decision to open up in Israel (the same location where she ended her Sweet & Sticky tour in 2009), he agreed with Madonna's statement she made last week explaining her decision to launch MDNA in Israel because "it's the center of the world's energy and what happens here affects the whole world."
Tel Aviv is one of my favorite cities in the world, and I'm really excited to get back there.
There's a different energy there you don't feel in other places.
Pittman also gets a burst of energy from playing with his boss, who he said serves a role model for him on how to maneuver through the jungle of the music business.
It's like taking lessons from the best person you can as far as being in the music business.
Nobody tops her, the longevity of her career and the catalogue of her music that can offer such a wide variety of styles to entertain people.
For me, as a guitar player, there's a lesson there, too. I guess one of my main attributes is to be able to play a lot of different styles.
If you stick with one thing for a long time, peoples' tastes are going to change over time and they'll move on. And you're going to be out of luck unless you have that versatility.
Pittman has that versatility – and we already know he has the luck.

Madame X is available in Box Set, CD, Vinyl and Cassette!
Get your copy HERE!