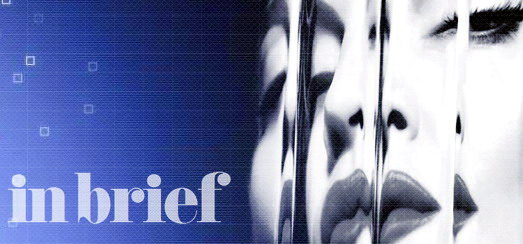 Israeli fans love Madonna
As part of their excitement for Madonna's upcoming MDNA Tour, which opens in Tel Aviv, some Israeli fans decided to make this funny tribute video clip and dedicate it to all Madonna's fans around the world.
D'Angelo thinks Madonna's rude
In his first major print interview in several years, D'Angelo talked to GQ magazine about Madonna.
When Madonna turned 39, she asked D'Angelo to sing "Happy Birthday" at her party. According to one press report, Madonna sat on his lap and French-kissed him. In fact, two sources say that ultimately D'Angelo rebuffed her advances at another gathering not long after. At that event, the sources say, Madonna walked over and told a woman sitting next to D, "I think you're in my seat." The woman got up. Madonna sat down and told him, "I'd like to know what you're thinking." To which D replied, "I'm thinking you're rude."
Shirley Manson from Garbage sings Erotica
Garbage is currently touring with their latest album "Not Your Kind of People" and pays homage to Madonna. Right before their song "#1 Crush", Shirley Manson sings a few lines from Madonna's Erotica.
Have a look at their performance in New York…
Thanks MisterBunny
"Girl Gone Wild" Maxi CD
The "Girl Gone Wild" Maxi CD has been released in France & Italy!
It's already available at Amazon France and Amazon Italy, or pre-order at Amazon UK and Amazon USA.
Tracklist…
Girl Gone Wild (Avicii's Umf Mix) – 5:16
Girl Gone Wild (Dave Audé Remix) – 8:05
Girl Gone Wild (Justin Cognito Remix) – 4:48
Girl Gone Wild (Kim Fai Remix) – 6:33
Girl Gone Wild (Lucky Date Remix) – 5:06
Girl Gone Wild (Offer Nissim Remix) – 6:49
Girl Gone Wild (Dada Life Remix) – 5:15
Girl Gone Wild (Rebirth Remix) – 6:49
Design the FIRENZE4EVER t-shirt
Luisa Via Roma is running an exciting new competition.
To win, design the FIRENZE4EVER t-shirt for the bloggers to wear to Madonna's concert in Florence, June 16th 2012!
The winner will be invited to experience a day of the FIRENZE4EVER alongside top international fashion bloggers, and an exclusive MDNA album kit, courtesy of "Universal Music Italia":
– a limited edition lithograph
– a CD of the MDNA album
– a vinyl of the MDNA album
– a picture disc of Girl Gone Wild
This exciting opportunity will include a round trip travel ticket and accommodation for one night (June 16th, 2012) for one person in Florence, Italy, and a top secret surprise for Saturday night!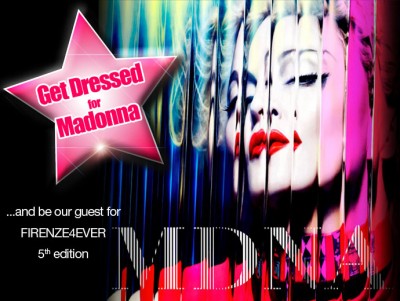 More details at Luisa Via Roma
MDNA Tour Chocolate
Tony "The Pastryarch" Albanese has made an original Madonna MDNA Tour chocolate piece.
Posing with the edible chocolate piece I made free hand of Madonna's MDNA Tour promo photo. I had one shot to get it right, there's no erasing or starting over with chocolate! It is accented with luster dust and pearl dust. More of my cake photos and videos can be seen on www.facebook.com/thepastryarch and twitter.com/#!/thepastryarch. I can also be seen on season 1 of "Cake Boss".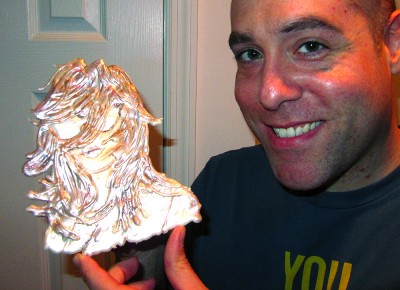 'Simply Madonna' Exhibition in Abu Dhabi
We already mentioned that the 'Simply Madonna' Exhibition will make a stop in Abu Dhabi. 7DAYS now announced that it will also have a few items up for sale…
'Music' video outfit – 715,000 AED ($195,000)
'American Pie' outfit – 600,000 AED ($163,000)
'Material Girl' dress – 1.9 million AED ($517,000)
'Open Your Heart' bustier – 1 million AED ($272,000)
'Who's That Girl' tour gloves – 100,000 AED ($27,000)
'Evita' wedding dress, – 520,000 AED ($142,000)
MTV Video Music Award for 'Ray of Light' – 100,000 AED ($27,000)
Signed AmEx card – 219,000 AED ($60,000)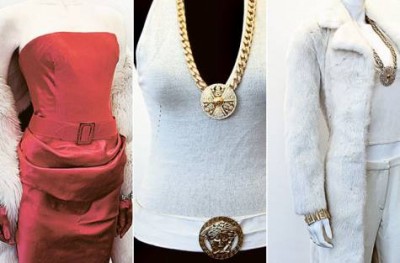 W.E. Out on DVD & Blu-ray In The UK June 4th – Win Your Copy!
UK fans! Madonna's "W.E." movie will be released on DVD and Blu-ray in your country June 4th. If you've haven't ordered your copy yet, here's your chance to win it!
All the details HERE!
MDNA Tour Spoilers – Concept & Choreography submissions
Have a look at some concept & choreography submissions by Michael Schwandt for the MDNA Tour. Note that these are only submissions and don't represent the final version.
MDNA Tour Spoilers – Building the stage in Tel Aviv
Madonna's MNDA Tour will open in Tel Aviv, Israel, on May 31st at the Ramat Gan Stadium. She is expected to arrive soon for rehearsals and the crew is already building the stage, including the backstage area.
Have a look HERE!

Madame X is available in Box Set, CD, Vinyl and Cassette!
Get your copy HERE!