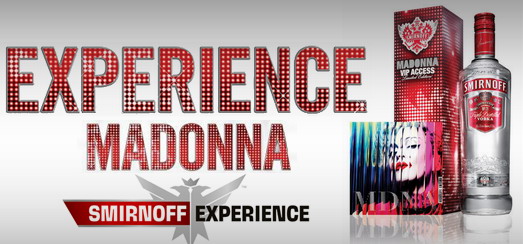 After the Smirnoff Nightlife Exchange last year and the exclusive Smirnoff Nightlife MDNA Edition, Madonna and Smirnoff are teaming up again!
Diageo is offering exclusive Madonna content via an on-pack and online promotion, as part of its partnership between Smirnoff No.21 Vodka, Madonna and Live Nation Entertainment.
To celebrate Madonna's twelfth studio album MDNA and the start of the MDNA World Tour, this year's world Diageo offers an exclusive Smirnoff Limited Edition Pack will be available in the off-trade offering VIP Madonna access.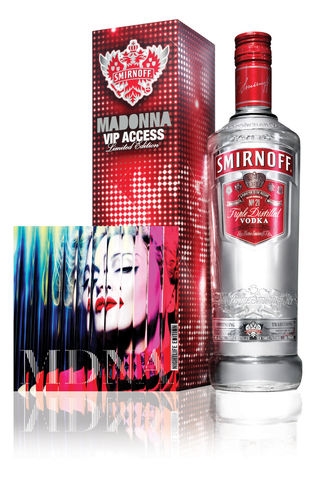 The 245,000 glossy red packs are set to land on shelves from late April and will contain a special VIP Access Card.
Each card holds a unique code which, once entered into a dedicated Facebook page, unlocks a host of exclusive content to experience the Madonna's world like never before, including exclusive content, music downloads, behind-the-scenes footage and even a chance to win VIP ticket!
One of the exclusive downloads is Madonna's latest remix track Give Me All Your Luvin' (Just Blaze Bionic Dub).
The Smirnoff Limited Edition Pack and VIP access activity will be supported by a multi-million investment encompassing a TV ad, digital content and PR.
Simon Breckon, Vodka marketing director, Western Europe, says…
This partnership between a global superstar, Live Nation Entertainment and the number one vodka brand is really exciting, and this latest activity is a fantastic opportunity for Madonna fans to gain access to completely exclusive content.

The red pack will create significant impact on-shelf drawing shoppers to the category in-store.

We are also launching some striking 'POS' kits and display units to signpost the activity and help drive sales for retailers.

Madame X is available in Box Set, CD, Vinyl and Cassette!
Get your copy HERE!