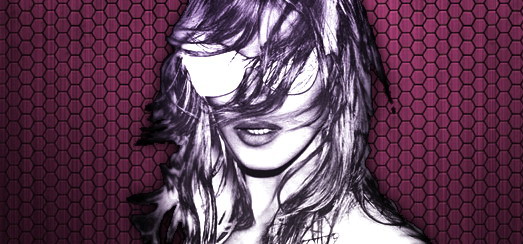 UPDATE:
Official Israeli ticket vendor Eventim has updated their website with more information on the MDNA World Tour dates in Israel.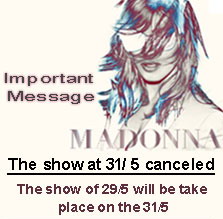 The original May 31st show has been cancelled and the show that was planned for May 29th has now been rescheduled to May 31st.
All Tel Aviv tickets dated MAY 29TH will be honoured at the May 31st event.
There is no need for persons holding these tickets to exchange as patrons will be provided the seats that they purchased for the original event.
Persons requiring ticket refunds as a result of the date change are requested to do so as of Sunday April 29th at point of purchase, and no later than Sunday May 20th.

For Money Refund or tickets changing please send An E-mail with your details & your order Number To [email protected] or Dial +97235111777
—
The highly anticipated opening of Madonna's MDNA Tour is now planned for Thursday, May 31st at Ramat Gan Stadium in Tel Aviv, two days later than previously scheduled due to production delays. The change in the opening date was announced today by promoters, Live Nation and Shuki Weiss.
All tickets dated May 29th will be honored at the rescheduled May 31st event.
No information about the second show in Israel has been provided yet.
Madonna has already announced 76 concert dates in arenas, stadiums and special outdoor sites throughout Europe and North America with confirmed sales of over 1.4 million tickets to date. The MDNA tour has already sold out in Berlin (2 shows sold out), Amsterdam, Barcelona, and Istanbul (45,000 tickets sold) as well as Philadelphia, Boston, Montreal, Quebec City (70,000 tickets), New York's Yankee Stadium (73,000 tickets over 2 shows), Washington DC and the Staples Center in LA. The tour has recently announced additional concert dates in Mexico and South America, which will be followed by a visit to Australia, where Madonna has not performed in 20 years.
Along with state of the art technical components, including the largest video screens ever created, Madonna, her band and her dancers are expected to reach above and beyond her Super Bowl performance where she performed to an audience of over 117 million people around the world, the highest number of viewers in Super Bowl history.
Madonna's latest studio recording "MDNA" debuted on iTunes at the #1 spot in over 40 countries. Her newest single "Girl Gone Wild" is #1 on Billboard's Dance Club Songs Chart – her 42nd time in the top slot. She remains the artist with the most #1 songs in the chart's 35-year history. MDNA has received glowing reviews including USA Today which commented, "Madonna's MDNA is rocking and revelatory… her most personal effort to date.
The woman is pop's most durable alpha female, coolly courting fascination and controversy on her own terms." Added The Sun in the UK, "The album should be the spine of an incredible live show – just what her army of followers will want to hear."
The MDNA Tour is produced by Live Nation Global Touring and presented locally in association with Shuki Weiss.
Source: Live Nation Entertainment

Madame X is available in Box Set, CD, Vinyl and Cassette!
Get your copy HERE!