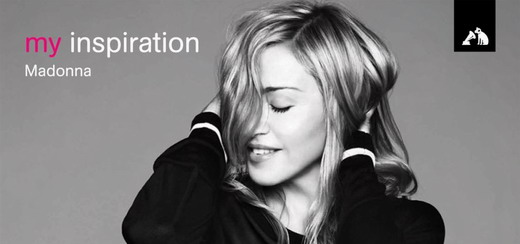 HMV's "My Inspiration" is about the artists, actors and directors, sharing the lyrics and songs, poetry and dialogue that have inspired them.
Today, HMV revealed the "My Inspiration" poster for their 300th artist who joined the campaign…
Our landmark, 300th hmv 'My Inspiration' poster is graced by the original Queen of pop – Madonna has revealed an unlikely musical inspiration – punk poet Patti Smith.
The journey began in 2006, when David Bowie became the first artist to take part, selecting Syd Barrett's Gigolo Aunt as his inspiration. Since that time, many of our greatest icons and best new artists from the world of entertainment have featured.
Madonna has named Patti Smith's recording of Gloria, featured on Smith's 1975 debut Horses, as one of her key influences.
Despite her background in the New York dance scene as she began her career she went for the reworking of the track written by Van Morrison and originally recorded by his band Them in 1964.
Madonna has long been known for her references to religion throughout her work and she cited the line "Jesus died for somebody's sins, but not mine", which Smith added to the song, as her key inspiration.
HMV spokesman Gennaro Castaldo said..
We've been honoured to have some truly legendary artists take part in recent years, but we're particularly proud and thrilled that Madonna has agreed to participate to celebrate our 300th landmark.
Naturally we were really intrigued to learn her choice, but should have guessed that, in Patti Smith, she'd go for another artist who has rewritten the rules and, in Gloria, a song that makes a powerful statement.
Listen to Gloria by Patti Smith…

Madame X is available in Box Set, CD, Vinyl and Cassette!
Get your copy HERE!