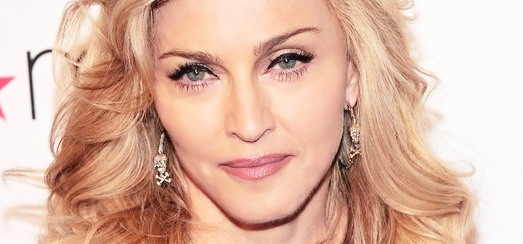 Madonna attended the launch party of her "Truth or Dare by Madonna" fragrance at Macy's in New York City, last night.
During the Q&A in the VIP tent, Madonna was in a very good mood and had lots of fun answering fan questions. She even sang a few lyrics from "I Love New York".
Here are a few of the questions asked, transcripted by Madonnarama.
Many people get starstruck meeting you. Is there anyone that made you starstruck?
Madonna: Euhm…. let's get back to that. It's kind of hard to make me feel starstruck. Let me think about that one.

My question is simple: cut or uncut?
Madonna: That is a scandalous question! I refuse to answer it.
Are you talking about my sandwiches? I like my sandwiches cut!

If you have to choose one song from your catalog that best summarizes your most fundamental artistic message, which would it be?
[Audience screams "Erotica", "Express Yourself"]
Madonna: Yes, that's good. Express Yourself.
Don't go for second best baby!

If you could change the world, what would you change?
Madonna: Let's start with the way everyone smells. My perfume! That's the frivolous answer…
I would like to live in a world where there is no prejudice, where people have the freedom to be who they are, to believe in what they want to believe in.
That would be a good start.

How was your seder?
Madonna: Long! (laughs)

Why did you take off your beauty mark?
Madonna: I didn't. It just faded over time. Sorry.
I made it darker with a black pencil, in case you didn't know.
I can make it come back!
Have a look at the full video…

Madame X is available in Box Set, CD, Vinyl and Cassette!
Get your copy HERE!