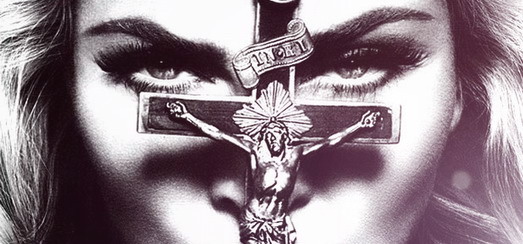 Bill Donohue is the current president of the Catholic League for Religious and Civil Rights in the United States, a position he has held since 1993.
He has never been a big Madonna fan, but today, he accused her of "being transparently vulgar" on his Catholic League blog…
Even her fan base knows that she ages more like an aluminum can of beer than a vintage Cabernet. Madonna's new CD, MDNA, isn't breaking any records, and one of her flashy singles, 'Girl Gone Wild,' didn't make the Billboard 100; one critic, Chris Willman, even called it 'the worst single she's ever released.' He was too kind.

The video of 'Girl Gone Wild' shows the 53-year-old tramping around in black hot pants and stiletto heels while gyrating with well-greased topless guys adorned in tight black pants. The homoerotic show is so vulgar that YouTube says the video is not fit for those under the age of 18. YouTube has even asked Madonna to recut a video making it appropriate for the teeny boppers. Good luck.

She is what she is. Which means she is more than obscene—she's a Catholic basher. 'Girl Gone Wild' begins with Madonna reciting the first few lines of 'The Act of Contrition.' She must know it's Lent. Then she prances around to the backdrop of a light-show configured to resemble a cross. The guy who is shown wearing a crown of thorns is no doubt meant as another Easter present.

The CD also features 'I'm a Sinner.' With lyrics such as 'I'm a sinner, I like it that way,' Madonna makes it clear that she always has Catholicism on her mind: 'Hail Mary full of grace' is followed by a quip about Jesus, St. Christopher and St. Anthony.

Madonna likes narcotics. She admits that MDNA was chosen to reference both her name and the drug MDMA; the line from 'I'm a Sinner' about 'magic dust' was dropped to refer to the PCP drug by that name.

The open-minded gang will not object to any of this. In their moral universe, Catholic bashing is cool; homosexual themes are beautiful; and drugs are fun. But there is one thing that Madonna does while performing 'Girl Gone Wild' that will tick them off: she is shown smoking a cigarette.

Madame X is available in Box Set, CD, Vinyl and Cassette!
Get your copy HERE!