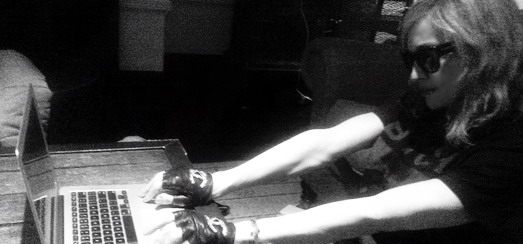 Last night, Madonna was tweeting and answering fan questions, from her living room, wearing a "Bitch Club" t-shirt.
She called the upcoming world tour the "MDNA tour", asked Quentin Tarantino to direct the "Gang Bang" video and told Deadmau5 to have called first (in reply to his latest rant).
Here are a few interesting questions…
How did you break your pinky the other day?
Fighting Off a sniper in Gang Bang

What's your favorite Britney Spears song?
Baby One More Time

what's your favorite Quentin Tarantino movie?
Kill Bill 1

How do you feel about bullying and what do you think about Gaga's work with the Born This Way Foundation?
I applaud @ladygaga support of the gay community and her commitment to stop bullying.

"Everybody" turns 30 this year. Any chance of hearing it on the next tour?
Not telling

How was it working with Kazaky?
Great. They didn't speak English so we relied on body language.

Have you ever thought about writing an autobiography?
Absolutely. i have so much to say. but not right now.

What do you think about Justin Bieber?
He's awesome. I'm a huge fan. I love it when he raps.
Come and join me on stage when I'm on tour when we are in the same city and congrats on your new single.

Who's your favorite electronic music producer right now?
I'm listening to alot of Skrillex right now. He's one of my favorites.

It was great connecting with everybody.. Thank you all for your love and support!! -Goodnight… -Madonna
Read more at Madonna.com

Madame X is available in Box Set, CD, Vinyl and Cassette!
Get your copy HERE!