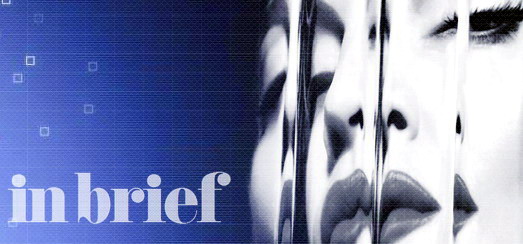 Mika on Twitter
Mika on Twitter about "Gang Bang"…
The madonna song is weird as fuck, underground & lyrically cool, its amazing & bizarre. i love it, she sounds so good singing words so harsh
When asked by a fan about Girl Gone Wild, he answers…
I don't like that song
GMAYL rises on the Club/Dance Charts
This week "Give me all your Luvin'" goes from #9 to #5 on the Billboard's Dance/Club Play Charts
Madonna's W.E. Releases on DVD and Blu-ray 5/1
Madonna's W.E. Releases on DVD and Blu-ray May 1. W.E. has received numerous accolades, including a 2011 Academy Award® nomination for Best Achievement in Costume Design, a 2012 Golden Globe® Award for Best Original Song (Motion Picture) for the song "Masterpiece", and a 2012 Golden Globe Award for Best Original Score (Motion Picture).
Madonna's W.E. delivers a look into the lives of two fragile yet passionate women intertwined across the decades. In 1998, New Yorker Wally Winthrop (Abbie Cornish) becomes enamored with what is believed to be the greatest romance of the 20th century – King Edward VIII's (James D'Arcy) surrender of the crown for the woman he loved, the chic and charismatic American, Wallis Simpson (Andrea Riseborough). Through a series of secret letters, Wally discovers the lifetime of romance Edward and Wallis shared
Behind the scenes of the "Give me all your Luvin'" video shoot
Madonna's stylist Arianne Phillips, from behind the scenes of the "Give Me All Your Luvin'" video shoot, talks about incorporating Swarovski crystal and jewelry into the video and Madonna's upcoming world tour for her album, MDNA…
Jewelry is always such a big part of creating a costume, especially with Madonna.
Swarovski is a brand that's been really supportive of Madonna for many years and we rely on them heavy for all the different tours, videos and photoshoots. There's no end to it.
W.E. Screening Contest
Madonna Underground is offering a chance to attend an exclusive advance screening of Madonna's film "W.E." at De Munt in Amsterdam on March 14th.
To enter, send an email including your name and address to [email protected] before March 12th.
Good luck!
More details on the MDNA singles
Londonfan30 brought us some interesting info:
– "Girl Gone Wild" won't be released internationally for now (current release date: March 19th)
– Polydor will be releasing "Masterpiece" as a single in the UK. The impact date is currently set for 2 April 2012.
– Masterpiece remixes are being commissioned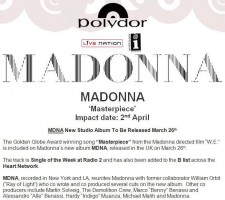 MDNA Taiwan Pre-Order
The Taiwan pre-order of MDNA comes with a Taiwan only promo CD that includes "Give me all your Luvin' (No Rap version)", a poster and of course the album itself.
Thanks to @xiaov727 and AmbitionMadonna.com

The Truth or Dare Fragrance Collection
"Truth or Dare by Madonna" is already available for pre-order at Macy's online store!
Madonna Truth or Dare Shower Gel, 6.7 oz ($24.00)
Madonna Truth or Dare Body Lotion, 6.7 oz ($28.00)
Madonna Truth or Dare Eau de Parfum, 1.7 oz ($55.00)
Madonna Truth or Dare Eau de Parfum, 2.5 oz ($68.00)
Don't forget to like and follow the official "Truth or Dare by Madonna" Facebook and Twitter!
You can pre-order here!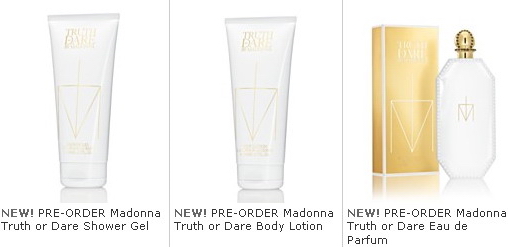 Susan Boyle: Madonna Wouldn't Let Me Use Her Song
Susan Boyle wanted to feature Madonna's hit "You'll See" in the forthcoming show about her rise to fame, titled "I Dreamed A Dream", but she says Madonna refused to let her use her track…
"We had to get permission for all the songs in the show.
Cameron Mackintosh gave us permission for 'I Dreamed A Dream' from 'Les Miserables' — but we never got Madonna's 'You'll See'."
Madonna Too Sexy for Katy Perry
Katy Perry hasn't always been allowed to 'express herself', as she has revealed that she was banned from even mentioning Madonna's name when growing up.
The 27 year-old grew up with strict preacher parents and for them Madonna's sexy image and performances were too risqué for their daughter.
Katy told The Daily Star…
"One day she was doing a sex book.
I think for my parents, with their belief systems, the idea that I would be influenced by that was very scary."
Masterpiece fanmade video
Konstantinos created his own version of the Masterpiece video. Enjoy!
Like a Virgin Parody video
Comedian Lauren Francesca created her own parody version of Madonna's "Like a Virgin" song. Let us know what you think…

Madame X is available in Box Set, CD, Vinyl and Cassette!
Get your copy HERE!