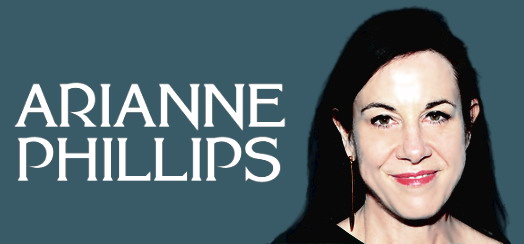 Arianne Phillips will go down in the history books as one of the most prolific stylists of our era. With awards galore (she won a Costume Designer's Guild award, and got an Oscar nom for W.E.), and a portfolio bursting at the seams with Madonna, Lenny Kravitz and JTT's tour de forces, she's pretty much one of our biggest idols.
Read below, and you'll see what makes Arianne the supreme fashion force of our time…
Where were you, and what was your reaction when you heard that you were nominated for W.E.?
Arianne Phillips: I was at home in bed and received a phone call. I didn't know who it was, and all I heard on the other line was sobbing, like hysterical sobbing. I knew what it was about because, obviously, I knew what was happening that morning, but it was one of my best friends. He was so excited that he was crying, and had gotten up early to check for me.

While you were researching, did you find any surprising fashion or other facts about King Edward VIII or Wallis Simpson?
Arianne Phillips: Well, everything was interesting, and yeah, I guess surprising. I mean, I knew she was fashionable, but I didn't realize the kind of scope of what a devoted couture client she was. I didn't she know she was a cilent of Gabrielle Chanel or Madeleine Vionnet. I unearthed all of these cool treasure troves of incredible Parisian haute couture from the '30s. It was fantastic!

We read that you worked with L.A.'s own Doris Raymond from The Way We Wore. Can you tell us a little about the process?
Arianne Phillips: Doris is my go-to person and we're also good friends. I met her working in 1998 on Girl, Interrupted. Doris has a vast knowledge of 20th Century fashion, and I hadn't really studied the '30s Paris looks in detail. She really has a fantastic collection of out-of-print books. I asked her if she could direct me, and she opened up her library to me — she actually even gave me a couple of interns! She's very, very generous.

Was there anyone else in L.A. that proved helpful?
Arianne Phillips: Neil Lane is a very good friend of mine, and a very good friend of Madonna's. He's extremely knowledgeable in history, art history, and the history of jewelry (and of course, this particular era). In addition to being a very talented jeweler, he's also an estate jeweler, so he understands this period very well. Between Neil and Doris, they kind of pushed me into the right direction, and became part of my core. They are like my living reference books!

What was the hardest part about getting the costumes together for W.E.?
Arianne Phillips: The initial thing about the movie that was so daunting was that the jewelry narrative was so big. It was a challenge, and I love it, and it's what I do! I live and breathe it. To use the real clothes and jewelry that belonged to the Duke and Duchess was an impossibility because it's privately owned or in museums. I knew we needed to reach out to Cartier because the cross bracelet was famously the centerpiece of the film. I needed the context of what their jewelry was about. Neil was the first person I called, and we went from there researching the two auctions of the pair's wares.

We know you had to replicate those jewels. Where do those "facsimiles" currently live?
Arianne Phillips: We recreated 10 pieces with Cartier. They own them because it's their design and copyright. They are housed in Switzerland, I believe. They are going to dispose of them and destroy them this year, just because it's like trying to recreate a Picasso or another great work of art. It would devalue the original that's privately owned. I'm not sure what Van Cleef & Arpels are doing with the bracelet they made for us, but they own it. If we're lucky, (and we're working really hard with Cartier), we'll get to exhibit the pieces that were created.

What's your everyday look when you're on set?
Arianne Phillips: Usually function takes precedent over anything else. I have to have a lot of pockets. I always find myself losing my phone, or I have too many safety pins or jewelry to hold, so I wear a cross-body bag or something to hold everything. I often wear jeans and comfortable shoes, usually boots. I love fashion, so I wear it. I wear a lot of different things that I mix together like a pair of jeans from The Gap, a Rick Owens T-shirt, and a Vanessa Bruno jacket. I just like to mix it up.

Of all the places you've traveled for costume pieces, where do you find the most inspiration?
Arianne Phillips: I found the most inspiration in a thrift store in Memphis, Tennessee, when I was working on Walk the Line for instance, or I can find it in the Metropolitan Museum in New York in their costume archive. Or, I can find it in a Goodwill in some small town in Indiana, in someone's closet, or on a person walking down the street. There's no limit because I'm interested in all kinds of people and all walks of life. It doesn't matter if its haute couture runway from Paris, or Skid Row in Detroit. Inspiration comes in all forms.

Are there any magazines or digital media that you follow?
Arianne Phillips: I look at a lot of fashion blogger websites. I also like online teen magazines, the New York Times, or Man Repeller. There's nothing that I don't look at. I try not look at the gossip websites, but they're so hard not to look at, too!

If you could offer advice for someone trying to break into the industry, what would you say?
Arianne Phillips: You have to really want it. You get tested in so many ways in terms of endurance, stamina, and rejection — no matter what it is you're choosing to pursue, but especially if it's a creative profession. You have to really, really want it. For me, I really didn't want to go about being a costume designer in a traditional way. Not that I didn't want to, but it happened to me in a self-discovery way. I stumbled across costume design after working as a fashion stylist in NYC, and started working on music videos in the narrative form, and it really resonated with me. You have to put your personal life aside, and take every opportunity possible. It's a lifestyle job. It permeates into every aspect of your world, and the hours are demanding; It's very physically taxing, but incredibly rewarding. And remember to be flexible — that's what working in this business is all about — collaborating. Also, being able to be a good communicator.

Was it different collaborating with Madonna for the film than her tours after all of these years?
Arianne Phillips: It wasn't in terms of language; We still had the same kind of conversations. She's been directing me for 14 years and is the captain of her own ship. She's self-motivated. What you see is the direct organic form of her inspiration in her music, or even in a photo shoot. However, the thing that was different and fun was having her on my side of the camera — not suffering in high heels and sitting through hair and makeup, but being a crew member. It was interesting watching her relationship change with the dialogue. She's always very egalitarian and talks to everyone — she's a very curious person, and is very brave about trying new things.
She's been on film sets more than most of us, whether it's as an actor or artist doing music videos. It was probably a little off-putting for the British crew of W.E. for the first day showing up to be directed by a cultural icon! She's so disarming, though. She's very focused on the work, and doesn't treat anyone really any differerently. But you still really have to step up to the plate!

Are you working on her costumes for her upcoming tour?
Arianne Phillips: Yes, I am going to be doing the costumes for her tour. You know, it's top secret, but it's going to be the most incredible tour of all time. You can get a hint of that from the Super Bowl, although it won't look like that at all. The level of commitment she has with putting on a show is unlike anyone else.

How do you unwind after all this madness?
Arianne Phillips: I live right by Griffith Park, so I do a lot of hiking with my boyfriend and dog. That's my favorite thing to do to equalize this crazy lifestyle: Take a hike with a dog to the observatory, and hang out at Trails Café to see friends. I also really unwind a lot when I cook. I try to focus on just simple, simple things that balance and ground me in my downtime because the world I work in is so outrageous — crazy places, meeting great people, being in extreme circumstances — I kind of yearn for a normalcy to keep calm and carry on.
SOURCE: Refinery29

Madame X is available in Box Set, CD, Vinyl and Cassette!
Get your copy HERE!