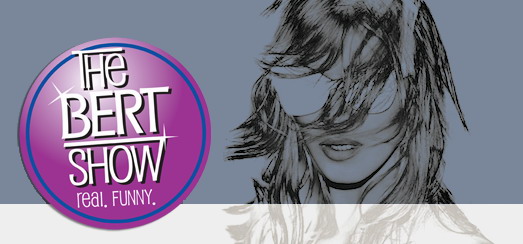 Madonna called The Bert Show to talk about the Super Bowl, being a mom, the presidential election and even what underwear she's wearing…
From serious thoughts on M.I.A.'s gesture at the Super Bowl half-time show (not to mention all the prep that went into it) and how she balances being a Super Mom (let's just say Wendy narced on Madonna's daughter, Lourdes' new haircut) to where she gets her drive to be the best and when she made her best music (side note: is Britney on this album?), Madonna delivers the answers in the way that only a female powerhouse decked out in pajamas and amped up on two cups of coffee and Red Bull can: with honesty and grit.
The lighter side of things: Madonna didn't get to where she is by coasting through life (she even reviewed and rated her own Super Bowl performance), but that doesn't mean she doesn't know how to kick it with the rest of 'em. Dishing on what underwear she's wearing (apparently Bert has the same pair) and joking around about his contribution to her half-time show (he did a stellar job waving around that finger light, after all), the Queen shows us that she's as true to herself and as well rounded as her catalog of record breaking music.
And it wouldn't be a real Bert Show interview if we didn't ask her this one little question that's been all over our show recently: should a woman be President?
Listen to the full interview…

Madame X is available in Box Set, CD, Vinyl and Cassette!
Get your copy HERE!