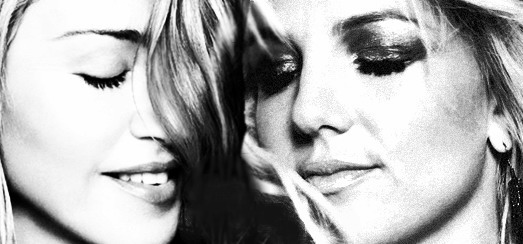 Update: Madonna just confirmed in an interview with Ryan Seacrest that the second single of MDNA will be "Girls Gone Wild" and that Britney Spears won't be featured on the song.
—
THE RUMOUR
A tracklisting of Madonna's upcoming album MDNA has hit the web and states that Britney Spears will feature on the track "Girls Gone Wild", produced by Benny Benassi.
This would mean a second Madonna & Britney Spears collaboration and another artist featuring on MDNA besides Madonna, M.I.A. and Nicky Minaj.
A rep for Madonna had no comment about the rumour and didn't confirm or deny it.
THE TRUTH
Britney Spears has recorded vocals for Madonna's "Girls Gone Wild" track.
This does not mean that they will be used for the album version. Madonna's team is not sure yet. On the one hand it would huge for the promo of MDNA, but on the other hand it has already been done and they don't want to repeat themselves…
We can also exclusively reveal that "Girls Gone Wild" will be the second single of Madonna's MDNA album!
What do you think?
Do you want another Madonna/Britney Spears Collaboration?

Madame X is available in Box Set, CD, Vinyl and Cassette!
Get your copy HERE!