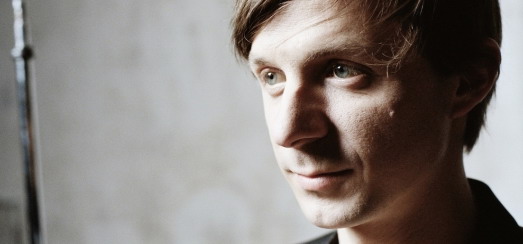 This week, Martin Solveig gave an inteview to French radio station, Europe1. He talks about his collaboration with Madonna on MDNA, his opinion of her as an icon and an artist, and calls her the "master" while Lady Gaga is her "disciple."
Read an exclusive transcription and translation by Madonnarama…
How did you meet Madonna ?
MARTIN SOLVEIG: With a phone call. I was really impressed. It was her manager. I thought it was a joke, because my team and I prank each other a lot. I actually thought it was my Australian agent pulling a prank me.

Tell us about meeting her for the first time ?
MARTIN SOLVEIG: We actually met on Skype. I was in an airport and everything was planned to go smoothly… but obviously, I had problems with the internet connexion. So, I raised my arm like I was trying to adjust an antenna. I was completely paralyzed. She's such an icon, a figure of music…I said a lot of nonsense in the first five minutes… I usually don't get starstruck, but this time, I absolutely was…

How do you call her ?
MARTIN SOLVEIG: Everybody calls her M. She likes it when things go fast.

How did you direct her artistically?
MARTIN SOLVEIG : I learnt from her manager that she liked how I dared to direct her during our first recording session. When you sing and record at the same time, it's not easy to really to get an idea of the result. That's my job, this is what I do, I'm a writer and a producer and had to tell her "this take was right, this one wasn't."

Do you find her intimidating?
MARTIN SOLVEIG: Very intimidating. She's a very strong woman and I love that about her. It took me a little time to see her as an artist and not as an icon lingering in her trailer with her Grammy's and her million record sales…

Were you a fan? What do you think is her legacy to the world of music?
MARTIN SOLVEIG: She has left her landmark in music and fashion in every era. In the 80s, in the 90s. And she has succeeded – what I think Michael Jackson has failed to do – to still be relevant in the 2000s working with Mirwais and Stuart Price. I'm more a fan of those albums than the ones she released when she started. And THAT is impressive to me.

Do you think Lady Gaga took her crown ?
MARTIN SOLVEIG: No. I think she's a disciple. There's a master and a disciple. It's very simple. We all have a role model, don't we?

What about your single leaking last November…
MARTIN SOLVEIG: Some of her fans are very talented hackers who got into her computer, took her pictures…
I told her about that already. I couldn't send anything sensitive to her email. It remained the first single because we had two guests M.I.A. and Nicki Minaj. Otherwise, we would have released another single.

Martin Solveig : "J'ai dit beaucoup de bêtises… par Europe1fr

Madame X is available in Box Set, CD, Vinyl and Cassette!
Get your copy HERE!