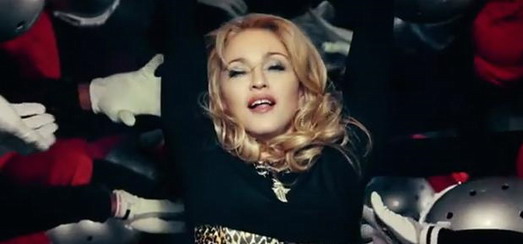 Madonna makes her entrance at on this week's Billboard Hot 100 songs chart just outside the top 10…
Madonna roars onto the Hot 100 at No. 13 with "Give Me All Your Luvin'," featuring Nicki Minaj and M.I.A. The first single from Madonna's 12th studio album, "MDNA," due March 26, blasts onto Digital Songs at No. 7 (115,000) and Radio Songs at No. 28 (44 million).
Her Madgesty enjoyed a Super Bowl spotlight, having performed "Luvin'," along with portions of her past smashes, at the big game's halftime festivities. The track also received special attention from Clear Channel Media and Entertainment's more than 50 monitored pop stations, which played it at the top of every hour from Friday at 9 a.m. ET until kickoff Sunday night.
"Luvin' " marks Madonna's 56th Hot 100 appearance, tying her with Dionne Warwick for the second-most visits among women. Only the Queen of Soul, Aretha Franklin (73 entries), outdistances the Queen of Pop and Warwick in the category.
The No. 13 Hot 100 entrance of "Luvin' " ties 1992's "Erotica" for Madonna's fourth-highest. She arrived at loftier ranks only with "Ray of Light" (No. 5, 1998), "You'll See" (No. 8, 1995) and "Frozen" (No. 8, 1998).
Source: Billboard

Madame X is available in Box Set, CD, Vinyl and Cassette!
Get your copy HERE!