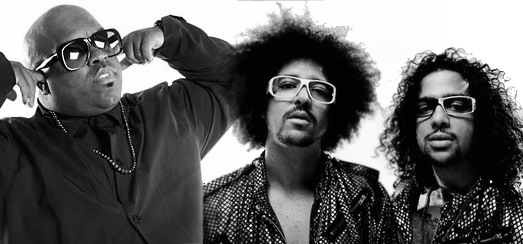 Madonna rang up Cee Lo Green several months back about performing "Like a Prayer" during the Super Bowl halftime show, and he didn't give it a second thought.
He told MTV…
"I was asked – cordially invited – by Madonna to be a part of it and, of course, very eagerly obliged.
So it was basically as simple as that.
It was kind of like a no-brainer.
Working with Madonna is a very simple process.
She's a very hard worker, quite the perfectionist, and we worked awfully hard for that entire 12-minute performance to be as close to perfection as possible."
LMFAO's members also praised Madonna…
Seconds before she took the stage for the Super Bowl halftime show on Sunday, ET chatted with Madonna, who expressed her excitement and readiness for the big performance…
After the show, ET met up with LMFAO Redfoo and SkyBlu, who expressed their humility in performing alongside the legendary Madonna…
Redfoo: "She's amazing. [It was] such an amazing experience working with her."
SkyBlu : "Every time she'd come over at practice, I was like… hands sweating, like yeah, Madonna."
Andy Lewis, Madonna's toga-clad slack line dancer says that, despite having performed death defying stunts throughout his career, the idea of performing them with the pop icon on stage was "scary".
He explained…
"The thing is, when you're walking over grass lower to the ground, you're in control.
You don't fall off; you don't fall on your head. When you lose your balance you just step off. Relatively, it's somewhat safe to learn.
It was scary. You normally slack line between trees, let's say, and you focus on the tree. And on this, all I see are flashing lights, and Madonna dancing on the thing so it's very, very distracting.
If I had fallen,I would have probably broken my leg.
When you have that many people live there's this energy that kind of gets put in to you that you can't access any other way, and it's amazing.
The music, the flashes, the lights, the moment. It's just a spectacular thing.".
As for Madonna, when asked after her halftime performance by The Insider's Kevin Frazier as to what was next after conquering the Super Bowl, she jokingly replied …
"The White House! I'm gonna rock the White House."

Madame X is available in Box Set, CD, Vinyl and Cassette!
Get your copy HERE!