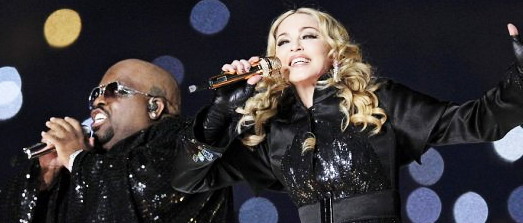 From OUT Magazine…
She came, she saw, she conquered
As Madonna entered the field of last night night's Super Bowl halftime show on an Egyptian thrown, carried by tons of hot gladiators, dripping in a gold lame Givenchy cape and headpiece, I didn't know quite what to expect. Would this be another live performance let down? All I imagined following was something way over styled and way overdone. After all, this year so far has been a bit inconsistent with pop performances and Superbowl concerts aren't always winners. I soon realized that Madonna would be taking no prisoners and actually delivered a solid performance.
As soon as she hit the stage, Madonna gave us exactly what we wanted. She still has spunk and obviously still goes to the gym—or, more likely, has the gym come to her. Despite the dubious choice in cohorts, we oohed and aahed as the dudes from LMFAO helped her through a series of cartwheels. Though we did notice her almost take a few spills—still, she moved around like it was 1986 again.
However, her new single, which she performed alongside Nicki Minaj and a middle-finger-wielding M.I.A., seemed to get lost amongst her older songs. Yes, it was great to see such a trio of women rocking out together, but we eagerly awaited what she had in store for us next.
It wouldn't have been a true Madonna performance without some kind of lesson to be learned. Which made for a great rendition of "Like a Prayer" featuring Cee Lo Green. She brought out hundreds of choir members and projected the words "World Peace" across the field. But, following the gospel remix, Madonna abruptly exited the stage through a major trap door of course with lots of smoke and pyrotechnics, as if she fell into a giant trap that cryogenically freezes pop stars.
And that was it. The Giants went on to win the big game and the rest of America went to sleep. All in all a very well done performance for the Material Girl. The stage and effects were beautiful and really put us all on edge for her new album MDNA to drop. Check out the video below.
From the LA Times…
To label the selection of Madonna as a halftime performer at the Super Bowl as curious is to neglect the surreal history of what has become one of the year's most discussed 10 minutes of music on American television. From the high-water mark Janet Jackson-Justin Timberlake nip slip to the weird nonsequitur Rolling Stones gig to a children's choir singing "Michael Row the Boat Ashore," the Super Bowl has never been short on ridiculousness.
But all different kinds of musical craziness had nothing on this year's Bridgestone Super Bowl XLVI Halftime Show performance. Madonna was defiantly unconcerned with the more conservative red state wing of the football fan base who'd never be caught dead singing along to one of her songs, and her halftime show was pure spectacle by the Cleopatra of the game.
Think about it. In less than 10 minutes, America watched marching warriors pulling a massive chariot; faux trumpeters announcing the arrival of Madonna; a man name Redfoo with a ridiculously large afro fronting a duo called LMFAO; a polyglot British-Sri Lankan rapper slyly flipping the bird at the camera; a cartoonish multiple-personality Nicki Minaj; and a charismatic Buddha of a singer with a golden voice in one of the best bandleader outfits ever created, to say nothing of his stunning black choir robe.
At the center of it all was Madonna in her element, vogueing with a break-dancing lyre player, riding a bejeweled human serpent, slipping into her best single of the '00s, "Music," dancing near a tightrope walker who did a back flip as she passed, and sitting on Redfoo's shoulders during a mash-up with LMFAO's "Party Rock Anthem." We saw Madonna looking absolutely silly as a 53-year-old cheerleader with equally noncheerleaders M.I.A. and rapper Minaj, and, perhaps most improbable of all, Madonna in front of a church choir pretending to be chaste.
In fact, if you break down the show, produced by Stuart Davis (known to dance fans under his moniker Les Rhythmes Digitales), the whole thing was arguably more outrageous than the notorious Jackson nipple shot. Madonna's new album, "MDNA," is a sly reference to the drug Ecstasy; M.I.A.'s father was part of a Sri Lankan rebel group called the Tamil Tigers (once listed as a terrorist group by the State Department); LMFAO is an acronym in text slang for "laughing my … ass off;" and singer Cee Lo Green hit the big time with a song about a middle-finger kiss-off. In this company, Minaj looked positively PG.
But despite its success AND extravagance, this whole halftime package most of all was little more than an ingeniously well planned — and shockingly transparent — advertisement for "MDNA," and not much more. The rollout for the album began with the announcement that she'd be performing at the Super Bowl and was teased by a music video released Friday for her new single, "Give Me All You're Luvin'," featuring Minaj and with a remix also featuring LMFAO, which, of course, she performed. Talk about marketing to a lot of eyeballs.
But then Madonna is Madonna for a reason. And we saw it firsthand Sunday.
From Billboard…
It's Madonna Louise Ciccone's world, we're just living in it. The pop icon took to the world's biggest stage to rock three-and-a-half older tracks and a playful new song during the Super Bowl halftime show.
Entering on a golden throne pushed by an army of dancing Roman gladiators, the 53-year-old singer started things off with her 1990 classic "Vogue." Around ten backup dancers kept the pace as she sauntered the scene in a head piece and black thigh-high boots.
Across the field flashed an impressive digital collage of Vogue magazines, in a nice touch of corporate scenery.
By the time "Music" revved up, she was down to four very acrobatic backup dancers on a bandstand. To the side of the stage — playing the parts of "Hey Mr. DJ" — were those party rocking dudes of LMFAO at which point "Music" began getting an infusion of the SoCal duo's biggest hits, "Party Rock Anthem" and "Sexy And I Know It."
Those with sharp eyes may have noticed Madonna slipping a bit while she was atop the bandstand, but she quickly recovered with a smile.
Then came the new song "Give Me All Your Luvin.'" The track's two guest stars — Nicki Minaj and M.I.A. — made the trip to Indy and got wrapped up in the Rome/Cleopatra-esque concept. The cheerleader-themed track was a perfect pick for halftime show, no doubt.
M.I.A. may have caused a bit of controversy when at the end of her rapping bit, she flipped the bird at the camera while saying the lyrics, "I'mma say this once, yeah, I don't give a s–t."
As her new single wound down, a marching band made its way to center stage for a quick interlude of "Open Your Heart" with the big-voiced Cee-Lo adding soul. Backing tracks seemed to be dispatched of at this point and the two sang live until the end of the show, it appeared.
For the finale, Madonna pulled out all the stops with the perfectly picked "Like a Prayer." Her voice, strong and clear, was aided by Cee-Lo and a massive choir of backup singers in robes for the 1989 gem.
When the spectacle was over, the singer was released down an escape hatch of sorts and the words "World Peace" were blazoned across the field.
According to the AP, around 110 million people were expected to watch the Super Bowl this year.
It was Madonna's first time in the halftime spotlight for the Super Bowl and comes right as she debuts her single, "Give Me All Your Luvin.'" The track is off "M.D.N.A.," Madonna's 12th studio album and first for Interscope, which will be released March 26.
Before kickoff, country couple Blake Shelton and Miranda Lambert sang a rousing version of "America the Beautiful" and Kelly Clarkson took on national anthem duties. It was a performance clear of mistakes, unlike last year when Christina Aguilera flubbed her lines.

From People…
Madonna Lights Up the Super Bowl By Alison Schwartz
Eli Manning and Tom Brady may know their way around the football field, but Sunday night, New England Patriots and New York Giants fans could take a break from taking sides to root for the queen of the (ever intricate) stage: Go Madonna!
The Super Bowl halftime show kicked off with a royal welcome as an army of gladiators escorted the veteran performer onto Indianapolis's Lucas Oil Stadium stage. With a diamond-studded gold crown, Madonna, 53, launched into her hit "Vogue" as the stage flashed covers of the iconic fashion magazine.
Next on the set list: her 2000 dance jam "Music." Joining her on the stage were the guys behind LMFAO – Stefan (Redfoo) and Skyler (SkyBlu) Gordy – who teamed with Madonna to sing samples from their hits, "Party Rock Anthem" and "Sexy and I Know It."
With a stage that was as flashy and glittering as her dance moves, Madonna then performed her new single, "Give Me All Your Luvin," with Nicki Minaj and M.I.A. – in full-on cheerleading uniforms – who are also featured on the song. (M.I.A. also gave the finger during her solo, an act that eluded the NBC censors.)
But the finale of the 12-minute performance was classic Madonna. With a hand from Cee Lo Green, she swapped her gladiator queen assemble for a glittering black robe to sing her 1989 hit, "Like a Prayer" (which she opened with samplings of "Open Your Heart" and "Express Yourself.").
Backed by a gospel choir, the fiery performance ended with a true sizzle: The stage burst into a cloud of smoke as the singer belted out the final note out of sight. The final message of the show – "World Peace" – was illuminated on the stage.
"I'm going to come in halfway between the church experience, and I'm going to have to deliver a sermon that's going to have to be very impactful," she previously said of her nerves leading up to game day. "I have to put on the greatest show on earth in the middle of the greatest show on earth."
From ABC news…
Madonna went over the top with the Super Bowl halftime show as only the Queen of Pop could, doing a sequin and gold-studded medley of some of her greatest hits — "Vogue," "Like a Prayer" — and a couple of her newer songs.
The Material Girl pledged not to repeat the sins of her past pop star predecessor, Janet Jackson, and expose herself on stage. She succeeded in that, but there was one glaring wardrobe malfunction — she zipped a curly blonde lock of hair into the coat she wore for her final song, making it look like she had a mane of lustrous chest hair underneath all those sequins. M.I.A., the U.K.-born rapper/pop star who joined Madonna for "Give Me All Your Luvin," did worse, though, and gave the entire Super Bowl viewing audience the middle finger, presumably causing the second-long freeze frame that happened midway through "Give Me All Your Luvin."
The show began with a Cleopatra-like Madonna rising up from an army of gladiator dancers. Wearing what appeared to be 5-inch stiletto boots, she performed complicated dance routines without a flaw, most memorably when she did the "Party Rock" shuffle with the crazy kids from LMFAO.
M.I.A and Nicki Minaj guest starred, joining Madonna in a pep rally-esque performance of her latest single. Cee Lo stole the show at the end, donning a silver marching band helmet and a glimmering black robe to duet "Like a Prayer" with Madonna. But the back up dancers deserve the most praise — whether leaping over bleachers or jumping on a tightrope, they nailed it.
From EW…
Madonna at the Super Bowl review: A shockingly sincere, joyous performance by Ken Tucker
Madonna was careful, in interviews before the Super Bowl, to say how nervous she was, how no one had to worry about her plotting to incite controversy. But instead of resulting in a cautious, tedious performance, Madonna gave a joyous, unironic, open-hearted one. She deployed guest stars including Cee Lo Green, Nicki Minaj, and M.I.A., but they never stole her glowing spotlight. From her entrance hoisted aloft by Roman-soldier dancers to the massed choir that sent her off, she was both in full command and full of generosity toward her massive audience.
Commencing with a rendition of "Vogue" that used the magazine's logo as part of the stage set, Madonna offered full-throated vocals coupled with tight choreography. If the visual transitions didn't have any flow (Roman togas to pulsating stadium-seating steps to space for a tight-rope walker), the songs did. After the cool warm-up of "Vogue," Madonna moved smoothly into "Music." There was certain mashing-up of music with LMFAO that didn't add much to the proceedings. She led into her current single, "Give Me All Your Luvin'," as a sweet piece of Katy Perry-style pop. It's not among her best songs, but Madonna rendered the tune with a playful vigor, shaking gold pom-poms with Nicki Minaj and M.I.A. Toward the end of the song, a marching band trooped onstage, led by Cee Lo Green as drum major.
Aiming to end on a note of uplift, Madonna and Green donned choir robes and brought forth a large choir for "Like A Prayer." Singing from a raised platform, Madonna and Green's voices soared, and just when I thought she was going to ascend to the heavens, she instead descended into… well, not hell — that would have been out of keeping with the mood of this show — but she dropped away in a puff of smoke.
Now the carping will begin in living rooms and throughout the internet: Was she lip-synching? Did she make a few wobbly moves? Was M.I.A. being a naughty girl?
Me, I don't care. I was happy to see Madonna smiling so much, giving it her all, plugging her product with such gleeful abandon. It wasn't a thrillingly innovative performance, but that's not what the Super Bowl half-time show is about anyway: It's a time to hear some hits well-played, with more imagination and energy than, say, the Black-Eyed Peas provided last year. By this measure, Madonna's Super Bowl performance was a bright delight.
From USA Today…
The country's most conspicuous testosterone-fest got a shot of female brass on Sunday night — though not the kind that some prurient observers may have been wishing for.
To cut to the chase, there wasn't a wardrobe malfunction at the Super Bowl halftime show, but there was a naughty action by one of the performers … and it wasn't Madonna. M.I.A., who joined Madonna on stage in Lucas Oil Stadium to help sing 'Give Me All Your Luvin',' appeared to flip the middle finger to the camera as the song came to a dirty word, which she stopped short of saying.
But as you can clearly see in the photo above, instead of saying the word, M.I.A. "flips the bird" toward the camera – and the millions watching on NBC at home.
NBC was apparently late on its delay and allowed the act to be broadcast — at least in some areas. Some followers of @USATODAYSports on Twitter reported, however, that their screens went blank for a few seconds at that point in the show.
From the Daily Mail…
She said she had to put on 'the greatest show on earth, during the greatest show on earth' and Madonna certainly didn't disappoint.
The singer put on an impressive show during the halftime show of the NFL Super Bowl XLVI football game between the New York Giants and the New England Patriots.
She sang her way through classic hits Vogue, Music and Like a Prayer Music as well as performing her new song Give Me All Your Luvin.
While the pressure for her performance was immense Madonna appeared to rise to the challenge and avoided any Janet Jackson wardrobe malfunctions and appeared to only suffer one small slip-up throughout the show.
As she was strutting her way across the bleachers to Music, the second song in her set, she was unable to step up onto one of them and had to repeat the dance move to hoist herself up.
Aside from that trivial mistake the singer put on an energetic and fun show with help from LMFAO, Nicki Minaj, MIA and Cee-Lo Green.
The halftime show opened with a huge procession of Egyptian shoulders as the intro to Vogue began to play.
Behind a series of feathers Madonna emerged and appeared to be invoking her inner Cleopatra-cum Roman solider.
The singer was dressed in a pair of over-the-knee boots, a black dress by Givenchy with a golden Roman-inspired skirt over the top, and a short cape.
She also donned a golden headpiece custom made by milliner to the stars Philip Treacy.
She lip-synced her way through the hit 80's hit as she strut around the stage with supersized projections be displayed on the stage beneath her.
As she 'Vogued' her way around the stage throwing angular shapes around with her arms Madonna paid homage to the magazine with graphics covering the floor.
Next up came Music where she took to the bleachers, and suffered her small slip-up as she danced her way down the steps with a group of gymnastic males.
As a dancer on a wire showed off his skills she hip thrust her way through the performance.
LAMFAO then joined her on stage and the song was mashed up with their hit.
Madonna was seen climbing onto the shoulders of one of the band before hip thrusting some more on the DJ booth.
With a rip of her skirt and a grab of some golden pom poms the show moved seamlessly into her new track Give Me All Your Luvin.
As well as a team of cheerleaders Madonna was joined by Nicki Minaj and MIA and the performances formed a triangle with Madonna at the head.
While the focus was clearly on Madonna, MIA appeared to want to cause controversy and was seen swearing into the camera.
As the lights dimmed a church choir was seen taking to the stage, giving Madonna an opportunity to don a floor-length priest's outfit.
Cee Lo Green also donned a sequined ensemble and joined Madonna on an alter which raised up into the air as they sang Like a Prayer.
With the large backing choir behind them the show ended with a loving message, as Madonna disappeared under the stage the words 'World Peace' was written on the large screen floor.
From AOL…
Life is a mystery. Everyone must stand alone. Except Madonna. Performing at this year's Super Bowl halftime show, Madge rolled up with voguing Roman soldiers, old-school breakdancers, tightrope walkers, cheerleaders, a marching band and special guests Nicki Minaj, MIA and Cee Lo Green. She reworked some old tunes, played her new single and then disappeared into the floor, leaving us with the words "World Peace" spelled out on the field.
On 'Music,' the second song in the medley, she descended a set of bleachers with Adidas-wearing b-boys. Those pom-poms Madonna promised weeks ago surfaced during 'Give Me All Your Luvin',' as did Nicki Minaj — replete with blonde wig — and the bird-flipping MIA.
Cee Lo then played the world's hippest drum major, helping the erstwhile Material Girl sing bits of 'Open Your Heart' and 'Express Yourself' before donning a monk's robe and assisting on the grand finale: 'Like a Prayer.'
Toward the end, Madonna fell to her knees in mock rapture, evoking moves that, back in simpler times, had religious groups up in arms. In 2012, it was no biggie: She came, danced and vanished with a puff of smoke. It was slick and professional, but as far as tomorrow's water-cooler conversation is concerned, Pats quarterback Tom Brady's first-quarter safety might be more newsworthy.
If Madonna, once the ultimate pop provocateur, seemed a risky choice for the halftime spectacular, NBC sensors likely breathed a sigh of relief. Save for MIA's middle finger during the brand-new 'Give Me All Your Luvin',' Madonna played it safe. Opening with 'Vogue,' she writhed and gyrated as much as might be expected, at one point riding the members of LMFAO, but the whole thing was pretty tame.
From the Chicago Tribune…
In the mecca of conspicuous consumption that is the Super Bowl, Madonna – the most material of all the girls – was right at home Sunday as the queen of halftime.
Wearing a winged tiara and knee-high leather boots, she entered like Cleopatra as part of a glittering parade, apparently on her to way to an S&M party in Ancient Egypt.
She strutted down nostalgia lane with "Vogue," her vaunted dancing somewhat constrained, perhaps because of her high heels. She did sit astride another dancer, however, in keeping with the party "theme."
By the end she was flogging a world peace message during the once-controversial "Like a Prayer." If nothing else, the Super Bowl teaches us that even the biggest trend-setters and button-pushers tone it down and become acceptable eye-candy between halftime dips into the chili bowl.
She was accompanied by a cast of hundreds: dancers, drummers, tightrope-jumpers, plus pop stars LMFAO, Nicki Minaj and Cee Lo Green. The one outlier was M.I.A., a singer-rapper with the kind of underground resume unusual for Super Bowl halftimes. But if you turned away to reload on nachos, you probably missed them — each performer got only seconds of screen time. This was Madonna's party and besides breaking off bits of her greatest hits to remind people of a time when she was the biggest pop vixen on the planet, she had important career-advancing work to do.
Madonna, after all, never does anything unless she's got something to sell, and with a new studio album due out in March and a tour to follow, she had plenty on her to-do list. The Super Bowl has become the biggest stage for shills of all kinds, pop stars included, and halftime has turned into a 12-minute branding opportunity in recent years for artists brandishing new albums, whether Bruce Springsteen or the Black Eyed Peas.
"Give Me All Youre Luvin'," the new song inserted into the set list, had a – surprise! – football theme, a techno take on Toni Basil's 1980s cheerleader anthem, "Mickey." The song was glutted with cameos by Minaj and M.I.A., who dutifully moved their lips along with the backing track being piped through the stadium speakers in Indianapolis. M.I.A. did manage to insert herself into the post-halftime chatter, however, by flipping a left-handed, one-finger salute.
Twenty years ago, one might've expected such rudeness from Madonna herself, but in a pregame interview she vowed no "wardrobe malfunctions" to match the Super Bowl scandal pinned on Janet Jackson a few years ago.
Madonna has never really been about "live" performance; her concerts are essentially theatrical exhibitions accompanied by piped in music. This performance was no different. But the song fell flat for other reasons – it just isn't arresting in the way prime Madonna could be. Rhyming "Ya wanna" with "Madonna," recasting herself as a cheerleader for a sport that she's barely noticed in decades past – it was the Material Girl who couldn't deliver the goods.
The National Anthem was notable if only because the performance by Kelly Clarkson was so straightforward. Unlike last year, when Christina Aguilera tried to make the song all about her and flubbed a line in the process, Clarkson gave a strong, dignified reading backed by martial drumming and a children's choir. Not coincidentally, Clarkson's rendition checked in at 1:34, a full 20 seconds more concise than Aguilera's gymnastics exhibition. Clarkson's anthem was preceded by Blake Shelton and Miranda Lambert, who dished up dignity with a twang on "America the Beautiful." Understatement at the Super Bowl – what a concept.

Madame X is available in Box Set, CD, Vinyl and Cassette!
Get your copy HERE!