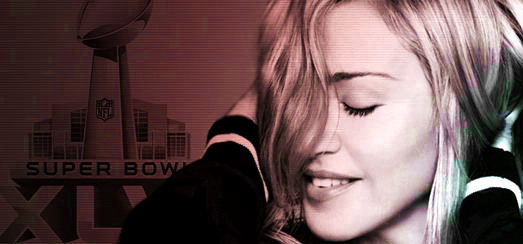 Madonna will be performing Give Me All Your Luvin' with Nicki Minaj, M.I.A during her Super Bowl XVLI halftime set, next sunday.
iTunes also announced that the exclusive #16 bonus track is actually a remix that features LMFAO as guests, titled…
Give Me All Your Luvin' (FAO Remix) [feat. Nicki Minaj and LMFAO]
Business magazine Forbes also revealed that when Madonna performs her Super Bowl XVLI halftime set, she won't be earning a penny because Halftime show acts perform for free…
Marc Ganis, president of the consultancy Sportscorp Ltd explains…
"Typically, the entertainers for the Super Bowl do not get a cash payment.
This is the kind of exposure that entertainers would give their right arm for…
They could do 20 Leno and Letterman appearances and still not reach that [kind of] audience.
They get so much out of it.
Frankly, it wouldn't shock me if, some day, the entertainers end up paying the NFL."
Forbes evaluates Madonna's 12 minutes being worth $84 million comparing it to what an advertiser would pay if he were to buy 12 minutes of Super Bowl commercial time.
There are other perks.
Though Madonna and other halftime acts don't receive a performance fee, they receive plenty of goodies on top of the free advertising.
They don't have to pay for backup dancers, pyrotechnics, load-in, load-out, etc—expenses, that can add up to $5-$10 million for a show like Madonna's.
They also receive free transportation and accommodation for their entourages.
Then there are the extra opportunities offered by the days preceding the Super Bowl, including free publicity and a plethora of parties during the week-long lead-up to the game.
Given all these benefits, playing the Super Bowl Halftime Show for free is more than worth the trouble.
In fact, it's incredibly lucrative – and such a good deal for artists, that some suspect a major change might be on the horizon.
Madonna will announce dates for her upcoming World Tour after the game.
source: forbes
Thanks to Luan, iTunes

Madame X is available in Box Set, CD, Vinyl and Cassette!
Get your copy HERE!