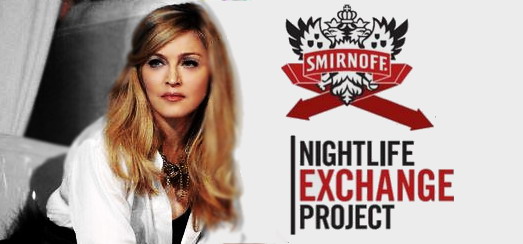 Winner of Smirnoff Nightlife Exchange Project Appears in Madonna Bridgestone Super Bowl Halftime Show and Smirnoff Stars Alongside Madonna in Video for "Give Me All Your Luvin'"
The second chapter of the ongoing Madonna and Smirnoff partnership begins this Sunday, February 5 with the appearance of Lil Buck, the winner of the Smirnoff Nightlife Exchange Project Dance Competition, as he joins The Material Girl's dance ensemble at the Bridgestone Super Bowl Halftime Show. For Smirnoff and its parent company Diageo this is the first of several ongoing high profile activities between the world's No. 1 artist and the world's No. 1 vodka.
The Smirnoff Nightlife Exchange Project — launched in 2010 — searched for the world's best new dancer among tens of thousands of entries through a global dance competition. The final dance-off competition took place at the historic Roseland Ballroom in New York City where Madonna and her choreographers selected Memphis native Lil Buck as the winner from 10 global finalists. Lil Buck's prize included an opportunity to join Madonna's dance crew.
Lil Buck explained…
"Joining Madonna's dance crew has been a dream come true.
I have already learnt so much and cannot thank Smirnoff enough for this life-changing opportunity,"
Simon Burch, Global Brand Director for The Smirnoff Co., said…
"Smirnoff celebrates unique, one-of-a-kind experiences and the people around the world who bring these experiences to life.
Partnering with Madonna has been extraordinary and we are thrilled to deepen the partnership supporting the release of MDNA and 'Give Me All Your Luvin'.'"
The partnership with the Smirnoff brand and the Smirnoff Nightlife Exchange Project is a multi-faceted agreement among Madonna, her partner Live Nation and Diageo, the parent company of The Smirnoff Co.
SOURCE: Smirnoff

Madame X is available in Box Set, CD, Vinyl and Cassette!
Get your copy HERE!