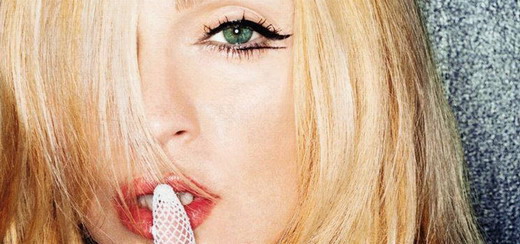 W.E. soundtrack on iTunes
Madonna's W.E. soundtrack, by Abel Korzeniowski, was released internationally less than 24 hours ago and is already topping the iTunes Soundtrack Album chart:
#1 Canada, Greece, Italy, Netherlands
#2 Mexico, Spain
#3 USA, France
#5 UK
#11 Belgium
If you haven't bought the amazing W.E. soundtrack yet, you can get the digital version (including booklet) at: Amazon (UK), Amazon (US), iTunes (UK), iTunes (US).
Check your local iTunes store for more information.
Martin Solveig, Madonna and MDNA
Producer Martin Solveig, who worked with Madonna on MDNA, posted the cover of the MDNA album on his Facebook and wrote the following…
We did 6 addictive songs together !
You're not you when you're hungry!
Charlie Hides created another Madonna parody. Have a look…
Who is remixing "Give me all your Luvin'"?
Dutch DJ tweeted…
Time to sleep, tomorrow starting my official remix for Madonna! Im really excited to do this #challenge

Working on Madonna remix, So good to be back in my own studio!! #latestudio
Dutch DJ Laidback Luke also tweeted…
Alright back to studio, doing this remix for @msolveig and the track he did for this legendary artist.
There are also rumours about LMFAO remixing Madonna's upcoming single "Give me all your Luvin'" and even adding a verse… To be confirmed.
Who is going to watch the Super Bowl?
Here are some tweets…
Lady Gaga:
Looking forward to seeing the Superbowl! The halftime show will be wonderful I'm sure. An excuse to drink beer+watch boys in tights. #yes

Britney Spears:
And I'll obviously be tuning in to watch Madonna and @NickiMinaj tear it up during halftime. Super excited…..

Cher:
Hell yes ! LOVE IT ! Madge Is "GREAT fkng PERFORMER RT @SaintPreux: @cher are you gonna see Madonna's halftime??

Monte Pittman:
We've made it safely to Indianapolis. Who's ready to turn there tv's all the way on Sunday?
Madonna's Super Bowl stage
In case you aren't following us on Facebook or Twitter, you may have missed the following pictures of Madonna's Super Bowl stage, shot during the rehearsals. (Source: TMZ)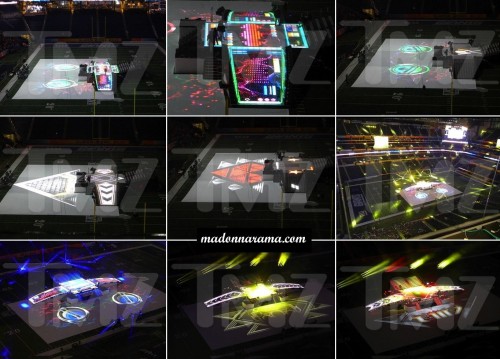 Harper's Bazaar – Taiwan
Here is the cover of the February 2012 issue of Harper's Bazaar Taiwain…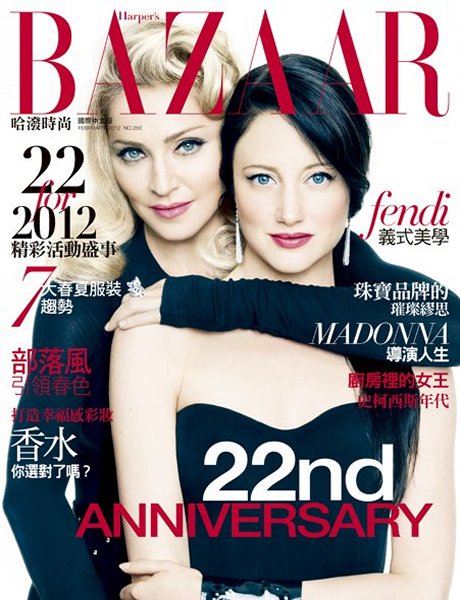 Thanks to Peter at madonna.idv.st
Billboard's Top 5 Madonna performances on TV
Billboard.com posted their top 5 Madonna performances on TV.
5. "Vogue," MTV Video Music Awards (1990)
Backed by her Blond Ambition tour dancers, Madonna closed the 1990 "MTV Video Music Awards," reminding people that the M in MTV stood for Madonna. Decked out in full Marie Antoinette garb, the diva lip-synced her massive Billboard Hot 100 No. 1 single before being carried out on a chaise lounge.

4. "Hung Up," The 48th Annual Grammy Awards (2006)
In her third (and most recent) Grammy Awards performance, Madonna and her holographic double mingled with Gorillaz for a show-stopping opening number. After strutting around with the alternative rock act, the diva burst into her top 10 Hot 100 hit "Hung Up" with her incredibly bendy dancers. Another "Hung Up" performance almost made this list, but was edged out (just barely!) by the Grammy gig. Which? Her incredible TV debut performance of "Hung Up" on the MTV Europe Music Awards.

3. "Like a Virgin," MTV Video Music Awards (1984)
It was the first "MTV Video Music Awards" and Madonna was riding high as one of the network's new young darlings. After scoring a pair of top 10 Hot 100 hits in 1984 with "Borderline" and "Lucky Star," the diva introduced her upcoming single, "Like a Virgin," to the MTV masses on the VMAs. It's one of the most iconic VMA performances in history, thanks in part to Madonna's skin-revealing dance moves (really, she was just rolling around on the floor).

2. "Sooner or Later," The 63rd Academy Awards (1991)
Perhaps a surprising entry on this list is Madonna's performance of the Oscar-winning song "Sooner or Later" on the 1991 Academy Awards. The tune is from her 1990 film "Dick Tracy," which won composer Stephen Sondheim the Oscar for best original song. Often noted by fans as one of her best vocal performances, Madonna was in full-Marilyn Monroe mode here, vamping and va-va-vooming her way through the belty number.

1. "Express Yourself," MTV Video Music Awards (1989)
Where to begin? The light-up stairs! The bustiers! The running-man! The crotch-grab! With only two backing dancer/singers (longtime cohorts Niki Haris and Donna De Lory), Madonna showed that you didn't need pyrotechnics and an armada of dancers to heat up a TV stage. (At some point in the performance Madonna gives us our first taste of her vogueing — months before she released her smash single "Vogue."
Madonna by Michael Griffith
After wowing audiences at the Adelaide Cabaret Festival, Melbourne's Midsumma, New York's iconic Don't Tell Mama and sold out multiple show in Melbourne, IN VOGUE:Songs By Madonna opens in New York on February 5th, 6th, 10th & 15th.
Michael Griffiths IS Madonna. No accent, costume or wig. Just 'Madge' accompanying herself at the piano leading you on a journey through her tough life and tender songs.
Strike a pose, get into the groove and express yourself as Madonna opens her heart! Written and directed by Dean Bryant [Prodigal, Liza (on an E), Britney Spears: The Cabaret].
More info, click here!

Madame X is available in Box Set, CD, Vinyl and Cassette!
Get your copy HERE!